Clippers set record by beating Denver
NUGGETS GET CLIPPED: The Clippers' win was their club-record 57th so far this season. In Tuesday's other game, the Knicks defeated the Nets to win their series
The Los Angeles Clippers downed the Denver Nuggets 117-105 in their club-record 57th victory of the season on Tuesday, while the New York Knicks beat the Brooklyn Nets 109-98 to win the season series between the city rivals, despite being without the injured Carmelo Anthony.
Blake Griffin scored 24 points while picking up his 16th technical foul, as Los Angeles led all the way at the Staples Center.
Chris Paul had 21 points and 10 assists, while J.J. Redick added 18 points in the Clippers' finale at home, where the LA side went 34-7 to set another franchise mark.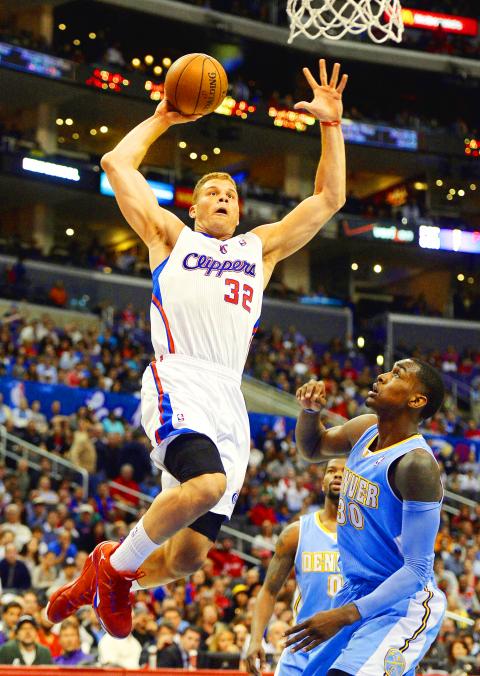 Los Angeles Clippers forward Blake Griffin, left, goes up for a shot as Denver Nuggets forward Quincy Miller, right, watches in the first half of their NBA game at the Staples Center in Los Angeles, California, on Tuesday.
Photo: EPA
DeAndre Jordan had 13 points and 16 rebounds.
The win kept the Clippers in the hunt for the No. 2 seed in the Western Conference playoffs.
They would need to win at Portland and Oklahoma City would have had to have lost to Detroit yesterday for the Clippers to claim the second spot. Otherwise, they will remain the third seeds.
Los Angeles will have to get by without Griffin on the road since his 16th technical triggered a league-mandated one-game suspension
At the Barclays Center in New York, Tim Hardaway Jr scored 16 points, as Amare Stoudemire and J.R. Smith each added 14 to help the Knicks prevent the Brooklyn Nets from clinching the No. 5 seed in the Eastern Conference playoffs.
Anthony had an MRI exam on Tuesday that revealed a torn labrum in his right shoulder.
He was out for yesterday's clash against Toronto, the final game of the first season in his 11-year career that will not end with a playoff berth — and potentially his last as a member of the Knicks. Anthony has said he will become a free agent in July.
Marcus Thornton scored 24 points for the Nets, who were not sharp despite playing starters Paul Pierce, Kevin Garnett, Deron Williams and Joe Johnson.
Their other starter, Shaun Livingston, remained sidelined with a sprained right big toe.
The Nets still have a magic number of one for finishing fifth, but they could fall to No. 6 if they lost yesterday's game in Cleveland and Washington beat Boston.
Comments will be moderated. Keep comments relevant to the article. Remarks containing abusive and obscene language, personal attacks of any kind or promotion will be removed and the user banned. Final decision will be at the discretion of the Taipei Times.