Winning narrow contests has put Monkeys on top
The ability to win close games has got the Lamigo Monkeys off to a fast start early in the season, as they have an 8-4 record over their first dozen contests, the best in the league.
The Primates are an incredible 5-1 in the six one-run games they have played, with some clutch hitting and stellar relief pitching to win a few games that they perhaps should not have won.
Getting the job done in crunch time for the Monkeys have been sluggers Lin Chih-sheng and Lin Hung-yu, who have accounted for game-winning RBIs in three of the five close wins that their team has tallied. The bashing tandem also are among the top five in the league, hitting .365 and .327 respectively.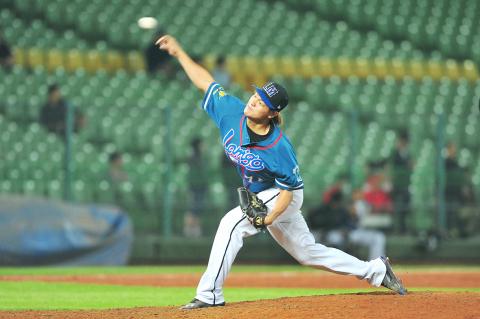 Lamigo Monkeys reliever Lin Guo-yu throws the winning pitch in their CPBL game against the EDA Rhinos in Taoyuan County on April 3.
Photo: Liao Yao-tung, Taipei Times
It was Lin Hung-yu's clutch two-out triple in the top of the 11th that scored the game-winner in the Primates' season opener, while Lin Chih-sheng was credited with a two-run single that capped an amazing six-run rally to erase a 0-5 deficit and top the Chinatrust Brother Elephants 6-5 in the ninth on March 28.
Doing the job on the mound for the Monkeys in the late innings are reliever Lin Guo-yu and closer Miguel Mejia, who have racked up two wins apiece out of the Lamigo bullpen with a pair of saves by Mejia.
Lin Guo-yu's early success has been especially sweet for the Monkeys considering that the rookie right-hander out of Taipei's Chinese Culture University was not even sure if he could make the first team as recently as December last year.
Despite their early success, Lamigo skipper Hung Yi-chung also recognized how easy his team could have been a middle-of-the-pack club if they had gone 3-3 in the one-run games. Hung sees the 8-4 mark as a lucky break as he looks to solidify a starting rotation that is 2-4, with struggling Shoda Itsuki and Hsu Ming-chieh still winless in five combined starts.
Should the starting duo continue to struggle for the Monkeys, Hung may be forced to shuffle his rotation a bit to keep his team on the winning track.
Comments will be moderated. Keep comments relevant to the article. Remarks containing abusive and obscene language, personal attacks of any kind or promotion will be removed and the user banned. Final decision will be at the discretion of the Taipei Times.