Bruins run rampant against Hurricanes; Canadiens also win
Jarome Iginla scored twice and backup goaltender Chad Johnson made 29 saves as the Eastern Conference-leading Bruins won their eighth straight game, routing Carolina 5-1 on Saturday.
The Bruins are on their longest winning streak in the NHL since a 10-game stretch in November 2011.
"I just hope we're not peaking right now and keep wanting more," Boston winger Milan Lucic said. "It seems like we're playing at our highest level of the season so far. It seems to have gotten better since the start of February and the Olympic break."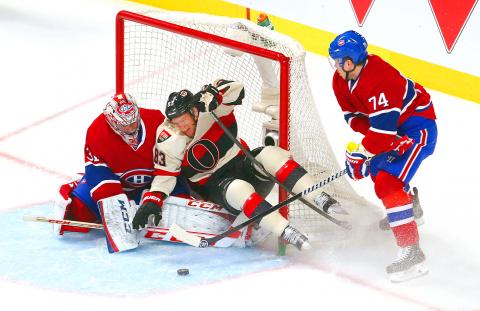 Ottawa Senators right wing Ales Hemsky, center, crashes into Montreal Canadiens goalie Carey Price, left, as Alexei Emelin, right, defends during the first period of their NHL game on Saturday in Montreal, Canada.
Photo: Jean-Yves Ahern-USA TODAY
Lucic had a goal and two assists, Torey Krug and Chris Kelly each scored a goal and David Krejci added three assists — his first coming as he was falling to the ice on Lucic's score.
Bruins coach Claude Julien was not about to say his team is playing their best.
"If he thinks we're peaking too soon, I can show him areas where we can play better," Julien said, breaking into a grin. "We're playing well and working hard."
Alexander Semin had the goal and Cam Ward made 36 saves for the Hurricanes, who lost for the eighth time in 11 games.
Johnson, playing with regular goaltender Tuukka Rask getting the day off, are 8-0-1 in his past nine starts.
In Montreal, Francis Bouillon scored 1 minute, 26 seconds into overtime as the Canadiens erased a three-goal deficit in the third period to defeat the Ottawa Senators 5-4.
David Desharnais tied it with 1 second left in regulation for the Canadiens, who trailed 4-1 five minutes into the final period.
Lars Eller, Brian Gionta and Daniel Briere also scored for the Canadiens, who stormed back to end a three-game slide. Carey Price made 29 saves in his first NHL game since the Olympic break.
Jason Spezza, Zack Smith, Ales Hemsky and Clarke MacArthur scored for Ottawa, who have lost five of seven. Robin Lehner made 43 saves.
The Blue Jackets had a 2-1 win over the Minnesota Wild, with Ryan Johansen scoring a disputed goal in the fourth round of the shootout.
Johansen's shot initially was ruled a rebound, but a video review showed that Wild goalie Darcy Kuemper did not touch the puck, making it a legal shootout goal.
The shootout capped a night of brilliant goaltending from the Blue Jackets' Sergei Bobrovsky and Minnesota's Kuemper.
Bobrovsky stopped 32 of 33 shots through overtime, while Kuemper finished with 28 saves.
In the shootout, Zach Parise and Mikko Koivu scored for Minnesota, but Artem Anisimov and Mark Letestu rallied the Blue Jackets to set up Johansen's clincher.
The Flyers thrashed the Penguins 4-0 at Philadelphia, with Matt Read scoring a pair of goals as the Philadelphia Flyers beat the fatally short-handed Pittsburgh Penguins.
The Lightning had a 3-0 win over the Devils with Ben Bishop stopping 23 shots to set Tampa Bay's single-season record with 31 victories.
In other games, the Islanders had a 4-1 win over the Sabres, the Blues beat the Predators 4-1, the Coyotes edged Calgary 3-2 and the Ducks beat the Kings 2-1 for their third straight win in the Freeway Faceoff rivalry.
Comments will be moderated. Keep comments relevant to the article. Remarks containing abusive and obscene language, personal attacks of any kind or promotion will be removed and the user banned. Final decision will be at the discretion of the Taipei Times.