Chesson Hadley claims his first PGA title in Puerto Rico
Chesson Hadley overcame his understandable nervousness to clinch his first PGA Tour title on Sunday, winning the Puerto Rico Open by two strokes ahead of Danny Lee.
"I was so nervous," the American said. "I did not eat well last night. I did not eat well this morning."
"I wasn't vomiting or anything, but there were a couple of times where I felt nauseous out on the course," the 26-year-old said. "I woke up ready to go about 5:30, 6, and I never really went back to sleep, just kind of tossed and turned."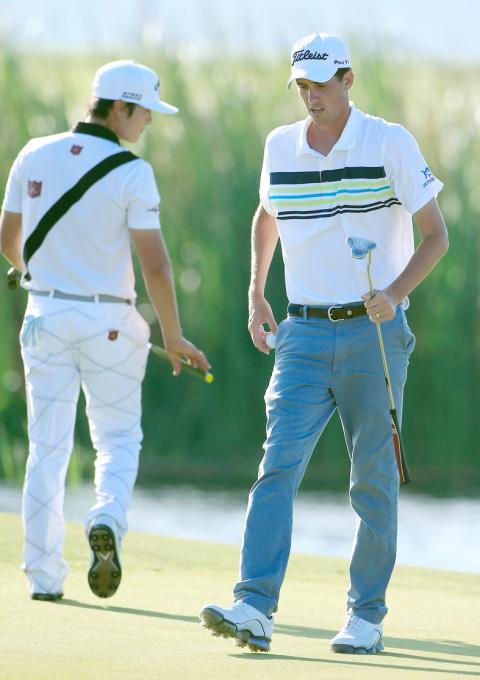 Chesson Hadley, right, of the US, and Danny Lee of New Zealand walk on the 17th green during the final round of the Puerto Rico Open at Trump International Golf Club on Sunday in Rio Grande, Puerto Rico.
Photo: AFP
Making his 13th PGA Tour start, Hadley birdied the final two holes for a five-under 67. He is the first rookie winner since Jordan Spieth in July in the John Deere Classic.
"This is what you dream of as a six-year-old out in the bunker, hitting bunker shots on the range," Hadley said.
"It'll be nice to sleep on it and wake up in the morning knowing I'm a PGA Tour champion and nobody can ever take that away from me," he said.
Hadley finished at 21-under 267 and earned US$630,000, a two-year tour exemption and spots in The Players Championship, PGA Championship and Tournament of Champions.
He will move into the mid-60s in the world ranking, giving him a chance to get into the Masters if he can crack the top 50 at the end of the Texas Open.
"It opens up a lot of doors," Hadley said. "It guarantees me a major. I've never played in a major before."
He birdied three of the first five holes, chipping in on the par-five fifth.
"It's all about the start and I got off to a great start," Hadley said. "Probably the shot that won me the tournament was the chip in on five. I mean, I was dead over there and I hit the nastiest little nipper over there, and it snuck in the left door."
Lee birdied three of the last four holes for a 68. The South Korean-born New Zealander won the 2008 US Amateur and also has European and Web.com victories.
"I really felt like I did my best. I gave it my best, but Chesson was just playing rock solid," Lee said. "He made a couple of good up-and-downs from bad tee shots. When he plays like that, it's just really hard to catch. He just didn't make any silly mistakes at all."
Ben Martin shot a 66 to finish third at 17-under. David Toms was another stroke back along with Carl Pettersson, Jason Gore, Wes Roach and Richard Lee. Roach and Lee shot 67, Toms and Pettersson 69, and Gore 70.
Comments will be moderated. Keep comments relevant to the article. Remarks containing abusive and obscene language, personal attacks of any kind or promotion will be removed and the user banned. Final decision will be at the discretion of the Taipei Times.