US' Wise adds Sochi gold to world halfpipe honors
World champion David Wise of the US added Olympic gold to his trophy collection with victory in the men's ski halfpipe competition on Tuesday.
In awful weather, with heavy snow falling all around, Wise scored 92.00 points to head a podium made up entirely of world champions.
"It was really unfortunate," Wise said about the weather. "I had all these crazy amazing runs that I wanted to do here at the Olympics, but if you can't get the speed, you can't do the tricks that you want to do.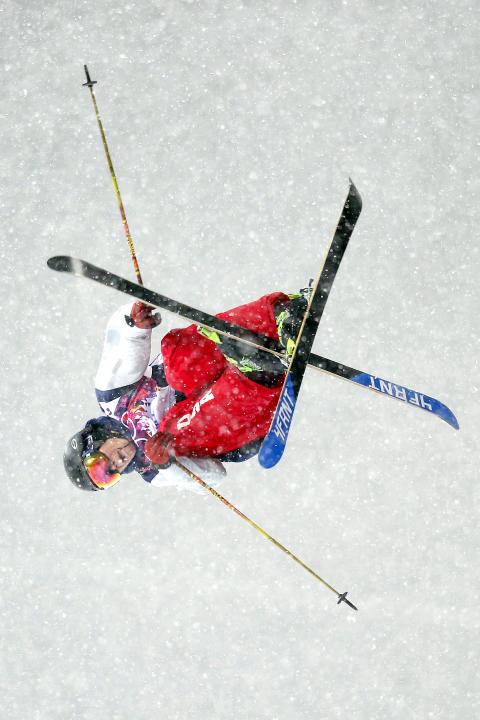 David Wise of the US spins through the air on his way to winning gold at the men's freestyle skiing halfpipe final on Tuesday at the Sochi Olympic Games at Krasnaya Polyana, Russia.
Photo: EPA
"Unfortunately, I had to change my run. The run I competed was like, plan C, or D even but that's just the way it goes, you've got to adjust and do the best you can," he added.
Canadian Mike Riddle (90.60), the man Wise deposed as world champion, took silver with the man he succeeded, Kevin Rolland (88.60) of France, earning the bronze.
Wise was second after Canadian Justin Dorey in qualifying and had a nervous last few moments after his second run in the final, waiting for the last man to come down.
The American had led after his first run in the final, which he capped off with a right double cork 1260 mute, but had to watch Dorey's second run sweating what coulor medal he would get.
To Wise's relief, Dorey made a mistake and crashed, finishing last of the 12 finalists.
"That was really nerve-racking. I knew the right-side double cork was something that was definitely there and he had it to boost the score up," Wise said. "Just watching him skiff out, all this relief flooded over me."
Riddle may have missed out on gold, but he was delighted nonetheless.
"It's unbelievable. I put down a good run in what were difficult conditions. I knew I had a chance," the silver medalist said.
"I have never done that combination before, back-to-back dub [double cork] 1260?s, but I decided it was a good time to do it for the first time," Riddle added. "It has taken lots of work and a lifetime dedicated to skiing to get here."
Comments will be moderated. Keep comments relevant to the article. Remarks containing abusive and obscene language, personal attacks of any kind or promotion will be removed and the user banned. Final decision will be at the discretion of the Taipei Times.