Taiwan sends three-man squad to Games in Sochi
Taiwan has sent three athletes to compete in the Winter Olympics which begin today in Sochi, Russia.
In the men's singles of the luge, Taiwan is represented by 19-year-old Lien Te-an of New Taipei City's Tungnan University.
Lien took up the sport at the age of 14 during his second year of junior-high school after he was encouraged by a coach who noticed his potential.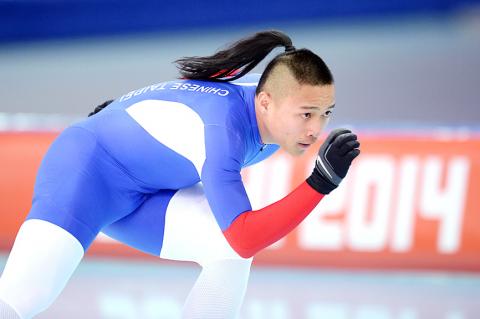 Taiwan's Sung Ching-yang practices during a training session yesterday at the Adler Arena Skating Center in Sochi, Russia, on the eve of the 2014 Sochi Winter Olympic Games opening ceremony.
Photo: AFP
Lien received an Olympic Solidarity scholarship from the International Olympic Committee to help him prepare for the Games.
"Most of my training is done in Europe or America, so it can be very expensive. Any support, no matter how small, can be very useful," he said.
Lien said his most memorable sporting achievement so far was finishing 20th at the 2012 Youth Winter Olympics in Innsbruck, Austria, and he is looking forward to enjoying the experience in Sochi before targeting a top-10 finish at the 2018 Winter Games in Pyeonchang, South Korea.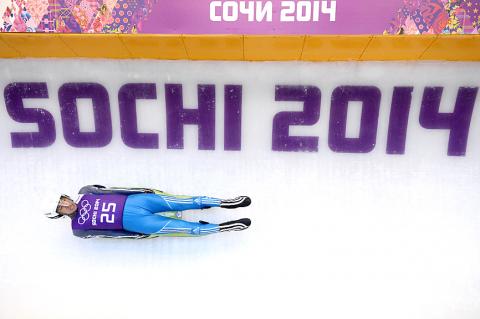 Taiwan's Lien Te-an practices during a men's luge training session at the Sanki Sliding Center yesterday in Rosa Khutor, Russia, on the eve of the Olympic Winter Games' opening ceremony.
Photo: AFP
Lien is scheduled to compete tomorrow and on Sunday.
Sung Ching-yang is representing Taiwan in the men's speed skating, in both the 500m and the 1,000m.
Born in New Taipei City, 21-year-old Sung began inline skating at the age of three, before switching to speedskating at 11.
His most memorable achievement was winning two gold medals at the 2010 Asian Games in Guangzhou, China, and his best finish in World Cup meetings this season was 11th in the 500m in Salt Lake City, Utah.
Sung is due to compete in the 500m on Monday next week and in the 1,000m on Wednesday next week.
Taiwan's third competitor is Mackenzie Blackburn in the men's short track, also in both the 500m and the 1,000m.
Blackburn, 21, was born in Canada to a Canadian father and a Taiwanese mother, Fay Lu, who has worked as a short track speedskating coach.
Blackburn's best finish in World Cup meeting this year was 13th in the 500m in Kolomna, Russia.
He is due to compete in the 1,000m on Thursday next week and in the 500m on Feb. 18.
Comments will be moderated. Keep comments relevant to the article. Remarks containing abusive and obscene language, personal attacks of any kind or promotion will be removed and the user banned. Final decision will be at the discretion of the Taipei Times.