Wenger expected to sign new deal with the Gunners
Arsenal chief executive Ivan Gazidis said on Monday he expects manager Arsene Wenger to sign a new contract when the Frenchman's current deal expires at the end of this season.
The 64-year-old Wenger is the Premier League's longest-serving manager, having joined the north London side in September 1996. The Gunners are currently riding high at the top of the table and Wenger has repeatedly played down concerns over his future when asked about a new contract, although he gave a hint last month he had made a decision.
Gazidis said there was no rush as far as the club's hierarchy were concerned while speaking at the announcement of a new kit deal with Puma worth more than a reported £30 million (US$49.5 million) which will commence in July.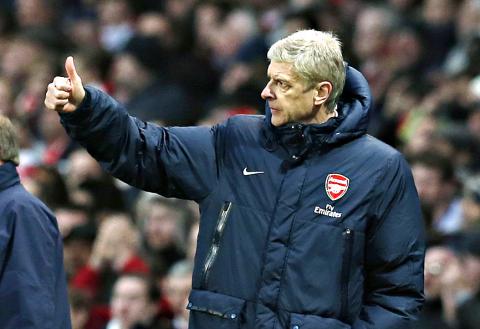 Arsenal manager Arsene Wenger reacts during his side's English Premier League match against Fulham at the Emirates Stadium in London on Jan. 18.
Photo: Reuters
"We have always been completely behind him," Gazidis said. "We are comfortable in the position and relaxed about it. Arsene will be extending with us. This football club is the football club of his life. We are very convinced and at the right time we will quietly make an announcement that he is the right person to see us forwards."
Arsenal's agreement with Puma, which will see the German sports manufacturer take over from Nike as Arsenal's kit supplier, was described in a joint statement as "the biggest deal" for both club and company.
The Gunners are understood to receive about £30 million a year from main sponsors Emirates Airlines and while no financial details were given, reports have indicated that the new deal is for a similar amount when Puma replace US-based rivals Nike, who have been the London club's kit provider since 1994.
Arsenal smashed their transfer record when they signed Germany playmaker Mesut Ozil for £42 million from Real Madrid in the last transfer window and there had veen reports they are keen to land Ozil's fellow Germany international Julian Draxler from Schalke 04 before the transfer deadline on Friday.
Gazidis said funds to sign new players are available, although Wenger would not have access to any of Puma's cash until after the end of the season.
"The new partnership represents the biggest commercial deal in Puma's and Arsenal's history," Gazidis said. "The money from this deal will be available to the club from this summer. It represents an important step in our progression on and off the pitch. One of our long-term goals has been to increase commercial revenues and there is a football reason for that — from the summer onwards the money will be available for the manager to spend how he sees fit."
Arsenal have not won a major trophy since 2005, but Gazidis said: "We have a vision to be competing at the top of the world's game, but we don't get there overnight."
"We are doing it our way, without relying on any single individual, on an independent path," he said. "When we achieve success it will mean so much to everyone that has been in this journey, so let's get there as soon as possible."
Comments will be moderated. Keep comments relevant to the article. Remarks containing abusive and obscene language, personal attacks of any kind or promotion will be removed and the user banned. Final decision will be at the discretion of the Taipei Times.