England's Broad accepts Australia coach's apology
Stuart Broad said on Monday he had accepted an apology from Darren Lehmann following the Australia coach's scathing attack on the England bowler during the Ashes series.
Lehmann, speaking in a radio interview last week, accused Broad of "blatant cheating" following the pace bowler's decision not to walk after edging a catch at Trent Bridge in Manchester.
Broad told his Twitter followers: "Spoke to Darren Lehmann last [Sunday] night. He apologised for his comments, I accepted it. He said they were made in Jest for banter. Done."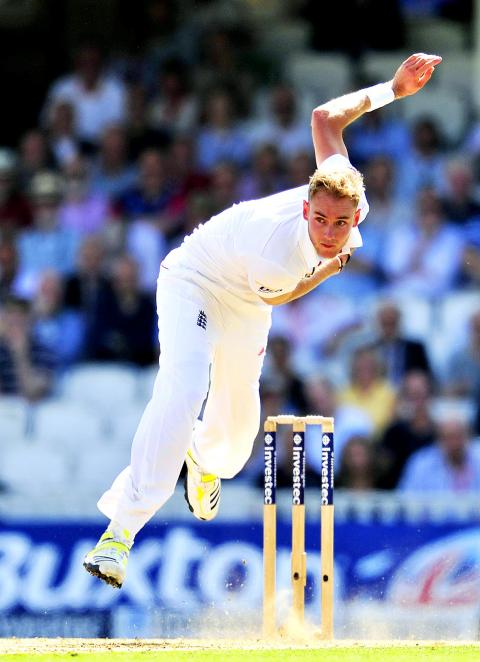 England's Stuart Broad bowls against Australia in the fifth and final Ashes Test at The Oval in London, England, on Wednesday last week.
Photo: AFP
Lehmann, whose team were beaten 3-0 by England over the five-Test series, also called on the Australian public to make life so difficult for Broad during the Ashes rematch in Australia later this year that he will want to cry and go home.
The comments earned Lehmann a fine of 20 percent of his match fee from the fifth and final Ashes Test at The Oval in London, which ended in a draw on Sunday.
Former Australia batsman Lehmann, who took over as coach at the start of the series following Mickey Arthur's acrimonious departure, confirmed on Monday he had spoken to Broad to draw a line under the incident and will look to make sure he chooses his words better in future.
"I've had a chat with him already. We just move on," Lehmann said. "It was a good learning curve for a new coach, wasn't it? You know, it was a jovial setting, but you've got to learn from that. I've got to learn and improve from that. The players aren't on their own in trying to improve. Coaches have got to improve, so that's something I've got to get better at."
Despite the series loss and the criticism he received following the radio interview, Lehmann still has passion for his role and is looking forward to the remainder of the tour in England and then a renewal of the Ashes rivalry in November.
"I'm still loving it, it's a great job," he said. "I'd like to win a Test match, though, but it's a fantastic job. I've seen all the players here and the one-day and Twenty20 players are obviously starting Thursday, so you get to deal with them and look at how we're going in that format of the game as well."
"By the end of the tour I'll have a really good mindset on all the players, which will be quite comforting for me as coach. The players seem to be enjoying it, which is good, but we also realize we need to win some games," he added.
Having replaced Arthur little more than two weeks before the first Test, Lehmann believes he has not had time to stamp his own philosophy on the Australia team, but expects that to change when England arrive for the return series.
"It is really hard when you've just come into the setup and the touring side's been picked," Lehmann said. "When we're back home you'll probably see different things happen, but in terms of hearing a lot of things from outside and not being in that circle for many years, to come in and see how they're trying to improve all the time was impressive for me. Now it's just a matter of improving that skill level for us to compete better than we have."
Meanwhile, England spin bowler Graeme Swann yesterday confessed that some of his teammates may have urinated on The Oval pitch during late night celebrations toasting their Ashes victory.
Australian journalists earlier reported seeing three England players — James Anderson, Kevin Pietersen and Broad — relieving themselves on the pitch as the players held a private midnight party on the famous turf.
"We did go out to the middle of the pitch, all the lads, drinking beers, singing a few songs and enjoying each other's company," Swann told the Sun. "I think the call of nature might have come once or twice, but it was nothing untoward. It was midnight, a private celebration in the middle of the pitch and the ground was dark."
The England and Wales Cricket Board said it would investigate the reports.
England spinner Monty Panesar was recently fined by police after being caught urinating on bouncers following a nightclub row.
Comments will be moderated. Keep comments relevant to the article. Remarks containing abusive and obscene language, personal attacks of any kind or promotion will be removed and the user banned. Final decision will be at the discretion of the Taipei Times.