Bangladesh match-fixing scandal deepens
The International Cricket Council (ICC) said on Tuesday that seven people have been charged with match-fixing in the Bangladesh Premier League in a scandal that has already ensnared national hero Mohammad Ashraful.
It said another two people have been charged with failing to report corruption when they were approached to take part in fixing during this year's season of the Bangladesh Premier League (BPL), a Twenty20 tournament.
All have been charged under the Bangladesh Cricket Board's (BCB) anti-corruption code and face a disciplinary tribunal hearing.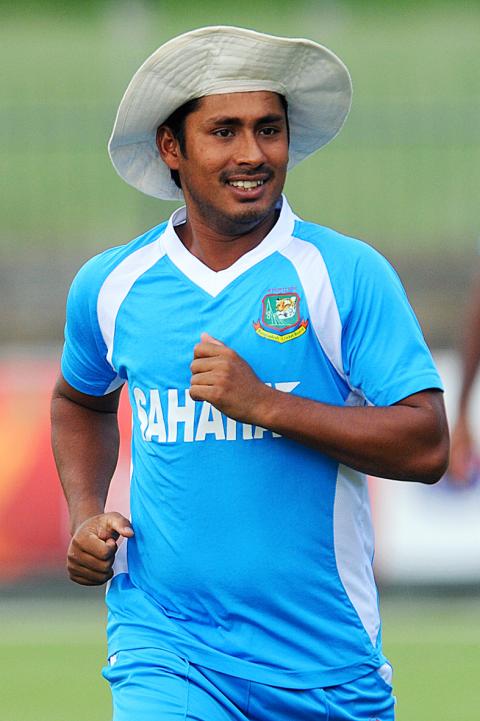 Bangladesh cricketer Mohammad Ashraful runs during a practice session in Pallekele, Sri Lanka, on March 30.
Photo: AFP
"The charges relate to an alleged conspiracy within the Dhaka Gladiators franchise to engage in match-fixing and spot-fixing activity during matches in the BPL 2013, as well as failures by individuals to report approaches made to them to be involved in the conspiracy," the ICC said in a statement.
Evidence was gathered against the unidentified individuals during an investigation by ICC anti-corruption officials into the scandal involving 28-year-old Ashraful and others.
The affair has further shaken confidence in the game across South Asia.
Indian cricket is also embroiled in spot-fixing and betting scandals. Bowler Shanthakumaran Sreesanth and 38 others were charged by Delhi police last month over alleged spot-fixing in the Indian Premier League.
"All those charged [in Bangladesh] now have 14 days to indicate whether they wish to plead guilty or to defend themselves against the charges," ICC chief executive David Richardson said at a press conference, flanked by Bangladesh's cricket chiefs.
He declined to name the players charged or say whether they were Bangladeshi or overseas cricketers contracted to the BPL.
It is unclear how many of the nine fingered in the ICC probe are players and how many are officials.
The seven charged over fixing have been suspended from all levels of cricket pending the outcome of the hearings.
Ashraful, who captained Bangladesh between 2007 and 2009, made a tearful confession and apology on national television to match-fixing in June after being quizzed by the ICC's officials.
He was allegedly involved in fixing a match between the Dhaka Gladiators and the Chittagong Kings during this year's second edition of the BPL.
Local media have reported that the batsman was paid about 1 million taka (US$12,800) to lose the match on Feb. 2.
Ashraful, who became the country's youngest Test centurion in 2001 at the age of 17, was also allegedly involved in fixing another match 10 days later against the Barisal Burners, which his team lost by seven wickets, local reports have said.
The ICC's anti-corruption officials have also been probing allegations of fixing during some international matches involving Ashraful, Bangladesh cricket chiefs have said. However, the ICC made no mention on Tuesday of problems with international fixtures.
"The evidence uncovered is a grave reminder of the need for the sport to remain vigilant against the continuing threat of corruption, and for players and support personnel to take personal responsibility for protecting the integrity of the game," Richardson said.
BCB president Nazrul Hassan said the board was committed to a "zero-tolerance approach towards corruption in the sport."
Ashraful met ICC officials prior to the press conference on Tuesday. He expressed his desire to play cricket once again in an interview with a local TV channel, but did not disclose any details of the meeting.
"I have confessed everything I did and cooperated with them from a guilty feeling … if possible I want to make a comeback [to cricket]," Ashraful told Somoy TV.
"As a next step, I have been advised to appoint a lawyer to represent myself [at the BCB tribunal]. I thought it would be clear today as to what punishment I would be handed down, but now it seems it would take several more months," he said.
The allegations of fixing are the latest to hit Bangladesh cricket, including the BPL. Ex-international spinner Shariful Haque was given an indefinite ban in September after an inquiry found him guilty of spot-fixing during the first edition of the BPL.
In March the BCB banned international umpire Nadir Shah for 10 years after a sting operation by an Indian TV channel found him apparently willing to fix matches for cash.
Comments will be moderated. Keep comments relevant to the article. Remarks containing abusive and obscene language, personal attacks of any kind or promotion will be removed and the user banned. Final decision will be at the discretion of the Taipei Times.