FEATURE: Macau aims for other Vegas staple: boxing
A Chinese fighter's victory at a Macau showdown brings the world's top casino market a step closer to challenging Las Vegas for dominance of another Sin City staple: big-time boxing matches.
Macau, which long ago eclipsed Vegas as the world's top gambling city, is looking to add to its allure by holding the kind of boxing bouts for which Las Vegas is known. The tiny Chinese enclave near Hong Kong is hosting a series of high-profile bouts this year featuring a pair of Asian stars: Chinese two-time Olympic gold medalist Zou Shiming and Philippine fighter Manny Pacquiao.
Zou made his professional debut in April, winning the "Fists of Gold" match at Macau's Venetian resort. He returned for a second installment of the series on Saturday night, defeating his Mexican opponent in a unanimous decision at the Cotai Arena.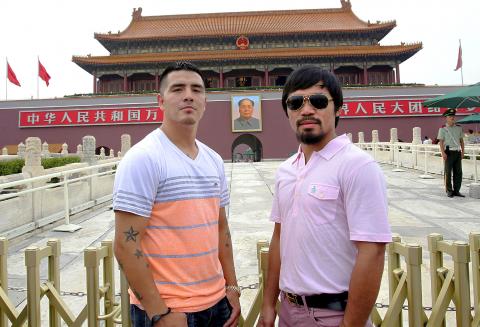 Philippine boxer Manny Pacquiao, right, and Brandon Rios of the US pose for photographs in front of the giant portrait of Mao Zedong at Tiananmen Gate in Beijing on Monday, in a handout provided by Top Rank. Pacquiao and Rios are touring China to promote their welterweight fight in Macau on Nov. 24.
Photo: REUTERS / Chris Farina / Top Rank
Zou's rise has helped boost boxing's popularity among fans in China, where the sport was banned until the mid-1980s. Chinese fans, mostly subdued for the six preliminary undercard fights, rose to their feet for the main event, calling out "Jia you!" — Chinese for "Let's go!" — and stomping their feet as Zou fought a six-round flyweight match with Jesus Ortega.
Now, all eyes are on the "Clash in Cotai" in November, featuring Pacquiao for the main event and Zou on the undercard. Organizers say it will be the biggest professional boxing match ever held in China. It will also be the first outside of the US since 2006 for the Philippine superstar, who has lost his last two bouts.
Boxing's emergence in Macau is another reminder of how the global gambling industry's center of gravity has shifted to the East, thanks to rising incomes in China. Macau overtook the Las Vegas Strip in 2006 as the world's most lucrative gambling market. Last year, it raked in US$38 billion in gambling revenue, six times more than the Strip. However, authorities want Macau to be known for more than gambling and see big events as a way to turn the city, which has a lingering reputation for seediness and corruption, into a broader tourist destination.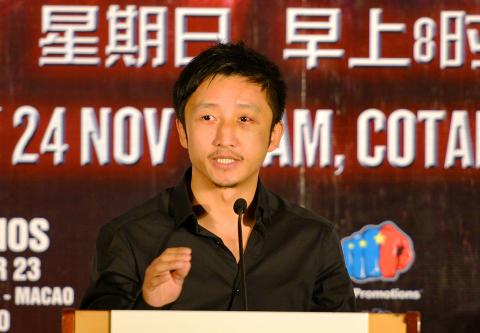 Chinese Olympic gold medal boxer Zou Shiming speaks at a press conference in Shanghai on Wednesday.
Photo: AFP
Pacquiao and Zou's celebrated trainer, Los Angeles-based Freddie Roach, left no doubt about how the focus has changed in the boxing world.
"I think I've got a new home," he said at a news conference last week, referring to the Venetian, the flagship casino resort of billionaire Sheldon Adelson's Macau casino arm, Sands China Ltd. "Macau has become the capital of the boxing world."
For promoter Top Rank, it is a chance to get a head start on bringing the sport to the huge, untapped market in China. Boxing was banned under Mao Zedong, who considered it too violent and too Western. It was not until 1986 that the ban was lifted.
The sport is nowhere near as popular in China as soccer or basketball, but Top Rank founder and chief executive Bob Arum sees a vast potential market of new fans. Key to his plan is Zou, who became a celebrity in China after winning a gold medal in the Beijing Olympics and another at the London Olympics.
Zou "has energized people who follow sports in China," Arum said. "The number of people who watched his last fight in China was quite remarkable, anywhere between 100 million to 200 million homes, based on the surveys we've had done. That's outstanding. Most countries don't even have that many people."
Top Rank put on a Vegas-style production for the Macau fights, complete with spotlights, scantily clad "ring girls" and announcer Michael Buffer, best known for his catchphrase: "Let's get ready to rumble!"
Arum said production costs for a Macau show amount to US$500,000, about the same as for bouts in Vegas.
Arum said he envisions Top Rank, which organizes 60 boxing shows a year, eventually holding four to six a year in Macau. Las Vegas, in comparison, is hosting a dozen pro bouts this year. For Arum, the big prize in bringing boxing to China is the potential for pay-per-view profits that would dwarf those in the US.
Zou's fights were carried on state broadcaster CCTV. Arum had hoped to offer the Pacquiao fight on pay per view, but he said lining up a deal with potential partners has been harder than expected. China's broadcasting industry is dominated by state-run broadcasters, while premium cable and satellite channels have little role to play. One idea had been to offer the November fight for US$5 in China on smartphones. That is a fraction of the between US$50 and US$60 typically charged to see a live bout on cable in the US, but the sheer numbers of potential viewers in a country with more than 1 billion people would make up the difference.
"We were hoping to do pay per view in China, but we are not anywhere near ready to do it yet. That's something for next year and the year after," he said.
"Once we get that going, it could be a monster," Arum said.
Even if Chinese pay per view does not take off, Macau will still remain a viable boxing venue because for non-US fighters, it will represent a bigger purse. They will not have to pay US taxes of about 40 percent on their earnings. That would be a substantial incentive for someone such as Pacquiao, who would only be subject to lower tax rates in the Philippines or Macau on the between US$25 million and US$30 million that Arum said he is expected to earn from the November fight.
However, the biggest upside from the fight nights may be for the casino. It benefits directly from more visitors, which will help raise gambling revenue. The Pacquiao fight will be an especially good chance to reel in the high-rolling mainland Chinese VIP gamblers that have supercharged Macau's casino industry.
It also gives casinos another way to circumvent the advertising and promotional restrictions that come with mainland China's ban on casinos.
"The boxing in Macau without doubt helps promote Sands China or the Venetian brand in China," said Aaron Fischer, head of gaming research at brokerage CLSA Asia-Pacific Markets. "Marketing of casinos is illegal in China and hence gaming companies will have to indirectly promote the integrated resort by marketing the non-gaming facilities like the hotel, conventions or by marketing the various events like boxing matches."
Comments will be moderated. Keep comments relevant to the article. Remarks containing abusive and obscene language, personal attacks of any kind or promotion will be removed and the user banned. Final decision will be at the discretion of the Taipei Times.