Hsieh to promote Taiwan Beer
CROSSING THE STRAIT: After Hsieh Su-wei won at Wimbledon, her father hinted that she could become a Chinese citizen in exchange for the right sponsorship deal
Taiwanese tennis star Hsieh Su-wei has reached a preliminary agreement with Taiwan Tobacco and Liquor Co (TTLC) to endorse Taiwan Beer.
The deal, which will reportedly pay Hsieh NT$5 million (US$167,700) a year, could be signed by the end of the month at the earliest, TTLC chairman Hsu An-hsuan said yesterday.
Under the agreement, Hsieh will wear the Taiwan Beer logo during her matches and shoot commercials pitching the product.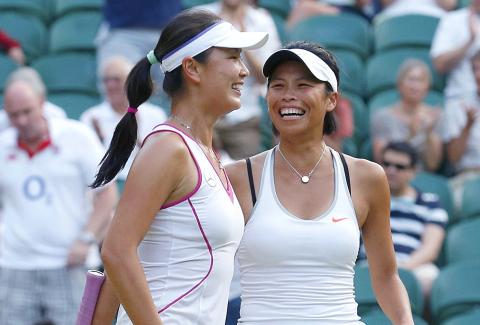 Taiwan's Hsieh Su-wei, right, and Peng Shuai of China celebrate after defeating Australia's Ashleigh Barty and Casey Dellacqua in the Wimbledon women's doubles final at the All England Lawn Tennis Club in London, England, on July 6.
Photo: Reuters
Hsieh's visibility skyrocketed after she became the first Taiwanese to win a Grand Slam tennis title when she and partner Peng Shuai of China won the women's doubles title at Wimbledon earlier this month.
No sooner had she won the title, though, than her father spoke publicly of the high costs of playing professional tennis and the lack of sponsorship Hsieh had received in Taiwan, even hinting that she could become a Chinese citizen in exchange for the right deal.
Hsieh later dismissed the possibility of a change in nationality and she was clearly upbeat after the possibility of securing a deal with a Taiwanese company moved closer to becoming a reality.
"I'm happy to endorse Taiwanese enterprises and I hope more of them will sponsor athletes so that they have an easier time pursuing their professional careers," Hsieh said. "Taiwanese companies can also increase their profile internationally."
Hsu expected the partnership to help TTLC because Hsieh will play several tournaments in some of the company's key target markets, including China and Southeast Asia, in the next year.
The deal will also help Hsieh cover the NT$4 million to NT$5 million her father said she has to spend every year on travel, coaches and other training expenses.
Prior to capturing her Wimbledon title, Hsieh was earning NT$1.5 million a year through endorsement deals with domestic companies.
In related news, Taiwanese tennis players Lee Hsin-han and Peng Hsien-yin won gold on Monday in the men's doubles at the World University Games in Kazan, Russia, bringing Taiwan's total gold medal count to four.
Lee and Peng beat Victor Baluda and Konstantin Kravchuk of Russia 6-3, 6-4 to win the men's doubles after defeating a US duo in the quarter-finals and a South Korean pair in the semi-finals.
It was Lee's third consecutive victory in the men's doubles at the biennial Universiade.
In 2009, he teamed up with Yi Chu-huan and won the title at the Universiade in Belgrade, Serbia. At the 2011 Universiade in Shenzhen, China, Lee and Hsieh Cheng-peng defeated a Belarussian pair to win the men's doubles. He later teamed up with Chan Chin-wei to take the mixed doubles title that year, also against a Belarussian duo.
Lee said there is no secret to his hold on the men's doubles for the third consecutive time. He just forgets about the pressure and takes it easy, he said.
Lee, 25, is 181cm tall and is the Taiwanese No.1 in men's doubles. He began playing at elementary school and once considered giving up the sport because for some time he failed to win a trophy, but his family encouraged him to continue.
Comments will be moderated. Keep comments relevant to the article. Remarks containing abusive and obscene language, personal attacks of any kind or promotion will be removed and the user banned. Final decision will be at the discretion of the Taipei Times.