MLB: Giants' Bumgarner overpowers Braves in 6-0 win
MAJOR LEAGUES
San Francisco's Madison Bumgarner pitched seven scoreless innings as the Giants held the Atlanta Braves to just three hits and won 6-0 in Friday's clash of National League contenders.
There was a similar dominant pitching display in the main American League game, as Baltimore blanked Boston 2-0 to close the gap between the East division's top two teams to just 1-1/2 games.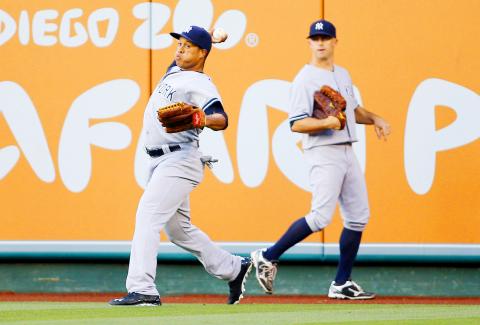 New York Yankees right fielder Thomas Neal, left, throws the ball as center fielder Brett Gardner, right, backs up him as the Los Angeles Angels' Josh Hamilton scores on a double by Howie Kendrick during the first inning of their American League baseball game in Anaheim, California, on Friday.
Photo: Reuters
Elsewhere, Seattle hung on for a tight win over Oakland, and Eric Stults threw a complete game to steer San Diego past Arizona.
Pittsburgh were another team to starve their opponents as the Pirates shut out the Los Angeles Dodgers, Jay Bruce hit the tenth-inning homer that lifted Cincinnati over Milwaukee and Philadelphia came from five runs down to edge Colorado.
San Francisco's Bumgarner (6-4) did not allow a baserunner for 4 2-3 innings before losing his bid for a perfect game in the fifth and shot at a no-hitter in the sixth. He matched his season high with 10 strikeouts while walking one.
Baltimore's Chris Tillman (7-2) took a two-hitter into the seventh inning, steering the Orioles over Boston.
Chris Davis hit his major league-leading 22nd home run of the season for Baltimore.
Seattle's Mike Zunino hit his first career home run on a tiebreaking solo shot in the seventh inning and the Mariners held on for a 3-2 win over Oakland.
Stults threw a career-best one-run complete game to guide the Padres to a 2-1 win over Arizona.
Stults (6-5) retired 16 of the last 17 batters for his third career complete game.
Logan Forsythe hit a bases-loaded, two-run single with two outs in the sixth to give victory to the Padres.
Pittsburgh's Jeff Locke pitched seven scoreless innings as the Pirates beat the Los Angeles Dodgers 3-0.
Locke (6-1) struck out five and walked one to win his sixth straight decision while shaving his ERA to 2.19.
Cincinnati's Bruce homered with one out in the 10th inning, rallying the Reds to a 4-3 victory over Milwaukee.
Bruce connected on a 1-2 pitch from Burke Badenhop (0-3) for his fifth game-ending homer.
Philadelphia's Freddy Galvis hit two 2-run triples and scored the go-ahead run on Humberto Quintero's single as the Phillies beat the Colorado Rockies 8-7.
Trailing 7-2 going into the sixth, the Phillies pulled to within 7-5 on the first of Galvis' triples and a run-scoring groundout by Quintero. They went ahead in a three-run seventh keyed by Galvis' second triple and Quintero's single.
Los Angeles' C.J. Wilson pitched seven effective innings while Albert Pujols and Mark Trumbo each had three hits as the Angels beat New York 5-2 and sent the Yankees to their fourth-straight loss.
In other games it was:
‧ Toronto 8, Texas 0
‧ Kansas City 7, Tampa Bay 2
‧ Cleveland 2, Washington 1
‧ Detroit 4, Minnesota-0
‧ Miami 5, St Louis 4
‧ Houston 2, White Sox 1
‧ Chicago Cubs 6, NY Mets 3
Comments will be moderated. Keep comments relevant to the article. Remarks containing abusive and obscene language, personal attacks of any kind or promotion will be removed and the user banned. Final decision will be at the discretion of the Taipei Times.