Nibali's win a boost for Italian cycling
Vincenzo Nibali's maiden Giro d'Italia triumph was feted in lavish fashion in pink-clad Brescia on Sunday, but there was more than one reason behind the fervor surrounding the Italian's success.
In a doping-tainted era marked by the disgrace of several compatriots and, last year, the downfall of US cyclist Lance Armstrong, Nibali has been held up as a symbol of hope for the renaissance of Italian, and international, cycling.
So far, the 28-year-old Sicilian has avoided the kind of scandal to befall compatriots like Danilo di Luca and Ivan Basso, both former Giro winners who went on to serve doping bans.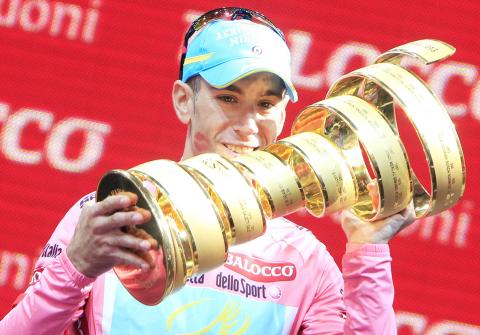 Giro d'Italia pink jersey holder and overall winner Vincenzo Nibali holds his trophy as he celebrates after the last stage of the race in Brescia, Italy, on Sunday.
Photo: Reuters
Nibali's calm demeanor belies the "Shark" nickname given to him in the peloton, because of his aggressive riding — downhill as well as up — but sits comfortably with the general perception that he is a clean cycling champion.
Nibali says he has nothing to hide, but insists he is not alone in the modern day peloton.
"Since I left Sicily for Tuscany as a 16-year-old to follow my dream, I've had very strong ethical values instilled in me," Nibali said after sealing victory on Sunday with a lead of nearly five minutes on Colombian Rigoberto Uran. "I'm happy to be seen as one of the leaders of this new generation, but I don't think I'm the only one in the peloton who holds these values."
Coming only days after the race's second doping positive was revealed — the first being Frenchman Sylvain George's positive for an over-the-counter remedy — Nibali's comments led weight to the perception that Italian cycling, which has seen several big names implicated or snared in controversy in recent years, is getting its act together.
Nibali notably spoke out on Friday last week after former teammate Di Luca, the 2007 race champion, quit the Giro in disgrace following confirmation of a positive test for the banned blood booster EPO during a random control test last month.
Di Luca, 37, has been sanctioned twice in the past for his implication in doping affairs.
"The news about Danilo di Luca is very bad. It leaves us, the riders, to pay the price," Nibali said.
A thrilling battle with Sky's Bradley Wiggins and Chris Froome at the Tour de France last year left the Italian in third, but this year there will be no repeat.
"The Tour isn't in my plans or even in my thoughts," Nibali said.
Comments will be moderated. Keep comments relevant to the article. Remarks containing abusive and obscene language, personal attacks of any kind or promotion will be removed and the user banned. Final decision will be at the discretion of the Taipei Times.