Unbeaten Dominicans win the WBC
'TREMENDOUS WIN': The Dominican Republic won 3-0 against Puerto Rico in an all-Caribbean final to become the first undefeated World Baseball Classic champions
Edwin Encarnacion hit a two-run double in the first inning that held up, helping the Dominican Republic cap an unbeaten run through the World Baseball Classic with a 3-0 win over Puerto Rico in Tuesday's final.
"Tomorrow will be a national holiday," Dominican general manager Moises Alou said. "It was a tremendous win."
Robinson Cano earned Most Valuable Player (MVP) honors, Erick Aybar added an RBI double to back winner Samuel Deduno, and the demonstrative Dominican threw his arms into the air in delight after watching a run-saving defensive gem by center fielder Alejandro de Aza in a tough fifth.
Dominican Republic catcher Carlos Santana celebrates with the trophy after his team defeated Puerto Rico to win the World Baseball Classic in San Francisco on Tuesday.
Photo: Reuters
The Dominican fans did not let the Bay Area's wet weather keep them from dancing in the stands, waving flags and tooting horns. Flags became makeshift ponchos.
The celebrations spread to the Dominican capital, where about 50,000 supporters gathered to watch on giant televisions inside and outside of Estadio Quisqueya.
Now the Dominicans get their long-awaited fiesta, a party they figured to have in 2009, until the Netherlands spoiled the plan by beating them twice for a stunning first-round exit.
The Dominican Repubic's Edwin Encarnacion hits a two-run double against Puerto Rico in the first inning of their World Baseball Classic final in San Francisco on Tuesday.
Photo: Reuters
After Fernando Rodney struck out Luis Figueroa to end it, the Dominicans rushed the mound — with each player waving his own flag.
The Dominicans, with eight consecutive wins, clinched the title in the very city where countrymen Felipe, Jesus and the late Matty Alou made history in 1963, when they appeared in the same Giants outfield for several games. Moises Alou is the son of former San Francisco skipper Felipe.
Caribbeans had so much to cheer in the championship of a tournament that was missing the star-studded US team that failed to reach the final for the third time in as many WBCs.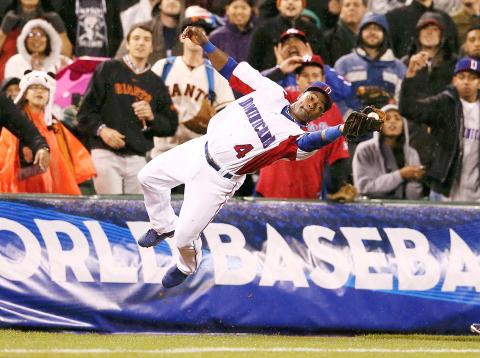 Dominican Republic's Miguel Tejada leaps to catch a foul ball hit by Puerto Rico's Jesus Feliciano in the seventh inning of the World Baseball Classic final in San Francisco on Tuesday.
Photo: Reuters
Puerto Rico eliminated two-time Classic champions Japan with a 3-1 victory on Sunday night to set up an all-Caribbean final.
Deduno followed up a fine outing in a win against the US last Thursday with another strong performance that will send him back to the Minnesota Twins with some nice momentum.
Deduno struck out five in five scoreless innings, allowing two hits and walking three to finish with a 0.69 ERA for the tournament. Rodney struck out two and finished for his seventh save as the bullpen closed out this special run with 25-2/3 scoreless innings.
The relievers did not allow a run after the fourth inning of their first-round victory against Puerto Rico on March 10 in San Juan.
"I'm excited and I'm thrilled," said reliever Santiago Casilla, who won the WBC title and World Series championship in all of about five months.
In the top of the fifth, the grounds crew scurried out to rake the mound after it became slippery in the rain and Deduno walked Alex Rios on five pitches to lead off the inning.
After Carlos Rivera flied out, De Aza ran down Andy Gonzalez's long fly to the gap in left-center and made a reaching snag at the warning track with his back to the infield.
Deduno then walked Jesus Feliciano. Pena paid the pitcher a mound visit, but stuck with him, and Deduno struck out Angel Pagan, swinging after falling behind 2-0. Deduno pumped his fists again as he charged off the mound and was surrounded by celebrating teammates.
In the bottom half, De Aza did it with his bat. He ended an 0-for-12 stretch when he laid down a perfect bunt single toward third.
The Dominicans became the first unbeaten WBC champions, beating Puerto Rico for the third time in this Classic.
Cano had a big hand in it.
The New York Yankees star finished his sensational Classic batting .469 (15-for-32) with two home runs, six RBIs, six runs scored and two doubles.
He also earned MVP honors in each of the first two rounds. Encarnacion finished with six RBIs in the WBC.
"I'll tell you one thing: Tonight we're going to celebrate, tomorrow we're going to celebrate and Thursday we're going to worry about spring training," Cano said.
After drawing a pair of intentional walks a night earlier, Cano had another in the first inning against loser Giancarlo Alvarado.
The Puerto Rico right-hander surrendered Encarnacion's double two pitches later, and was done after one shaky inning featuring 22 pitches and only 10 strikes.
Hiram Burgos relieved and struck out five in 4-2/3 innings.
Major League Baseball commissioner Bud Selig was among those at the game — available on television to 440 million households worldwide in 200 countries and territories, and in 15 languages — that drew 35,703 fans on a cool, drizzly March night at AT&T Park.
Comments will be moderated. Keep comments relevant to the article. Remarks containing abusive and obscene language, personal attacks of any kind or promotion will be removed and the user banned. Final decision will be at the discretion of the Taipei Times.