NFL: Falcons avenge previous defeat by crushing Saints
PLAYOFF HOPES: Saints quarterback Drew Brees gave away five interceptions as New Orleans dropped to 5-7 with only four games of regular-season play remaining
The Atlanta Falcons avenged their only defeat of the season by downing fierce division rivals New Orleans 23-13 on Thursday, leaving the Saints' playoff hopes hanging by a thread.
Having lost to the Saints in New Orleans three weeks ago, the Falcons turned the tables on home turf to improve to 11-1 on the season, all but wrapping up the NFC South.
Saints quarterback Drew Brees completed 28 of 50 passes for 341 yards, but was left to rue five interceptions, the most of his career for a single game, as his team dropped to 5-7 with just four games remaining.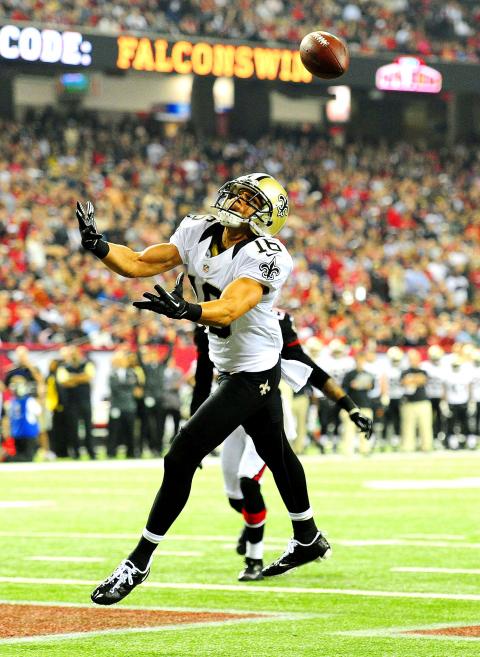 Lance Moore of the New Orleans Saints tries to make a catch against the Atlanta Falcons at the Georgia Dome in Atlanta, Georgia, on Thursday.
Photo: AFP
It was the first time since week four 2009 Brees failed to throw for a touchdown, leaving his NFL record of consecutive games with a touchdown throw at 54.
Atlanta led 17-0 early in the second quarter, but a Mark Ingram touchdown reduced the lead to 17-7 and it appeared New Orleans would finish the half with more points.
The Saints mismanaged the final drive of the first half, allowing the clock to expire despite being in the red zone, stalling a comeback run.
The Green Bay Packers (7-4), Seattle Seahawks (6-5), Tampa Bay Buccaneers (6-5), Minnesota Vikings (6-5), Washington Redskins (5-6) and Dallas Cowboys (5-6) all sit in front of the Saints in the battle for two wild-card berths.
Falcons quarterback Matt Ryan was 18 for 33 for 165 yards and a touchdown.
"Playing New Orleans has been difficult for us the last couple of years, we've been in close games, and we just haven't been able to pull them out. Tonight feels good," Ryan said. "It was a great game played by our defense. Our defense came out here and created five turnovers. We started off hot on offense and got some points early, kind of struggled the rest of the game, but our defense kept us in it and it was a good team win."
With the division title just a Tampa Bay loss or another win away, focus is already turning to whether the Falcons can reverse their run of poor playoff performances.
In 2008, 2010 and last year the Falcons bombed out of the playoffs with big losses.
"It's not something we can worry about right now," Ryan said. "I think if you're worried about January in September, October, November and December you're wasting your time."
Ryan did admit past disappointment was a big factor in the impressive 11-1 record.
"I think everybody is a little bit hungrier," he explained.
"We have had some disappointments at the end of our seasons the last couple of years, but I think those disappointments have stuck with everybody and motivated everybody and we have latched on to that momentum and built on it," he said.
Comments will be moderated. Keep comments relevant to the article. Remarks containing abusive and obscene language, personal attacks of any kind or promotion will be removed and the user banned. Final decision will be at the discretion of the Taipei Times.