SBL teams fall to defeats on final day of Straits Cup
Straits Cup action continued at the National Taiwan Sport University Gymnasium in Taichung on the final day of play yesterday, with the Zhejiang Guangsha Lions ousting the Dacin Tigers 79-72 to settle for a 2-1 record.
The highly anticipated showdown between former Taiwan Beer great Lin "the Beast" Chih-jeh, who returned home in a Lions uniform, and the Tigers' team icon Tien Lei never materialized as the former was benched by the Lions coach as he rested an aching tooth, while the latter was also out nursing a waist injury, but that did not keep the Cats from putting up a good fight against the Chinese, who nearly blew a double-digit lead in the second half, before prevailing by seven.
"[The Tigers] definitely put up a good fight, even without three of their starters," an impressed Lions coach Liu Chuan-sheng said after the game.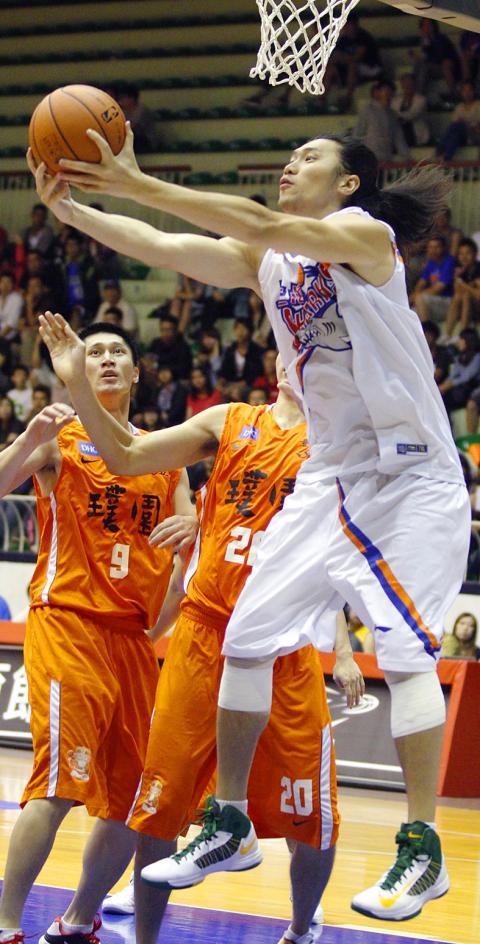 Tseng Wen-ding of the Shanghai Maxxis Sharks goes up for a basket against Pure Youth Construction in Taichung yesterday.
Photo: Chan Chao-yang, Taipei Times
Liu also acknowledged his team's shortcoming as they failed to protect a big lead in the second half.
A surprising 10-2 start for the Tigers put the Lions on notice right away, but it did not rattle the visitors as they quickly answered with a 12-0 run of their own to take the lead for good later in the quarter.
Even though Dacin would rally from as many as a dozen down to fall within a deuce of the Lions late in the game, highlighted by a three-point play the old fashioned way by Lin Yi-hui, too many missed opportunities down the stretch proved costly as the Taiwanese side self-destructed in the closing minutes to suffer a disheartening defeat.
Sharks 80, Pure Youth 62
Trouble persisted for the winless Pure Youth Construction as they dropped an 80-62 decision to the Shanghai Maxxis Sharks in their Straits Cup finale last night to end the three-day competition with a disappointing 0-3 record.
Inexperience on the part of the Builders was to blame for the hosts, who made it difficult for the Chinese side in a decent first half, before faltering in the third quarter to fall behind by as many as 20 points in the final two quarters.
Comments will be moderated. Keep comments relevant to the article. Remarks containing abusive and obscene language, personal attacks of any kind or promotion will be removed and the user banned. Final decision will be at the discretion of the Taipei Times.