Gymnastics is a family affair for trio from Japan
The competition at the London Olympics is already guaranteed to be intense, but three Japanese gymnasts might have an extra source of motivation as they vie for gold medals: sibling rivalry.
"When it comes to competing, of course I don't want to lose to the younger two," said Kazuhito Tanaka, 27, referring to his sister, Rie, and brother, Yusuke.
"I'd lose my standing as the big brother," he said after a training session ahead of the trip to London, where all three siblings will make their Olympics debut.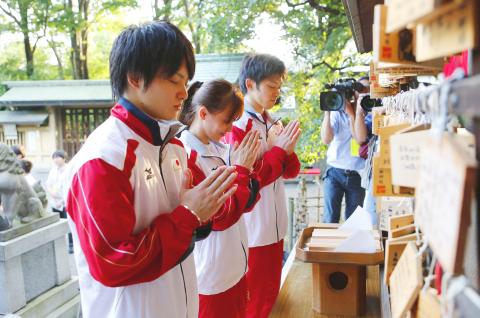 Japanese gymnasts Kazuhito Tanaka, 27, right, his sister Rie, 25, center, and brother Yusuke, 22, on Monday pray for success in London, where they will make their Olympic debut, at a Shinto shrine in Tokyo, Japan.
Photo: Reuters
It is rare for two siblings to become top-tier athletes, three is even rarer.
For the Tanakas, whose parents were also gymnasts and their father a coach, a common dream and strong work ethic runs in the family, 25-year-old Rie told reporters at a separate practice session.
"The bond we have through hard work is really strong. And since we were little, we all wanted to go to the Olympics," said Rie, captain of the Japanese women's team.
Kazuhito was the first to follow in their parents' footsteps and take up the sport as a child. Rie became interested after watching her big brother train, while Yusuke, 22, started because he did not want to be home alone and bored.
Despite being such a family of gymnasts, their father went to surprising lengths to keep the sport from becoming too much of a focus in their home life, easing the pressure and helping them learn to appreciate gymnastics on their own.
"Our dad even made a rule that we couldn't talk about gymnastics at home," said Rie, who won her first national title in April.
Kazuhito, also a captain, will lead the men in their quest to recapture the team gold, which they won in Athens in 2004 before taking silver in 2008 in Beijing.
He said he took heart from having his brother on the same team, but he puts his focus squarely on the squad once they hit the gymnasium, with everyone on an equal footing.
"I try to think of Yusuke more as a teammate than a brother, and I feel a sense of encouragement no matter who my teammate is," he said.
In the individual categories, the men will be looking to win their first gold medal since 1984, with Kohei Uchimura, who has won three consecutive world all-around titles, seen as a strong contender.
Uchimura came close four years ago, having won silver in the all-around in Beijing.
While the women have won only one medal, Japan's female athletes have enjoyed a recent string of successes, most notably the women's soccer team winning last year's World Cup, and Rie is hoping some of the magic will rub off on her squad.
"We [Japanese women] are strong at rising to the challenge," Rie said.
Comments will be moderated. Keep comments relevant to the article. Remarks containing abusive and obscene language, personal attacks of any kind or promotion will be removed and the user banned. Final decision will be at the discretion of the Taipei Times.