Djokovic, Sharapova advance in Florida
PROVEN CHAMPIONS: Maria Sharapova is one of three former winners who remain in the women's draw, along with Caroline Wozniacki and Ana Ivanovic
World No. 1 Novak Djokovic defeated Kevin Anderson 6-2, 6-3 to reach the fourth round of the BNP Paribas Open on Monday, while leading US men Mardy Fish and Andy Roddick were knocked out.
Djokovic broke Anderson's serve once in each set playing in the heat of the day at the Indian Wells Tennis Garden, where he won in 2008 and last year, during a season when he claimed three Grand Slam titles and finished with a 70-6 win-loss record.
Anderson, the 29th seed from South Africa who won last week's tournament in Delray Beach, Florida, managed one break in the first set. Five games went to deuce, before Djokovic held to lead 3-2 in the first.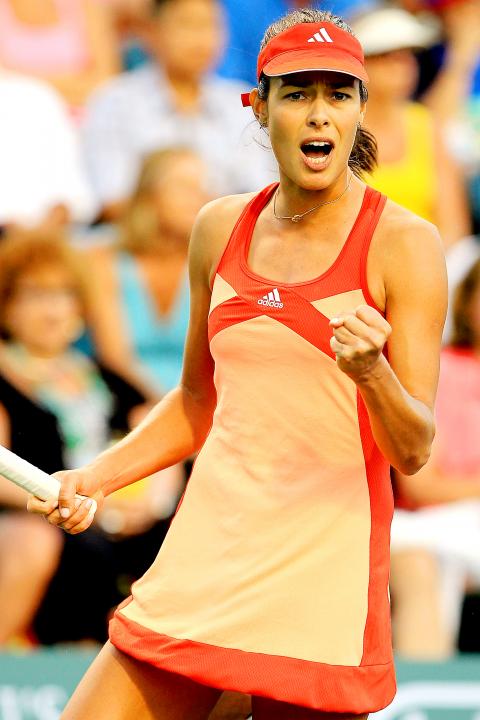 Serbia's Ana Ivanovic celebrates winning a point against Ksenia Pervak of Kazakhstan in their BNP Paribas Open women's singles match at the Indian Wells Tennis Garden in Indian Wells, California, on Monday.
Photo: AFP
"He's very aggressive on the return games," Djokovic said. "He has a great serve, as you can imagine for his height, so I had to return well, I had to just be patient and wait for my chances. I haven't served well in the opening set, but then it all came down to his service games. I served well and put a lot of pressure on him, and returned really, really good."
No. 8 Fish was beaten 6-3, 6-4 by Australian qualifier Matthew Ebden, with Fish getting penalized for hindrance. Former world No. 1 Roddick went down to No. 7 Tomas Berdych 6-3, 4-6, 6-2 and he has now lost 13 of his last 14 matches against top 10 players.
In the day's biggest upset, US Open champion Sam Stosur lost to 30th seed Nadia Petrova 6-1, 6-7 (6/8), 7-6 (7/5) in a rematch of their three-set marathon last year in New York. That encounter was the longest women's match since the tiebreaker was introduced, with Stosur winning on her way to claiming the title.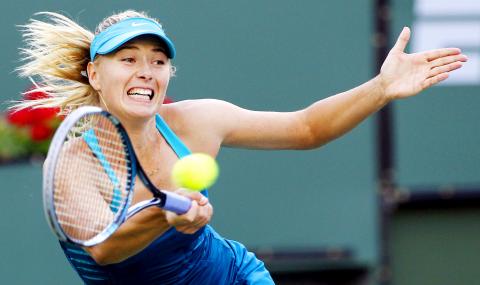 Russia's Maria Sharapova returns to Simona Halep of Romania in their women's singles match in Indian Wells, California, on Monday.
Photo: Reuters
World No. 2 Maria Sharapova defeated Simona Halep of Romania 6-3, 6-4 in their first career meeting. Sharapova is one of three former winners remaining in the field, with Caroline Wozniacki and Ana Ivanovic also in the bottom half of the draw.
Ivanovic rallied to beat Ksenia Pervak, 6-7 (6/8), 6-3, 6-2 and set up a fourth-round match against Wozniacki, who outlasted Sofia Arvidsson 3-6, 7-5, 6-2 in a match that lasted more than 2 hours, 30 minutes. She broke Arvidsson three times in the third set, then closed it out with a forehand winner off the Swede's drop-shot.
Francesca Schiavone became the eighth player to withdraw because of a viral illness sweeping the Coachella Valley. The Italian retired after losing the first set 6-2 to Lucie Safarova of the Czech Republic.
The tournament's medical provider says the virus causes nausea, vomiting, fever, and diarrhea, and it is being transmitted by air and direct contact. It is not food-related. Vera Zvonareva also withdrew with a different viral illness.
"Definitely washing my hands as much as possible," Petrova said. "I'm going to have a sanitizer in my racket bag. I'm trying to eat outside of the site, so trying to take as many precautions as possible. Got to be careful."
Fish was hit with the hindrance rule for yelling: "Come on," before Ebden got to the ball after Fish's volley winner in the next-to-last game of the match. It was the same penalty that sent Serena Williams into a rage against an official during the US Open final she lost to Stosur.
Stosur had lunged at a shot, but Williams yelled the same thing as Fish before the ball landed. Ebden threw up his hands, clearly annoyed by Fish's outburst.
"It was right under the umpire's nose, so it was pretty clear what happened," Ebden said. "I did get there in reasonable time to hit the ball. I still had a decent play on it."
The International Tennis Federation rule can be interpreted either by giving the point to the opponent if the hindrance was considered deliberate, or by replaying the point if the hindrance was considered unintentional. By giving the point to Ebden, chair umpire Felix Torralba interpreted Fish's yell as deliberate interference. Fish refused the traditional post-match handshake with Torralba.
"I don't think it had an effect on him making or missing the shot, but I feel like maybe [play] a let there, unless he hits the shot in. Then that's different," said Fish, who was serving. "I've never done that before on tour in my life. I was just trying to fire myself up."
Other winners on Monday were No. 7 Marion Bartoli, No. 20 Maria Kirilenko, No. 21 Roberta Vinci on the women's side, and No. 12 Nicolas Almagro, No. 13 Giles Simon and Pablo Andujar among the men.
Top-ranked Bob and Mike Bryan of the US survived a marathon second-round doubles match, beating the Spanish duo of Marcel Granollers and Feliciano Lopez 6-7 (2/7), 7-6 (7/4), 17-15.
Comments will be moderated. Keep comments relevant to the article. Remarks containing abusive and obscene language, personal attacks of any kind or promotion will be removed and the user banned. Final decision will be at the discretion of the Taipei Times.