Even the Taliban is being seduced by Afghanistan's cricket success story
Afghanistan's first-ever one-day international against Pakistan achieved what no other sport had managed — support from the once cricket-hating Taliban, an official said yesterday.
"Friday's match was a big milestone for Afghanistan, so much so that the Taliban sent a message of support, saying they are praying for the success of the team," Afghanistan Cricket Board president Omar Zakhilwal told reporters.
Although Afghanistan lost by seven wickets in the first-ever one-dayer against Pakistan on Friday, they gave a good account of themselves, scoring 195 and then capturing three early wickets before succumbing.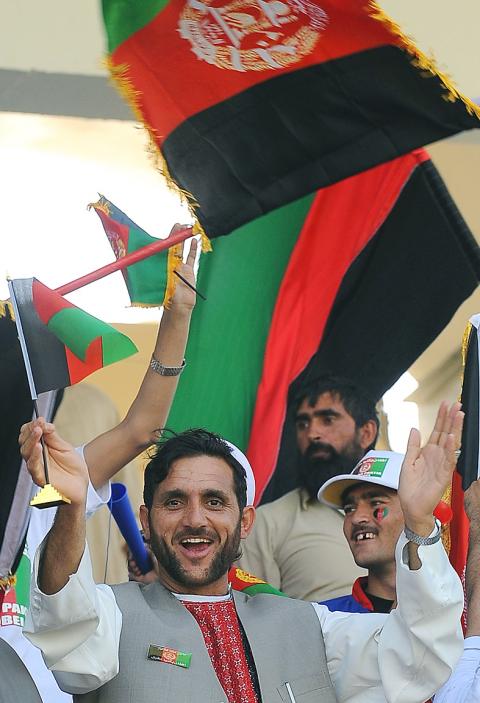 Afghanistan cricket fans cheer their team on during their first one-day international against Pakistan on Friday at the Sharjah Cricket Stadium in the United Arab Emirates.
Photo: AFP
Cricket has become the top sport in the war-ravaged country in the last three years after it was introduced by youths who learned the game in refugee camps in Pakistan following the invasion of their country by the former Soviet Union in 1979.
Under the Taliban regime, no outdoor sport was allowed and grounds were primarily used for executing political opponents who defied the hardliners.
However, since the ouster of the Taliban led by the US in 2001, cricket has taken root, with Afghanistan winning one-day status in 2009.
Zakhilwal, also the finance minister in Afghan President Hamid Karzai's government, said cricket is uniting the nation.
"Even President Karzai was watching the match and wished the team well," Zakhilwal said. "Across the country, 80 to 90 percent of the kids were watching the game as this was a big occasion for our cricket."
Zakhilwal said no other thing unites Afghanistan like cricket.
"On streets you can see kids playing, there is no other sport which mobilizes the people, neither politics nor any other event, neither the reconstruction. There is nothing which can match cricket," Zakhilwal said.
"This [cricket] becomes an example of progress in other areas as well. Even with little peace in our country, we have achieved this much in cricket. We can achieve more — when there is a will, there is a way, with the support of the people," he said.
Zakhilwal said his board will push other nations to play his team.
"We are pushing the top teams," said Zakhilwal, praising Pakistan for giving them the opportunity. "It was great support from Pakistan. We are pushing India, Australia, Bangladesh and Sri Lanka, and with this kind of performance and following, I see no reason why they don't play us."
Zakhilwal urged the International Cricket Council and Asian Cricket Council for more help.
"They have done their part, but they should help us get more chances against top teams," said Zakhilwal, hoping countries would not shy away from playing against his team.
"My personal opinion is that top teams shy away from playing us because winning against Afghanistan is not huge, but losing against them would be big for them. I think we are a team and have broken the ice by playing Pakistan and the team has shown maturity and strength," said Zakhilwal, predicting that the day when his country can host international matches is not far ahead.
"We now have two international stadiums — in Kabul and Jalalabad — and we are open to all teams. If they can't come, they can play us anywhere in the world," Zakhilwal said.
Comments will be moderated. Keep comments relevant to the article. Remarks containing abusive and obscene language, personal attacks of any kind or promotion will be removed and the user banned. Final decision will be at the discretion of the Taipei Times.