United's Ferguson refuses to write off threat from capital
Sir Alex Ferguson has refused to write off a challenge from London at the top of the Premier League next year, despite the dominance of Manchester's rival pace-setters.
A strong first half to the season from Manchester United and current league leaders City has left many pundits predicting that the eventual champions will come from Manchester, but although third-placed Tottenham Hotspur are currently seven points behind Ferguson's second-placed team, Harry Redknapp's club has the luxury of a game in hand and history has taught the veteran United manager that challenges to their title could come from a variety of sources in next year.
"At this moment in time, everyone thinks it will be one and two for the city, but come March things change and you need to go back over the years to see how dramatic it can be," Ferguson said. "We surrendered an 11-point lead to Arsenal and we managed to claw back a 12-point deficit to Newcastle, and last year Chelsea were 10 points clear in November and they lost it. You lose a game in this league and all the rest get a pick up and start chasing harder. That's the way the league is and come March, you never know."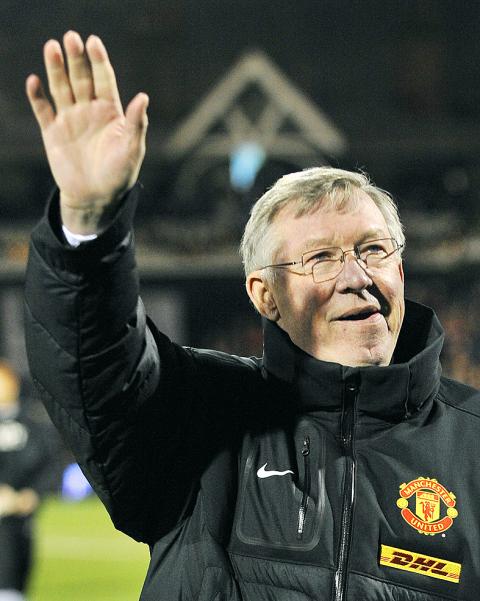 Manchester United manager Sir Alex Ferguson waves to the fans prior to his team's Premier League match against Fulham at Craven Cottage in London, England, on Wednesday.
Photo: EPA
United bounced back superbly in midweek, winning 5-0 at Fulham, to respond to the critics who had a field day after the defending Premier League champions were unceremoniously dumped out of the Champions League by Swiss club Basel.
"The criticism has been understandable because you lose a derby game 6-1, you get knocked out of the League Cup by Crystal Palace, a Championship team, and you lose to Basel, which is not a power in Europe," Ferguson said. "You can understand the criticism, but in terms of the nature of the kind of player we have, the kind of club we are, we've got the resilience and determination to do something about it each time it's happened. I think that shows the character of the team. In a normal season we lose games, but the games we've lost this season have been a bit more dramatic and more emphatic in the sense of the impact it has had on our chances of winning trophies. We're out of the Champions League, out of the League Cup and lost to City in a derby game. These are bad results for us, bad results, and the character of the team has rescued us each time."
United face a home fixture against Wigan Athletic today that would appear, on paper at least, to offer little obstacle to them continuing a run of seven wins and a draw in the eight games since their humiliating 6-1 home defeat to City.
However, they will have to contend without winger Ashley Young, who has been ruled out for a "few weeks" with a knee injury. Versatile Phil Jones has handed Ferguson a bonus with the news that he could be fit to play against the Latics, despite fears he had suffered a bad facial injury.
After an away victory at West Bromwich Albion and home draws with Chelsea and Liverpool, Wigan manager Roberto Martinez wants his team to continue to show their steady improvement against United in the more intimidating atmosphere of Old Trafford.
"The performances against Chelsea and Liverpool were very good. They weren't just accidents," Martinez said. "They showed what we can do, but the next game is going to be as big a test we've faced all season. You can't afford to go to Old Trafford and be affected. You have got to try and play your own game. We need to repeat the levels we have produced in the last two home games in one of the most intimidating arenas in European football."
Comments will be moderated. Keep comments relevant to the article. Remarks containing abusive and obscene language, personal attacks of any kind or promotion will be removed and the user banned. Final decision will be at the discretion of the Taipei Times.