Former Atalanta BC skipper arrested
ILLEGAL BETTING: Cristiano Doni, who attempted to flee when police arrived at his home, was among 17 people across Italy arrested on Monday in a match-fixing probe
Former Atalanta BC captain Cristiano Doni and 16 other people were arrested across Italy on Monday in an ongoing investigation into match-fixing and illegal betting on games.
The inquiry is focused on several matches in Serie B over the past two seasons — with three of the matches including Atalanta.
Three Serie A matches from last season are also under investigation: Brescia v Bari, Brescia v Lecce and Napoli v Sampdoria.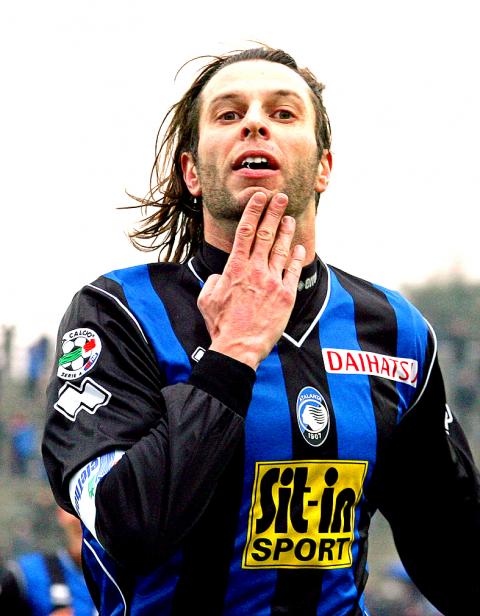 Atalanta BC striker Cristiano Doni celebrates after scoring a goal against SS Lazio in their Serie A match in Bergamo, Italy, on Jan. 17 last year.
Photo: EPA
"This is not the end, but just a starting point," Cremona prosecutor Roberto Di Martino said. "Let's hope it's a starting point in cleaning up the beautiful game that is football. One of the suspects has admitted that these operations have been going on for over 10 years. At the top of the organization are men from Singapore, who are those who move the money, but the shareholders are divided from the West to the Far East, to South America and they manage with their men how to change the outcome of football matches."
The arrests come five years after another major match-fixing scandal — restricted to club and referee officials, but not players — resulted in Juventus getting relegated to Serie B for a season, plus points penalties for SS Lazio, AC Milan, Fiorentina and Reggina in Serie A.
Others arrested on Monday include former Inter and AS Roma player Luigi Sartor, former Serie B player Alessandro Zamperini and currently active players Carlo Gervasoni of Piacenza and Filippo Carobbio of Spezia.
Charges include criminal association and sporting fraud, while Doni — who was placed under investigation in June — has been arrested on suspicion of attempting to destroy evidence.
"There were several elements that would have risked ruining the evidence and that lead to the need for custodial measures," Di Martino said.
A telephone call was reportedly intercepted between Doni and Ravenna goalkeeping coach Nicola Santoni — who has also been arrested — in which the pair discuss tampering with Santoni's iPhone, which had been confiscated by police in June.
Reports say Doni attempted to flee after police arrived at his house on Monday morning. The 38-year-old opened the door to the officers, but then tried to escape via his garage, where he was caught.
In the order of arrest for Doni, judge Guido Salvini wrote: "Doni, acting also on behalf of unnamed club directors, who were aiming for promotion to Serie A, interfered or tried to interfere in the results of multiple games of his team, with the purpose of illegitimately procuring for himself the proceeds of bets."
Doni and the rest of the defendants have been forbidden from talking to their lawyers for the next five days.
As recently as last month, Gubbio defender Simone Farina was approached and offered 200,000 euros (US$260,000) to influence the outcome of an Italian Cup match between Cesena and Gubbio on Nov. 30.
The player refused and reported the incident to police.
Farina started his career in AS Roma's youth team with Zamperini.
In June, 16 people were arrested as part of the inquiry, which is being led by prosecutors in Cremona, and Doni was then placed under investigation.
In August, Doni was banned from soccer for three-and-a-half years by the Italian soccer federation's disciplinary committee and Atalanta — who were promoted to Serie A for this season — were given a six-point penalty.
Doni has said he is innocent.
UEFA has said it will wait and see what emerges from the investigation before deciding whether to take action.
"UEFA is not able to make an official comment at the moment," spokesman Robert Faulkner told news agency ANSA. "Of course, match-fixing is one of UEFA's main concerns, but in this specific case it is purely an Italian investigation, which mainly concerns Serie B matches. Even though UEFA pays a lot of attention to everything that concerns match-fixing and clandestine betting, this specific case does not directly involve it."
Comments will be moderated. Keep comments relevant to the article. Remarks containing abusive and obscene language, personal attacks of any kind or promotion will be removed and the user banned. Final decision will be at the discretion of the Taipei Times.