China's star swimmer Wu targets Phelps in London
China's Wu Peng, the man who ended nearly a decade of domination by Michael Phelps in the 200m butterfly, said a change in his training regime and a strong season had given him the confidence to aim for a medal at next year's London Olympics.
Wu's good season included two victories over 14-time Olympic champion Phelps, ending the American's 60-race winning streak in the 200m which had spanned nine years.
A repeat victory over Phelps in London would be difficult, however, Wu told Reuters in a television interview.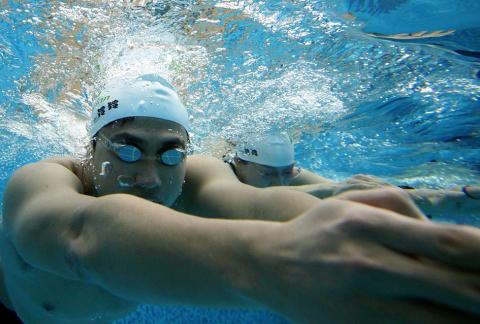 Chinese swimmer Wu Peng swims during a masterclass exhibition event in Shanghai, China, on Monday, in preparation for the London 2012 Olympic Games.
Photo: Reuters
"I have to say he has a stronger ability than most of the other swimmers, so it is very difficult to beat him again at the Olympic Games," Wu said.
"But I still have confidence not just to aim to beat him, but to basically perform at the best of my ability," he said.
Wu made his Olympic debut at the 2004 Athens Games aged 17, progressing to the final stages of the 200m butterfly. He again missed out on a medal at the Beijing Games in 2008, finishing joint fourth.
"The London Olympics might be the last time I participate in the Olympic Games. For the past two Olympics that I have participated in, I have reached the finals," Wu said.
"So I hope to improve on that in London and be amongst the medalists. This is what I am -aiming for," he added.
A native of Hangzhou, Zhejiang Province, Wu said leaving China to train in Michigan in the US had helped him to improve his performances.
The move also eased pressure on the swimmer who had carried China's hopes for Olympic success in the pool at the Beijing Games.
"My overall performance has been good this year so that has reaffirmed some of the training that I have had in the United States," Wu said.
"After I return to the US next year, I want to work harder on the details and hope for a good performance in the Olympics," he said.
Looking beyond next year's London Games, Wu said he planned to focus more on studying.
ROLE MODEL
He said fellow swimmers could learn lessons from Ian Thorpe's difficult comeback attempt.
Australia's five-time Olympic champion retired from competitive swimming in 2006, but returned this season with a string of disappointing results, dampening expectations of a fairytale comeback ahead of the Olympic Games.
"I feel that it is not easy for him," Wu said.
"As age catches up with him and as the sport of swimming develops, I feel it has not been easy for him to make this decision. So he is someone whom a lot of us can learn from," he said.
Comments will be moderated. Keep comments relevant to the article. Remarks containing abusive and obscene language, personal attacks of any kind or promotion will be removed and the user banned. Final decision will be at the discretion of the Taipei Times.