Yani Tseng 'too shy' to wear a skirt at pro-am
World No. 1 female golfer Yani Tseng yesterday wore shorts to a pro-amateur matchplay that precedes an LPGA invitational tournament featuring players dressed in kilts or skirts, saying she is too shy to wear skirts.
"I didn't prepare any skirts because I'm too shy. I'm afraid I won't do well with a skirt on," the Taiwanese golfer admitted after a ceremony at the Miramar Golf and Country Club in Linkou, New Taipei City, for the Swinging Skirts 2011 TLPGA Invitational, slated to take place from tomorrow to Sunday.
Yesterday's game featured LPGA professionals teamed up with amateur players, including those from the Swinging Skirts Golf Team.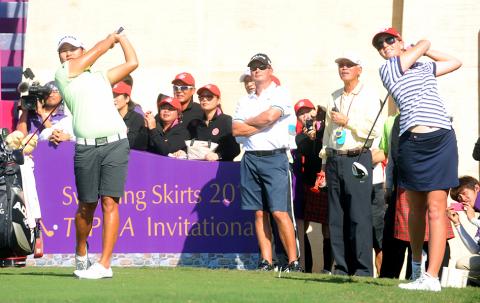 Yani Tseng, left, and Paula Creamer, right, tee off at the opening ceremony of the Swinging Skirts Invitational tournament at the Miramar Golf and Country Club in Linkou District, New Taipei City, yesterday.
Photo: CNA
Swinging Skirts, which hosted the event, is a private organization made up of both men and women amateur golfers. Unlike pros, its members wear skirts or kilts when they play, and all competitors, caddies and course referees are encouraged to do the same during the competition.
Tseng wore a green polo shirt and shorts to yesterday's event, while the US' Paula Creamer, the other LPGA player who attended the ceremony, wore a dark blue dress. She was one of the few LPGA players who wore a dress to the matchplay.
Most of the Swinging Skirts Golf Team members, meanwhile, were dressed in Scottish kilts.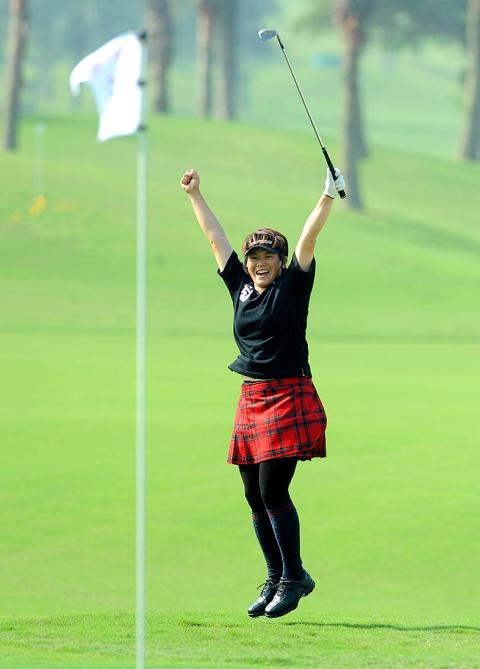 Taipei's Wei Yun-jye, wearing a tartan skirt, jumps for joy after sinking a putt from 15 yards during the Swinging Skirts Invitational tournament at the Miramar Golf and Country Club in New Taipei City's Linkou District yesterday.
Photo: CNA
Tseng said playing at the golf course in Linkou is "like coming home."
"It's close to my home and many people will come cheer for me, so I'm looking forward to the game," the 22-year-old native of Taoyuan County said.
"It's been a long year. Now I'm fully concentrated on this game. After the game, I can take a good rest and not pick up a golf club," Tseng said.
New Taipei City Mayor Eric Chu said at the ceremony that the government hopes to help not only professionals, but also more children and young people in Taiwan to play golf in the future.
Four LPGA tournament winners — Tseng, Creamer, Stacy Lewis of the US and So Yeon-ryu of South Korea — are scheduled to compete in an 18-hole Grand Slam Skins Game today, with half of the roughly NT$3 million (US$100,000) prize money going to charity. Players in a skins game compete for prize money on each hole.
The skins game is set to be followed by the 54-hole invitational played over three rounds, starting tomorrow.
Special gateways inspired by traditional Chinese and Taiwanese architecture were set up at each of the 18 holes for players to pass through, symbolizing 18 tests that people may face in life, such as a test of infatuation, arrogance and greed. These gateways add an element of fun to the tournament, the organizer said.
The invitational has a total purse of NT$15 million and half of the proceeds from ticket sales will be donated to earthquake relief efforts in Japan, with the other half going to the development of women's golf in Taiwan.
Comments will be moderated. Keep comments relevant to the article. Remarks containing abusive and obscene language, personal attacks of any kind or promotion will be removed and the user banned. Final decision will be at the discretion of the Taipei Times.