Donaire decisions defensive Navarez
DEJA VU: The Filipino's opponent went into a defensive shell after the fourth round without throwing punches, bringing to mind Pacquiao's bout with Joshua Clottey
Filipino fighter Nonito Donaire retained his WBC and WBO bantamweight titles on Saturday with a 12-round unanimous decision over Argentina's Omar Navarez.
Donaire improved his win to loss ratio to 27-1 (18 KOs) and stretched his nine-year winning streak to 26 fights.
The three judges ringside at the Theater at Madison Square Garden all scored it 120-108 in favor of Donaire, who dealt Navarez — a two-time flyweight and super flyweight champ — the first defeat of his 11-year professional career.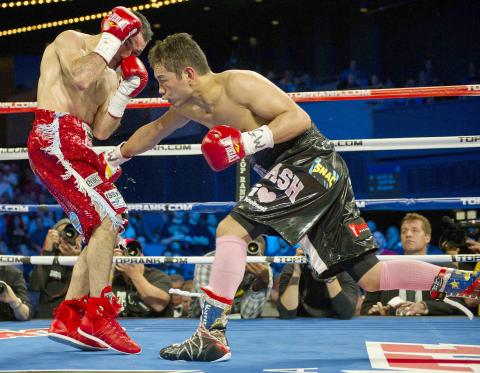 Nonito Donaire of the Philippines, right, lands a punch on Omar Andres Narvaez of Argentina in the ninth round of their WBC and WBO world bantamweight title fight at Madison Square Garden in New York on Saturday.
Photo: Reuters
However, the crowd of 4,425 was unhappy with the lack of action and Donaire's inability to break through the challenger's defenses for the knockout.
Donaire won the title with a convincing second-round knockout of Fernando Montiel in Las Vegas in February.
The 28-year-old southpaw, fighting in New York for the first time, was looking comfortable by the fourth round, when he began landing more punches and backed Navarez into the ropes with a combination.
Navarez, also a southpaw, went into a defensive shell, keeping his clenched hands in front of his face as he seemed happy to let the bout go the distance.
"I was bored," Donaire said. "When I knew that the guy wouldn't open up, I kind of got bored because no matter what I opened my hands, I opened my face and the least you can do is hit me with a jab, hit me with something."
When Donaire managed to land some uppercuts late in the 10th round, the crowd went wild, but they reverted to jeers as the pace dropped off in the 11th.
Donaire was not too happy either.
"I don't know what's going on in his head," he said of Navarez's passive stance. "He didn't want to fight."
Donaire even offered an apology to fans for failing to get the knockout.
"I did my best," he told them over the public address system. "It didn't come out the way we wanted. I have respect for him, but he didn't come to fight. I hurt him in the round, and after that, he was in his shell. I tried to open myself up because I don't mind getting hit, but I couldn't get him to open up."
Donaire got a laugh from the fans when he compared the bout to compatriot Manny Pacquiao's victory last year over a lackluster Joshua Clottey.
"Now I know how Manny Pacquiao felt with Clottey," he said. "The guy had that shell."
Donaire said he had expected Navarez to come after him more.
"I expected him to wear me down, but that wasn't the case," Donaire said. "The moment that I hit him hard, he just didn't want to take his chances."
Navarez said he did not see what the fuss was about.
"He never hurt me," Navarez said. "I didn't feel any of the punches. I didn't think he was such a big deal."
With the victory, Donaire is likely in line to move up to challenge World Boxing Association super bantamweight champion Jorge Arce early next year.
If he can gain that 122-pound title, promoter Bob Arum said the next step would be a fight against World Boxing Council super bantam champion Toshiaki Noshioka in May.
WBO CRUISERWEIGHT
AP, LUDWIGSBURG, GERMANY
German cruiserweight Marco Huck successfully retained the WBO title for the eighth time, stopping Argentine challenger Rogelio Rossi in the sixth round on Saturday.
Rossi needed medical attention and took a long time to get up after Huck left the 30-year-old southpaw sprawled on the canvas with a clean right punch.
The 26-year-old Huck also knocked Rossi down in the third round, and was deducted two points for flooring him again well after the bell at the end of the fourth round.
"I think I hit him after the bell," Huck said, prompting a mixed response from the home crowd.
With Rossi still clearly feeling the effect, Huck went for the knockout in the fifth, when he twice brought the challenger down again, before finishing him off in the sixth.
"I had 12 rounds and probably took too much time," Huck said. "Maybe I could have ended the fight earlier."
Huck improved to 34-1 (25 KOs), while Rossi, who was deducted a point for low punches in the third, dropped to 17-3-1 (11 KOs) after his first defeat since 2007.
"I asked him if he wanted to stay in the corner, but he likes fighting and he decided to fight on," Rossi's coach Luis Barrera explained after the Argentine came out for the fifth round.
Huck's coach Ulli Wegner was unhappy with the German champion's slow start, but dismissed any notions of foul play.
"Marco didn't hear the bell after the fourth round, that happens — that's boxing," Wegner told reporters.
Comments will be moderated. Keep comments relevant to the article. Remarks containing abusive and obscene language, personal attacks of any kind or promotion will be removed and the user banned. Final decision will be at the discretion of the Taipei Times.