Wheldon dies in IndyCar crash
'NUMB AND SPEECHLESS': When the drivers returned to the track, Wheldon's fellow Briton, Dario Franchitti, was sobbing uncontrollably as he was strapped into his car
British IndyCar driver Dan Wheldon has died after a horrific 15-car crash at the Las Vegas Motor Speedway on Sunday which left the motor sports world in shock.
The 33-year-old, a two-time winner of the Indy 500, was involved in a multi-car accident 13 laps into the Las Vegas Indy 300 which sent his vehicle flying, leaving wreckage and debris across the track.
Wheldon's car flew over another and caught part of the catch fence just past the apex of turn two.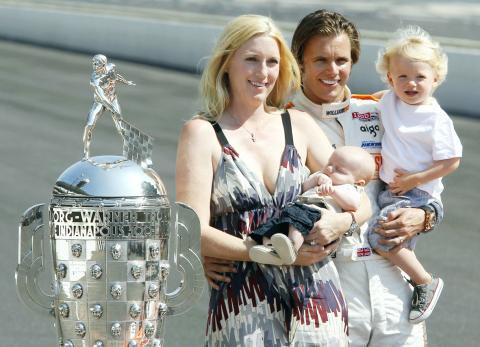 England's Dan Wheldon, center, poses with his wife Susie, left, who is holding their son Oliver and their elder son Sebastian next to the BorgWarner Trophy the day after Wheldon won the Indianapolis 500 in Indianapolis, Indiana, on May 30.
Photo: Reuters
The incident left Townsend Bell's car upside down and smoldering cars strewn along the track.
Wheldon, who lived in St Petersburg, Florida, was flown by helicopter to University Medical Center in Las Vegas for treatment before his death was announced two hours later.
"IndyCar is very sad to announce that Dan Wheldon has passed away from unsurvivable injuries," IndyCar Series chief executive Randy Bernard said in a statement. "Our thoughts and prayers are with his family today."
The race was canceled and the drivers returned later for a moving and tearful five-lap tribute.
A popular figure, Wheldon was the 2005 Indy Racing League IndyCar Series champion and he won the Indy500 race that year and also earlier this year — the 100th anniversary of the event.
When the drivers returned to the track, Wheldon's fellow British driver, Scotsman Dario Franchitti, was sobbing uncontrollably as he was strapped back into his car.
"I could see within five laps people were starting to do crazy stuff," said Franchitti, who avoided the incident and with the cancellation of the race won his third straight series title. "I love hard racing, but that to me is not really what it's about. One small mistake from somebody ... Right now, I'm numb and speechless."
"One minute you're joking around in driver intros and the next he's gone. He was six years old when I first met him. He was this little kid and the next thing you know he was my teammate," said Franchitti, who raced together with Wheldon at Andretti Green Racing. "We put so much pressure on ourselves to win races and championships, and today it doesn't matter."
Crews lined up along the pit lane and fans in the stands stood silently as the drivers paid tribute to the popular Wheldon.
Wheldon, who did not have a regular ride this season, could have won a US$5 million prize which was on offer at the Vegas event for a non-fulltime winner of the season finale.
The Englishman had not raced since winning the most recent Indy 500 in May.
While not a household name like Formula One drivers in Britain, Wheldon could certainly count himself as among the most successful British drivers in world motor sports.
After winning eight British national titles in karting and then finishing third in the 1998 Formula Ford championship in Britain, Wheldon moved to the US in pursuit of better opportunities.
He clinched the F2000 Championship Series in 1999 with six victories and then moved into IndyCar, where he won rookie of the year honors in 2003.
Wheldon claimed the 2005 series thanks to six wins for Andretti Green Racing.
The Englishman later raced for Panther Racing and his final team Bryan Herta Autosport.
Wheldon leaves his wife Susie and their two young sons.
Comments will be moderated. Keep comments relevant to the article. Remarks containing abusive and obscene language, personal attacks of any kind or promotion will be removed and the user banned. Final decision will be at the discretion of the Taipei Times.