RUGBY WORLD CUP: Johnson counting on Wilkinson and Flood to knock out France
France can be as mercurial as they like in today's quarter-final, England manager Martin Johnson is counting on his players to show enough tactical flexibility to knock them out of a third straight Rugby World Cup.
Johnson has entrusted playmakers Jonny Wilkinson and Toby Flood, plus No. 8 Nick Easter to be resourceful enough to spearhead a change of approach if France take control of the match at Eden Park, saying even "the best plan doesn't always survive first contact with the enemy."
Having picked all four locks in his 22-man squad and with five forwards on England's bench, Johnson is anticipating a heavy collision with France, and not just of playing styles, but Flood, Wilkinson and Easter have been tasked with providing the guile to go with the grunt.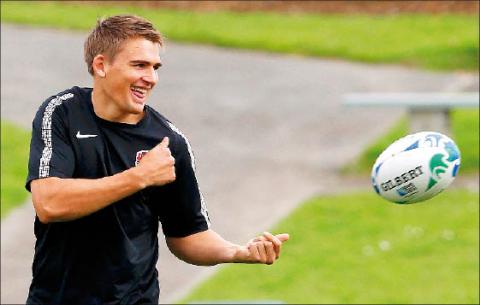 England's Toby Flood takes part in the Captain's Run in Auckland, New Zealand, yesterday ahead of the team's Rugby World Cup quarter-final against France today.
Photo: Reuters
"We never know how it's going to play out," Johnson said yesterday. "We pick our team, we try and feel how they're going to play, what we want to do, but we know we have to adapt on the field. Obviously with Nick at eight and Jonny at 10 and Toby at 12, there are some good guys there who have been in situations and we'll need to think on our feet at some point. If we get under pressure at the lineout and scrum, in trouble with the referee — all the variables that can happen — we need to be able to roll with them and find a way to win."
England have already demonstrated plenty of resilience at this and previous World Cups, rallying from a halftime deficit seven times to win in the 24-year history of the tournament — including twice this year, against Argentina and Scotland.
England have also given away the most penalties so far at this year's event (47), yet they only conceded one try in the pool stage — through Georgia's and Dimitri Basilaia in his team's 41-10 loss on Sept. 18 — equaling a record low set by eventual champions Australia in 1999.
"It is certainly a confidence-builder for the squad that you know when you are behind you can close things out," England captain Lewis Moody said. "We have done that twice in this tournament so far. To know that we can come back no matter the score or the time on the clock is a big confidence boost."
France are surely sick of the sight of Wilkinson, who scored all but five points as England beat them in the semi-finals of the 2003 and 2007 World Cups. The flyhalf's Test total of 159 points against France is also the most by any player against the two-time finalists.
Wilkinson and Flood have only played together in seven previous internationals, the last of which was against Wales in last year's Six Nations. France have come up against them previously as a playmaking duo, losing 23-14 to England in Paris in 2008.
That relatively new combination, and the center pairing of Flood and No. 13 Manu Tuilagi, promises to offer France just as many opportunities to attack.
That all depends on the rugby enigma that is France.
"They are different to the English. Their personality as a side is different," Johnson said. "We know they can underperform, but we know they can produce games that are almost unstoppable, as we've seen in World Cups. They do have a wider range of performance levels. We've just got to try and take the game out of their hands. If you're dominating territory, dominating possession, it doesn't matter what they can do because we'll have the ball. It's about execution at this point. It's about how well you do, what you do and how long you do it for."
Comments will be moderated. Keep comments relevant to the article. Remarks containing abusive and obscene language, personal attacks of any kind or promotion will be removed and the user banned. Final decision will be at the discretion of the Taipei Times.