Wang hurls gem as Nationals top Cubs
PITCH PERFECT: Wang Chien-ming gave up just one hit, an infield single in the sixth, over six innings. He threw 81 pitches, 53 of which were strikes, taking his record to 1-2
NATIONAL LEAGUE
In Chicago, Taiwanese pitcher Wang Chien-ming pitched six scoreless innings to set up Washington's win over Chicago.
In his third start after missing more than two years following shoulder surgery, Wang (1-2) won for the first time since 2009.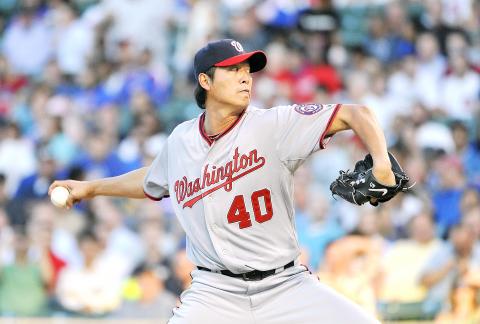 Washington Nationals starting pitcher Wang Chien-ming delivers during the first inning against the Chicago Cubs at Wrigley Field on Tuesday in Chicago.
Photo: AFP
Wang yielded only one hit, an infield single in the sixth, over six innings to pitch the Washington Nationals to a 3-1 victory over the Chicago Cubs. It was his first big league win since getting the decision in the New York Yankees' 4-2 win over the New York Mets on June 28, 2009.
The 31-year-old right-hander, who lost his first two starts for the Nationals, threw 81 pitches, 53 of which were strikes, while striking out one and walking two, and lowered his ERA for the season to 3.60.
Cubs' starter Matt Garza kept his team in the game by shutting out the Nationals over the first five innings, but Washington broke the scoreless tie in the six on a solo home run by Michael Morse and a two-run blast by Jonny Gomes.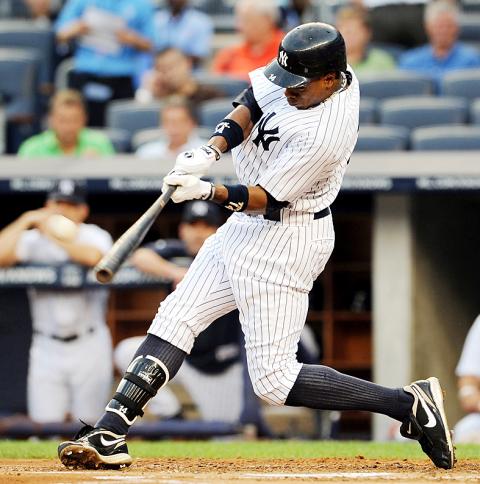 The Yankees' Curtis Granderson hits a home run during the first inning of their game against the Los Angeles Angels in New York on Tuesday.
Photo: EPA
The Cubs cut the lead to 3-1 in the eighth on Starlin Castro's solo shot off Nationals reliever Tyler Clippard.
Drew Storen shut down the Cubs in the ninth to record his 30th save.
PHILLIES 2, DODGERS 1
In Los Angeles, Philadelphia's Cliff Lee pitched eight scoreless innings with 10 strikeouts and also hit just his second career home run, leading the Phillies to a 2-1 victory over the Los Angeles Dodgers on Tuesday.
Lee (12-7) allowed only two runners past first base, while closer Ryan Madson got three outs for his 21st save in 22 chances.
Jimmy Rollins had an RBI single to help the Phillies win for the 11th time in 12 games and go 36 games over .500 (76-40) for the first time since 1977.
Philadelphia maintained their 8-1/2 game lead over Atlanta in the NL East.
Dodgers starter Ted Lilly (7-12) allowed six hits over eight innings.
On other NL play, it was:
‧ Braves 4, Marlins 3
‧ Giants 6, Pirates 0
‧ Brewers 5, Cardinals 3, 10 inns
‧ Rockies 3, Reds 2
‧ Mets 5, Padres 4
‧ Diamondbacks 11, Astros 9
AMERICAN LEAGUE
AP, NEW YORK
Bobby Abreu hit a two-out two-run homer in the ninth inning — his second homer of the game — to give the Los Angeles Angels a 6-4 win over the New York Yankees on Tuesday.
The Angels held onto the lead in the bottom of the ninth thanks to a tricky play. With runners at the corners and two outs, Los Angeles pitcher Jordan Walden faked a pickoff throw to third base and Curtis Granderson fell for it, taking off from first base trying to steal second and getting caught in no man's land.
Abreu's drive deep into the seats in right was only the second homer allowed this season by New York closer Mariano Rivera (1-2). He faltered for the second straight appearance, having blown a ninth-inning lead on Sunday at Boston.
Los Angeles' Alberto Callaspo opened the ninth with a single and after two outs, Abreu hit his sixth homer of the season.
Angels reliever Scott Downs (6-2) took the win, getting a groundout with two runners on base to end the eighth.
The Yankees suffered a third straight defeat for the first time in two months and fell 2.5 games behind Boston in the AL East.
RED SOX 4, TWINS 3
In Minneapolis, Darnell McDonald hit a two-run homer to lift Boston to a tight win over Minnesota.
David Ortiz gave the Red Sox the lead for good on an infield single with the bases loaded in the seventh inning and Jonathan Papelbon picked up his 26th save.
Boston's Matt Albers (4-3) gave up one run in one inning of relief for the win.
Matt Capps (3-6) gave up one run and walked two in one inning to take the loss for the Twins, who have lost six straight.
RANGERS 7, MARINERS 6
In Arlington, Virginia, Josh Hamilton drove in the winning run with a single in the ninth inning, completing Texas' comeback from a three-run deficit against Seattle.
Ian Kinsler and Endy Chavez homered for the Rangers, whose AL West lead over second-place Los Angeles remained at 1-1/2 games.
Jeff Gray (0-1) walked Kinsler leading off the ninth. Aaron Laffey relieved and Chavez reached on a bunt single that sent Kinsler to second. Hamilton followed with a single to left.
Kinsler's two-run homer in the seventh had pulled Texas within 6-5. Yorvit Torrealba's RBI double tied it.
Texas' Neftali Feliz (2-3) pitched the ninth for the victory.
In other AL play, it was:
‧ White Sox 4, Orioles 3
‧ Rays 4, Royals 0
‧ Athletics 4, Blue Jays 1
‧ Indians 3, Tigers 2
‧ Rangers 7, Mariners 6
Comments will be moderated. Keep comments relevant to the article. Remarks containing abusive and obscene language, personal attacks of any kind or promotion will be removed and the user banned. Final decision will be at the discretion of the Taipei Times.