Taiwan's Andy Wang to star at big MMA show
Taiwanese mixed martial artist Andy Wang, famous for starring in a US reality TV show, is going to be fighting on Asia's largest ever mixed martial arts (MMA) show in September.
ONE Fighting Championship (ONE FC) 1 is scheduled to take place at Singapore Indoor Stadium on Sept. 3.
Wang was born in Kaoshiung, but has spent most of his life in the US. He shot to fame after winning a coveted slot on the popular reality TV series The Ultimate Fighter, which is broadcast all over the world. Although Wang failed to reach the final, he won a reputation for being an all-action brawler and went on to be offered a fight for the Ultimate Fighting Championship, the largest MMA promotion company in the world.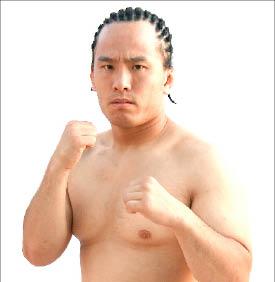 Andy Wang of Taiwan poses for a photographer.
Photo courtesy of Andy Wang
After almost a decade of competing in MMA and 16 professional contests, Wang is set for the biggest fight of his career against Brazilian Zorobabel Moreira Jr at ONE FC.
"I was born in Taiwan and I am proud to be representing Taiwan on the international stage. I moved back to Taipei in 2004 with the sole purpose of hoping to help the spread of MMA and when a major event such as ONE FC is shown in Taiwan it will get even more people interested in the growth of martial arts," he said.
Wang is currently training in Las Vegas with some of the best fighters on the planet to ensure he is ready to take on Moreira at ONE FC 1. He has a black belt in Brazilian Jiu-Jitsu (BJJ), but he knows it will be a tough fight as his opponent is a BJJ world champion.
"You have to respect the fact that he is a champion in Jiu-Jitsu and his ground skills are strong, but that's a challenge I am looking forward to. It makes it more exciting for me to know that I'm going against someone that's very good at what he does. I know Brazil has a long history of producing good fighters. I want people to show that Taiwan has some good fighters as well," he said.
MMA matches are typically fought in a cage and fighters can win by knockout, technical knock out, decision or submission. An MMA fight can take place either on the ground or standing up, and fighters will attempt to use various chokes and holds to force their opponent to submit, either verbally or with a tap.
Headquartered in Singapore, ONE FC is Asia's largest MMA organization.
Comments will be moderated. Keep comments relevant to the article. Remarks containing abusive and obscene language, personal attacks of any kind or promotion will be removed and the user banned. Final decision will be at the discretion of the Taipei Times.