Voeckler stays with the Tour's big men
TO THE ALPS: Andy Schleck launched multiple attacks on the way up the famed Plateau de Beille, but he could only manage to take two seconds on Alberto Contador
Frenchman Thomas Voeckler stubbornly held on to the Tour de France yellow jersey on Saturday as reigning champion Alberto Contador survived another onslaught in the mountains.
Contador, who has complained of a sore knee, came under constant attack on the grueling 15.8km climb to Plateau de Beille, but soaked up the pressure to lose only two seconds to key rival Andy Schleck.
"I didn't feel great, but as each day passes I'm feeling better," said Contador, who is still seventh overall at four minutes behind Voeckler and 2 minutes, 11 seconds behind Frank Schleck.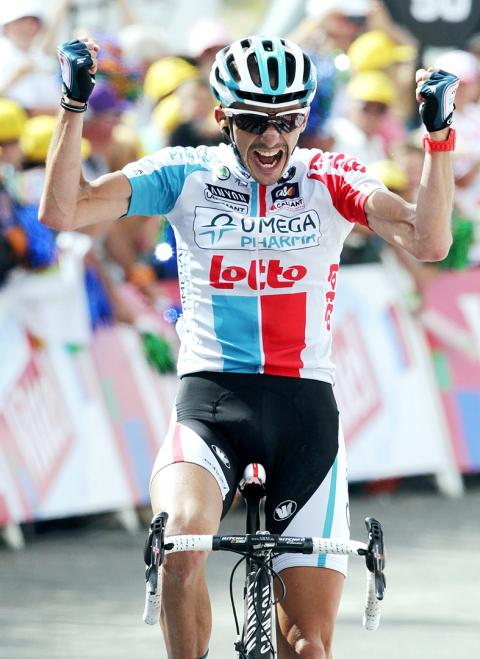 Jelle Vanendert celebrates winning the 14th stage of the Tour de France in Plateau de Beille, France, on Saturday.
Photo: Reuters
Meanwhile, Belgium's Jelle Vanendert of the Omega Pharma team took a deserved victory on the 14th stage after jumping out of the group of overall favorites 6.8km from the finish.
He caught early breakaway rider Sandy Casar of France and despite a late counter-attack by stage 12 winner Samuel Sanchez the Belgian held on to claim his maiden win on the race.
Vanendert finished 21 seconds ahead of Euskaltel rider Sanchez, with former two-time runner-up Andy Schleck coming across the line 46 seconds back, two seconds ahead of a group containing all the other yellow jersey contenders.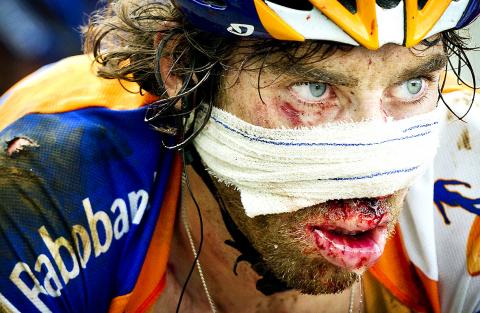 Laurens ten Dam rides during the 14th stage of the Tour de France with his face bandaged and covered with blood after he crashed during the descent of the Col d'Agnes in France on Saturday.
Photo: EPA
"Never in my wildest dreams did I think I'd win a stage like this," said Vanendert, who has been given freedom to race for himself after team leader Jurgen van den Broeck crashed out injured last week. "I came to the race with great form and ready to help Jurgen. This stage is also for him."
After their dominant Leopard-Trek team had set a demanding pace on the long flat stretch leading to the fifth and last climb of the day, Frank and Andy Schleck launched a series of small attacks in a bid to drop their rivals.
Each time, Contador and Australia's Cadel Evans — as well as Italian Ivan Basso and Voeckler — were able to counter and latch back on to the group.
Only in the final meters of the ascent did Andy Schleck pull away, the Luxemburger grappling just two seconds from Contador in the process.
It meant Voeckler maintained his 1 minute, 49 second lead on Frank Schleck, with former two-time runner-up Evans still third at 2 minutes, 6 seconds.
Andy Schleck, the runner-up the past two years, is fourth at 2 minutes, 15 seconds, with Basso in fifth at 3 minutes, 16 seconds. Contador is another 44 seconds off the pace in seventh.
"We gave it a good try, but we didn't drop anybody, except for the two seconds I gained at the end," Andy Schleck said. "The climb wasn't selective enough. Once we get to the Alps, that's when we will make a difference."
Older brother Frank appeared to launch a veiled attack at Contador and Evans, criticizing the pair for not attacking themselves.
"We tried several times. The only one who was a little bit interested was Ivan Basso," Frank said. "All the others just looked at each other. Me and my brother and Basso, we tried to actually race."
Evans, whose yellow jersey bid seems to be getting stronger by the day, immediately hit back.
"Everyone says no one attacks, but you have to consider also the wind and the closeness of the racing," the Australian said. "The Schleck brother are there, they ride all day, they've got the yellow jersey to gain and they look at me to pull for them? I feel like saying, 'hang on a second, I'm not here to tow you to Paris.'"
Meanwhile, Voeckler upset his own prediction that he would lose the jersey on the toughest day in the Pyrenees.
"I don't really know what to say. I'm really surprised," said Voeckler, who came over the finish line shaking his fist in celebration.
Having famously worn the yellow jersey for 10 days in 2004, Voeckler can now realistically keep it until the first of three consecutive stages in the Alps starting tomorrow.
Comments will be moderated. Keep comments relevant to the article. Remarks containing abusive and obscene language, personal attacks of any kind or promotion will be removed and the user banned. Final decision will be at the discretion of the Taipei Times.