Brazil let goals fly to beat Ecuador 4-2
GOALS, FINALLY: Ecuador was downcast after giving it their best shot against the reigning champions, but it wasn't enough despite scoring an impressive three goals
After two cagey rounds of games at the Copa America, save for Argentina's swatting of Costa Rica, the championship burst into life on Wednesday as Brazil hit four goals against Ecuador to reach the quarter-finals.
While the Samba Stars were finally getting their act together with a 4-2 win thanks to doubles from Neymar and Pato their Group B rivals Venezuela, not to be outdone, served up even more of a thriller in sharing six goals with Paraguay.
In the shakeout of those two results, reigning champions Brazil won the group by the scruff of their necks, by a goal difference of plus two to plus one for the Venezuelans.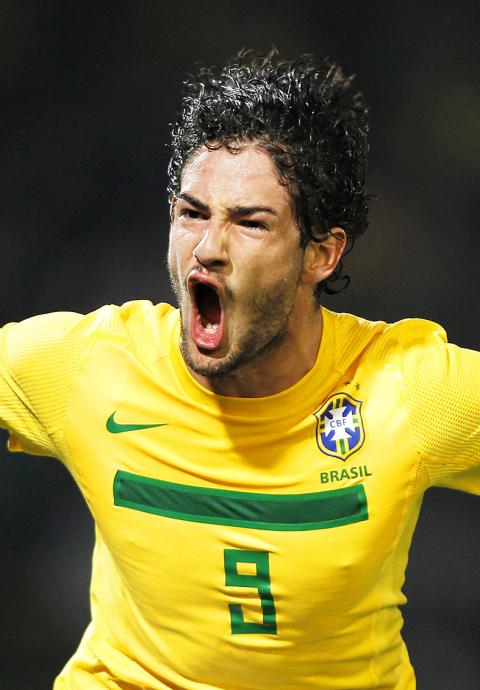 Alexandre Pato of Brazil celebrates his goal against Ecuador during this year's Copa America group stage match in Cordoba, Argentina, on Wednesday.
Photo: EPA
The Brazilians, who were in ominous attacking mode from the start, on Sunday now face the Paraguayans, who go through as one of the two best third-placed finishers.
Venezuela will take on Chile, hosts Argentina meet Uruguay in a battle at Santa Fe between two sides with 14 crowns apiece — to eight for Brazil — while 2001 champions Colombia joust with Peru at Cordoba.
"That was the game we wanted to play. We wanted to win and to take top spot," Pato said.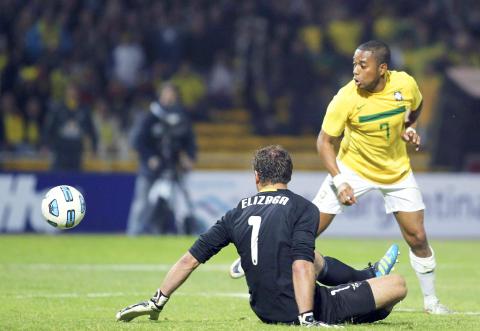 The ball passes Robinho of Brazil, right, and goalkeeper Marcelo Elizaga of Ecuador to enter the net for Brazil's third goal during the first round of the Copa America soccer tournament in Cordoba, Argentina, on Wednesday. The goal was scored by Brazil's Alexandre Pato, not shown.
Photo: Reuters
"When we lose, we all lose, and when we, win we all win together. The whole team played really well — it's a great result," the AC Milan striker said.
Ecuador's Felipe Caicedo, who grabbed both his side's goals, said he and his teammates were downcast after giving it their best shot — but coming rock bottom of the group with a solitary point.
"We're a bit sad — we gave it all we had. It hurts. We wanted to make history, but we hope the experience will stand us in good stead for the World Cup qualifiers," Caicedo said.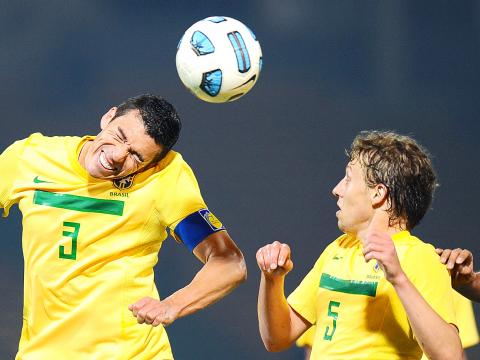 Defender Lucio of Brazil, left, heads the ball next to midfielder Lucas Leiva during their team's match against Ecuador in Cordoba, Argentina, on Wednesday.
Photo: AFP
Coach Mano Menezes brought back Robinho for an attacking line-up having dropped the AC Milan man for the draw with Paraguay and he responded with a hard-running showing, while Ganso and Andre Santos also starred at the hub of the side as the jogo bonito returned to the Brazilian game.
Robino had an effort chalked off for offside late on but by then it was academic.
Pato's opening header on 28 minutes set the tone — although Caicedo leveled seven minutes before the interval with a low shot which embarrassed Julio Cesar in the Brazilian goal.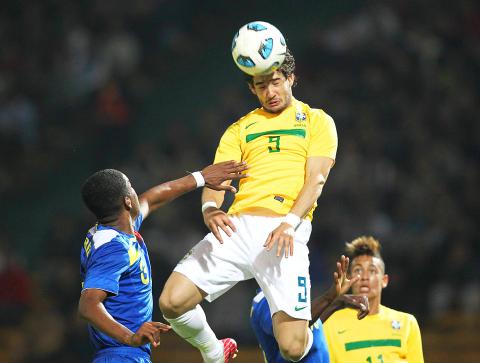 Alexandre Pato of Brazil, center, heads the ball during his team's match against Ecuador in Cordoba, Argentina, on Wednesday.
Photo: EPA
Santos starlet Neymar smacked the favorites back in front four minutes after combat resumed and although Caicedo promptly responded with another low effort, the Brazilians then raced through the gears against rivals who had little more to give.
On the hour Neymar shot, keeper Marcelo Elizaga emulated Cesar in making a fumble of his own and Pato bundled in before Maicon hared down the right and Neymar clipped in from 4m out with 18 minutes remaining.
Comments will be moderated. Keep comments relevant to the article. Remarks containing abusive and obscene language, personal attacks of any kind or promotion will be removed and the user banned. Final decision will be at the discretion of the Taipei Times.