Halladay marks return to Toronto with victory
INTERLEAGUE PLAY
Roy Halladay beat his old team and won his sixth straight decision by guiding the Philadelphia Phillies to a 5-3 win over the Toronto Blue Jays on Saturday in interleague action.
Halladay (11-3), who took the mound to a standing ovation from the crowd of 44,078, spent the first 12 years of his career with the Blue Jays, before being traded to Philadelphia at the end of 2009.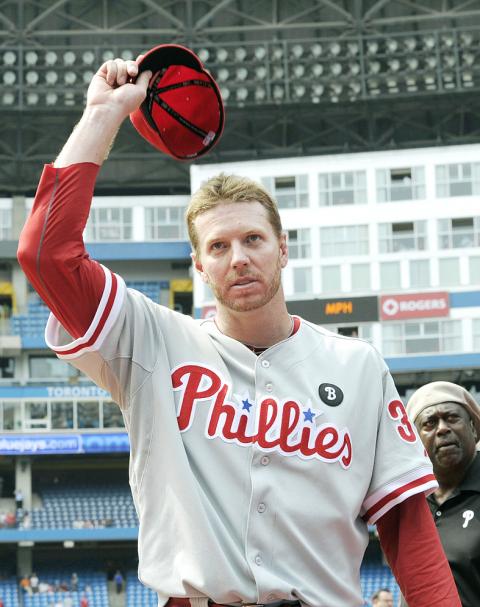 The Philadelphia Phillies' Roy Halladay tips his cap to the crowd after pitching a complete game against the Toronto Blue Jays on Saturday in Toronto.
Photo: Reuters
Chase Utley hit a go-ahead homer for NL East-leading Philadelphia Phillies.
Toronto's Jose Bautista hit his major league-leading 26th home run, before Blue Jays manager John Farrell and reliever Jon Rauch were both ejected in a wild top of the ninth. Luis Perez (1-1) got the loss.
Yankees 5, Mets 2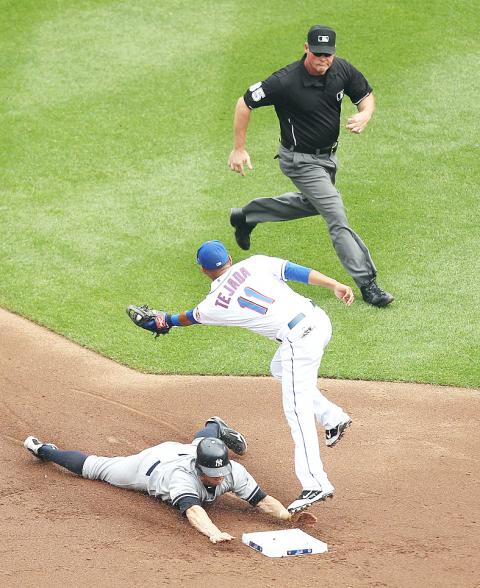 The New York Yankees' Brett Gardner, left, steals second base as the New York Mets' Ruben Tejada, center, catches the throw from home plate during their game on Saturday in Queens, New York.
Photo: AFP
In New York, the Yankees notched a season-best seventh straight win, beating the crosstown Mets in their New York showdown.
Yankees starter Bartolo Colon (6-3) pitched six shutout innings in his return from the disabled list.
The Yankees touched up Mets rookie pitcher Dillon Gee (8-2) in a four-run sixth.
Eduardo Nunez hit a solo homer in the ninth to make it 5-0. Filling in for injured Derek Jeter at shortstop, Nunez also had a pair of doubles after going 4 for 4 in Friday's 5-1 victory.
Jose Reyes left after two innings with hamstring tightness, taking the starch out of the Mets.
Giants 15, Tigers 3
In Detroit, Michigan, Pablo Sandoval and Brandon Crawford homered in a five-run first inning, while Miguel Tejada had a Grand Slam in a five-run third as San Francisco crushed Detroit.
The game was delayed by a thunderstorm in the third inning for 2 hours, 36 minutes, and it ended after midnight.
Giants starter Barry Zito (2-1) pitched six scoreless innings, allowing only one walk. He pitched on short rest and stayed in the game despite the long delay.
Rigers starter Max Scherzer (9-4) allowed nine runs and three walks over two-plus innings. The Tigers have given up at least 14 runs three times in the past five games.
Rays 5, Cardinals 1
In St Petersburg, Florida, Casey Kotchman hit a three-run double and scored on Justin Ruggiano's homer during a five-run sixth inning that gave Tampa Bay the victory over St Louis.
Kotchman's big two-out hit off Kyle McClellan (6-5) put the Rays ahead 3-1.
Rays starter Jeff Niemann (3-4) allowed one run in six-plus innings for Tampa Bay.
Lance Berkman had put the Cardinals up 1-0 with his 21st homer of the season in the fourth.
Indians 3, Reds 1
In Cincinnati, Ohio, Michael Brantley's three-run homer was all Cleveland needed to beat Cincinnati.
Indians starter Fausto Carmona fell hard while running out a grounder in the third inning, leaving the game with a strained thigh. Frank Herrmann (1-0) took over and retired nine of the 10 batters he faced.
Brantley followed Carmona's fall with his first homer in nearly a month off Homer Bailey (3-3).
Cleveland are 5-0 against their state rival, one win away from the first sweep in the Ohio interleague series' history.
Braves 5, Orioles 4
In Atlanta, Georgia, David Ross hit his second career Grand Slam as Atlanta extended their winning streak to five by edging Baltimore.
Braves starter Tim Hudson (7-6) pitched six innings and center fielder Jordan Schafer made a couple of nice defensive plays for the Braves. Craig Kimbrel worked around a one-out single in the ninth to earn his 24th save.
Orioles starter Jake Arrieta (9-5) pitched five innings, yielding five runs.
Diamondbacks 4, Athletics 2
In Oakland, California, Chris Young had three hits and four RBIs, including a two-run home run, powering Arizona past Oakland.
Joe Saunders (5-7) pitched seven-plus innings for Arizona, yielding two runs while improving to 12-4 in 18 career starts against Oakland. That's his most wins against any team.
Willie Bloomquist singled twice and scored for the Diamondbacks.
Athletics starter Josh Outman (3-3) allowed seven hits and walked three in six innings.
Marlins 9, Rangers 5
In Arlington, Texas, Hanley Ramirez hit a Grand Slam and a solo shot for a career high-tying five RBIs, helping Florida defeat Texas.
Logan Morrison also homered for the Marlins, while Steve Cishek pitched 2-2/3 innings for his first big league victory.
Florida knocked out Rangers starter Derek Holland (6-4) with a five-run first.
Brewers 8, Twins 7
In Minneapolis, Minnesota, George Kottaras capped a four-run ninth inning with a go-ahead RBI single that sent Milwaukee to an unlikely victory over Minnesota.
The Twins collected 13 hits in the first four innings while building a 7-0 lead, but had one hit for the rest of the game.
Minnesota reliever Matt Capps (2-4) surrendered five hits while recording just two outs in the ninth.
Brewers reliever Takashi Saito (1-1) got the win, while John Axford earned his 21st save as Milwaukee snapped a four-game slide.
In other interleague play, it was:
‧ Angels 7, Dodgers 1
‧ Padres 1, Mariners 0
‧ Red Sox 10, Astros 4
‧ White Sox 1, Cubs 0
‧ Rockies 9, Royals 6
In National League play, it was
‧ Pirates 5, Nationals 3, Game 1
‧ Nationals 4, Pirates 3, Game 2
Comments will be moderated. Keep comments relevant to the article. Remarks containing abusive and obscene language, personal attacks of any kind or promotion will be removed and the user banned. Final decision will be at the discretion of the Taipei Times.