Lakers rally to down Trail Blazers 84-80
Kobe Bryant scored 10 of his 22 points in the fourth quarter as the Los Angeles Lakers rallied to beat the Portland Trail Blazers 84-80 in the NBA on Sunday for their 12th win in 13 games.
Derek Fisher made back-to-back steals to put the Lakers ahead in the final three minutes, before hitting a clinching jumper with 10 seconds left.
Nicolas Batum scored 22 of his 25 points in the first three quarters for the Blazers, whose three-game winning streak was stopped. Portland scored just 14 points in the fourth quarter on five-for-18 shooting.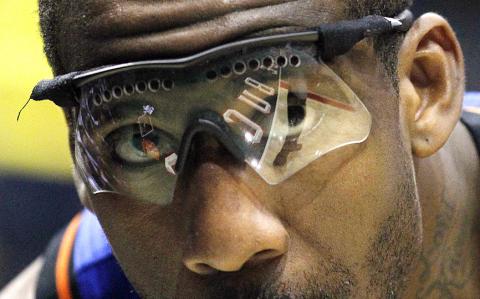 A reflection of the referee is seen in the glasses of the Knicks' Amare Stoudemire during their game against the Bucks on Sunday in Milwaukee, Wisconsin.
Photo: Reuters
ROCKETS 110, JAZZ 108
In Houston, Texas, Kyle Lowry had 28 points, 11 rebounds and 10 assists for Houston's first triple-double of the season as the Rockets beat Utah.
With the win, Houston moved past Utah into ninth place in the Western Conference standings and are now within one-and-a-half games of idle Memphis in the race for the eighth and final playoff spot.
Lowry got his first career triple-double and set a career high in rebounds, while Kevin Martin scored 34 points for the Rockets.
Paul Millsap, back after missing five games with left knee tendinitis, scored 35 points for the Jazz, who have dropped seven of their last nine road games. Al Jefferson added 17 points and 19 rebounds.
RAPTORS 95, THUNDER 93
In Oklahoma City, Amir Johnson made a layup with 1.4 seconds remaining to help Toronto stop a 14-game road losing streak.
Andrea Bargnani scored 23 points for the Raptors, who earned their first road win since Jan. 5 at Cleveland.
Oklahoma City, who entered the game with a six-game winning streak, overcame a 10-point deficit at the end of the third to take a 93-90 lead with 1:31 left.
However, Leandro Barbosa made a tying three-pointer with 38.5 seconds left, before Johnson won the game with his layup.
James Harden scored 23 points for the Thunder.
BUCKS 100, KNICKS 95
In Milwaukee, Carlos Delfino scored a career-high 30 points and Brandon Jennings finished an assist short of a triple-double as Milwaukee defeated New York.
Jennings had 14 points, 11 rebounds and nine assists, as the Bucks built a 23-point first-quarter lead only to watch it evaporate by the fourth quarter.
Carmelo Anthony had 23 points for the struggling Knicks, who have lost five of their last six. The Knicks are just 7-8 since acquiring Anthony in a trade last month.
SUNS 108, CLIPPERS 99
In Los Angeles, Steve Nash had 23 points, 13 assists and seven rebounds as Phoenix topped the Los Angeles Clippers.
Channing Frye added 19 points in his second game back after dislocating his right shoulder, including two three-pointers in the final minutes.
Blake Griffin scored 17 points for the Clippers. Chris Kaman had 21 points and 11 rebounds while starting for DeAndre Jordan, who sat out with pneumonia.
In other games it was:
‧ Mavericks 101, Warriors 73
‧ Hawks 104, Pistons 96
‧ Kings 127, Timberwolves 95
‧ Wizards 98, Nets 92
Comments will be moderated. Keep comments relevant to the article. Remarks containing abusive and obscene language, personal attacks of any kind or promotion will be removed and the user banned. Final decision will be at the discretion of the Taipei Times.