Nadal struggles to Indian Wells win
SOME YOU WIN... In the women's tournament, China's Peng Shuai gave Maria Sharapova a fright, while Caroline Wozniacki benefited from her opponent's misfortune
Top-ranked Rafael Nadal struggled past big-serving Ivo Karlovic 5-7, 6-1, 7-6 (7) on Thursday to reach the BNP Paribas Open semi-finals for the sixth consecutive year.
Nadal, who won on his third match point when Karlovic's forehand sailed long, set up a semi-final against Juan Martin del Potro today. The Argentine progressed when his opponent Tommy Robredo of Spain withdrew before the match because of an abductor muscle strain.
"The match was the first one that I felt really that even if I play well, I can lose," said Nadal, who will be aiming for his third title at Indian Wells. "That's always hard to go on court with this feeling."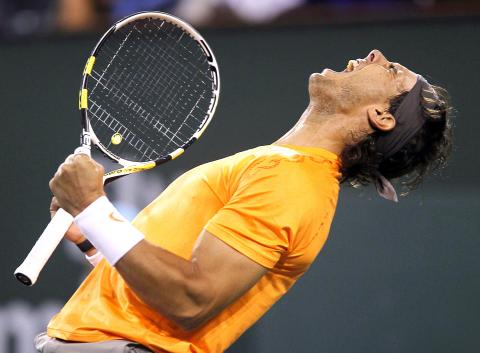 Rafael Nadal celebrates winning a point in a third set tie-break against Ivo Karlovic during their match on Thursday in Indian Wells, California.
Photo: Reuters
Nadal led 5-2 in the tiebreaker before Karlovic tied it up with a backhand volley winner. The Croat came up with the same shot to spoil Nadal's first match point.
Nadal set up his second match point with a forehand that landed just inside the sideline, but his forehand error allowed Karlovic to tie it 7-7. Nadal's forehand winner in the corner gave him a third match point and he finally converted on Karlovic's error.
"You lose a set against Karlovic and you are under pressure the rest of the games," Nadal said. "In the third, I didn't have chances. His serve was unstoppable. In the tiebreak I was really nervous. I returned fantastic in the tiebreak, but I didn't put one first serve on the court."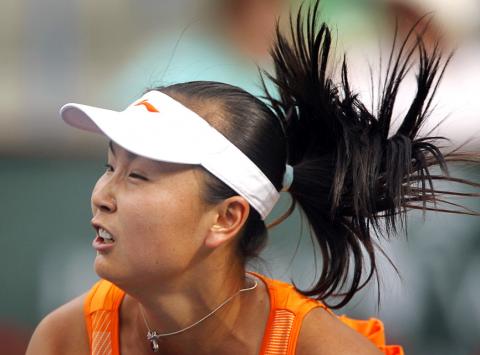 Peng Shuai serves to Maria Sharapova during their match on Thursday in Indian Wells, California.
Photo: Reuters
Karlovic had hardly been playing like his No. 239 ranking. He beat three seeded players to reach the quarter-finals, and pushed Nadal before finally losing.
On the women's side, top-ranked Caroline Wozniacki reached the semi-finals when Victoria Azarenka retired with a hip injury while trailing 3-0 in the first set.
Wozniacki next plays Maria Sharapova, who outlasted China's Peng Shuai 6-2, 5-7, 6-3 to reach her first semi-final of the year after missing the last five weeks with a viral illness.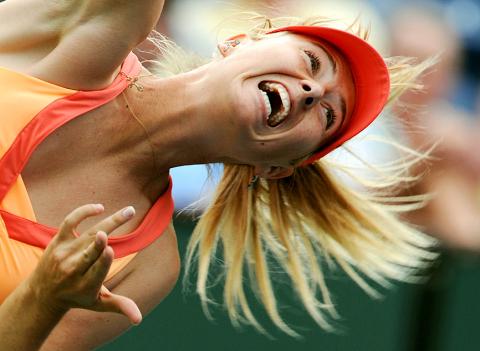 Maria Sharapova serves to Peng Shuai during their match on Thursday in Indian Wells, California.
Photo: AFP
Sharapova needed more than two hours to overcome Peng in a match that featured 13 service breaks. They traded breaks in the first four games of the third set. Serving at 3-2, Sharapova won the final four games of the match, clinching it with an inside-out forehand off Peng's second serve.
"I was playing really well for the first set and a half and then really let her back in the game," said Sharapova, who had 13 double faults. "She's a really aggressive player and puts a lot of pressure on from you the first point, and if you're not the one doing that it becomes dangerous. The most important thing is I got myself together and I focused and regrouped."
Peng, ranked 36th in the world, was not disheartened by her loss.
"I was really happy to get into the quarter-final here, but I think today Maria played a tough match," Peng said. "In the third set I have a chance, but she play well."
"I just have to keep going, and there are a lot of things I have to improve on. I will just try to practice more and keep going," she said.
Wozniacki was up 2-0, 30-0 when Azarenka called for a trainer.
The Belarussian lay on the court and had her upper left thigh massaged before she took a 10-minute medical timeout.
Azarenka returned with her left thigh wrapped. Wozniacki resumed serving and won the next two points to go up 3-0 before Azarenka signaled she was done.
During their match, a Japanese flag was tied to the chair umpire's tower and written on it in black marker was, "Our thoughts are with you! Caroline and Victoria."
After Azarenka left, Wozniacki untied it and held it up in tribute to the victims of the recent earthquake and tsunami.
"It's just devastating to see what's going on in Japan," the Dane said. "We just wanted to show that we're thinking about them over there."
Wozniacki had asked her manager to locate a Japanese flag. He finally found one, two hours from Indian Wells.
"I said, 'You better take your car and drive over there and get that flag to me,"' she said. "Victoria helped me out, what to write. I wanted to do it so perfectly that my hand almost cramped when I was doing it."
By reaching the semi-finals for her fourth straight tournament, Wozniacki guaranteed she will retain the No. 1 ranking through the upcoming two-week Sony Ericsson Open in Miami.
Robredo hurt himself in his straight-sets win over Sam Querrey, and an MRI on Wednesday night confirmed the injury, which will keep him out of the Miami tournament.
Del Potro has beaten three seeded players, including defending champion Ivan Ljubicic, to get this far. He's in the semis for his fourth straight tournament after injuries derailed him for much of last year.
Comments will be moderated. Keep comments relevant to the article. Remarks containing abusive and obscene language, personal attacks of any kind or promotion will be removed and the user banned. Final decision will be at the discretion of the Taipei Times.