All Blacks reach deal on war dance
New Zealand's All Blacks sealed an agreement with a Maori tribe yesterday to ensure the team can continue to perform its traditional war dance, or haka, before matches.
The eye-rolling, foot-stomping ritual, entitled "Ka Mate," has been performed by the All Blacks since 1905, but was composed by a leader of the Ngati Toa tribe, which was granted intellectual property rights to it in 2009.
The tribe had threatened to trademark parts of the dance, raising the prospect of a legal battle ahead of the Rugby World Cup in New Zealand later this year.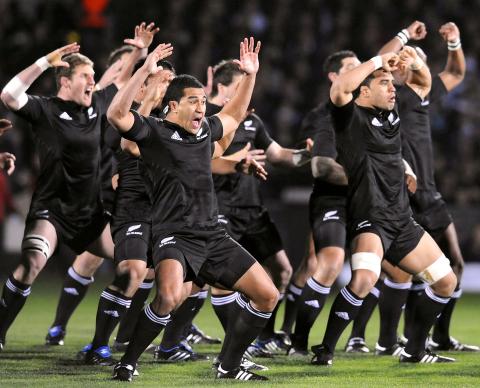 The New Zealand All Blacks perform a haka before their match against France on June 13, 2009, in Dunedin, New Zealand.
Photo: AFP
However, the New Zealand Rugby Union (NZRU) said yesterday that it had reached an agreement with the Ngati Toa that would allow the All Blacks to maintain the tradition.
Ngati Toa representative Riki Wineera said the NZRU had assured the tribe, or iwi, that the haka would be used respectfully.
"One of the iwi's long-standing concerns is that Ka Mate has been used in a belittling and culturally offensive way," he said.
Details of the agreement remain confidential, although the NZRU has in the past expressed reluctance to pay for the right to perform the ritual, saying reducing it to a commercial commodity would demean it.
The haka is traditionally only performed by men and the Spice Girls attracted criticism in 1997 when they did an impromptu version during a concert in Bali.
A New Zealand bakery chain also came under fire for a 2007 commercial featuring animated gingerbread men doing the haka.
Comments will be moderated. Keep comments relevant to the article. Remarks containing abusive and obscene language, personal attacks of any kind or promotion will be removed and the user banned. Final decision will be at the discretion of the Taipei Times.