Last-minute rush by Dyer gives Auburn college football title
Michael Dyer rushed for 53 yards on two spectacular plays with time running down to help No. 1 Auburn rally for a 22-19 win over No. 2 Oregon and capture the college football national championship on Monday.
After Oregon had leveled the game at 19, Heisman Trophy winner Cam Newton and Auburn came right back with a 73-yard drive, highlighted by a 37-yard run by the freshman Dyer. First he rolled over an Oregon tackler and, with most of the players thinking the play was over around midfield, scooted another 30 yards to the 23-yard line.
Three plays later, Dyer ran 16 yards to push the ball to the one-yard line and set up Wes Byrum's field goal with no time left.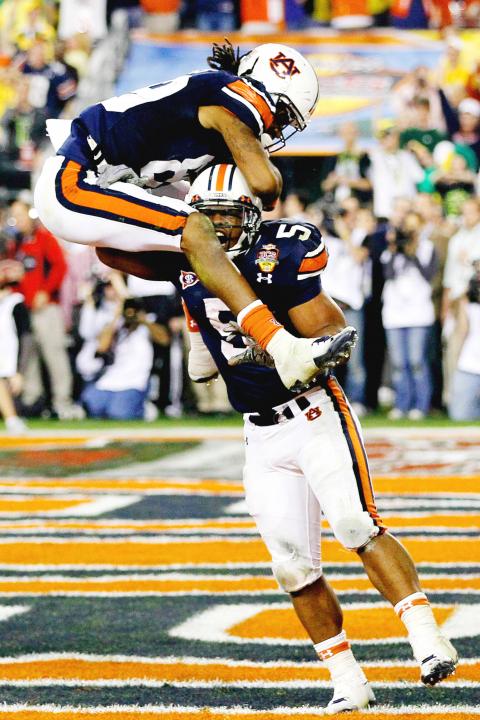 Michael Dyer, right, of the Auburn Tigers celebrates with Darvin Adams after Dyer's 16-yard run saw him downed at the one-yard line with 10 seconds remaining in the fourth quarter against the Oregon Ducks on Monday in Glendale, Arizona.
Photo: AFP
It was Bynum's sixth career game-winning field goal — the one that capped off a perfect, 14-0 season and brought the title back to Auburn University for the first time since 1957.
A classic sequence to close out a wild finish — five crazy minutes of football that made up for the first 55, which were more of a bruising battle than the offensive masterpiece everyone had predicted.
The madness began when Casey Matthews knocked the ball from Newton's hands while he was trying to ice a 19-11 lead.
Oregon's offense, shutdown by the Auburn defense for most of the night, moved 45 yards over the next 2:17 before Darron Thomas tossed a shovel pass to LaMichael James for a touchdown. Thomas then hit Jeff Maehl for the two-point conversion with 2:33 left to even the score.
When Auburn got the ball back, Dyer took the handoff from Newton and ran off right tackle for what looked like a six or seven-yard gain, but he never heard a whistle and wasn't sure his knee had hit the ground, so he popped up and kept going.
Almost everyone on the field had stopped playing, but the referee never blew the play dead. Dyer made it to the Oregon 23. An official's review ensued and the replay showed that, indeed, his knee had never touched the turf.
The freshman finished with 143 yards and was named Offensive Player of the Game — no small feat considering he had the Heisman Trophy winner, Newton, playing well on the same offense.
Comments will be moderated. Keep comments relevant to the article. Remarks containing abusive and obscene language, personal attacks of any kind or promotion will be removed and the user banned. Final decision will be at the discretion of the Taipei Times.