Vonn wins her fourth World Cup title of the season in Austria
Lindsey Vonn won a women's World Cup downhill yesterday for her fourth victory of the season.
The three-time defending overall champion skied well off course on a sharp right turn, but recovered in time to finish the 3km Kaelberloch course in 1 minute, 46.39 seconds.
Sweden's Anja Paerson placed second, 0.43 seconds behind the American, to earn her first podium finish of the season.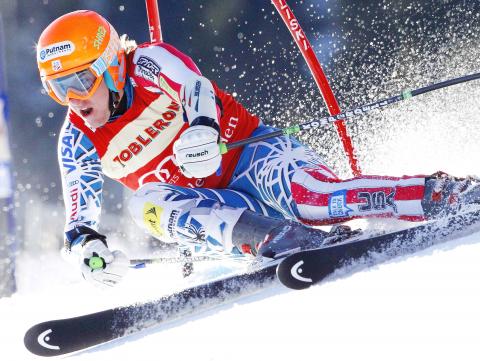 Ted Ligety of the US clears a gate during the first run of the men's World Cup giant slalom in Adelboden, Switzerland, yesterday.
PHOTO: REUTERS
It was Vonn's 20th career downhill title and 37th overall.
"It's always great to win a race in Austria, it feels like a second home to me here," said Vonn, who usually spends a month of training in the region in the off-season.
Austria's Anna Fenninger was 0.98 seconds back in third for her first top three finish in downhill, while World Cup standings leader Maria Riesch took fourth — another 0.07 seconds behind.
The German remained on top of the standings with 883 points, followed by the American, who reduced her deficit by 50 points and now has 747.
"It's a shame to miss the podium by just 0.07, but I am very satisfied," said Riesch, who struggled in both training runs on the course on the previous two days. "I definitely did better today, but made a mistake in the middle part. I lost speed and time there."
Vonn was the fastest starter, but was not clean afterwards.
"I almost ended up in the safety nets in the middle part," Vonn said. "I tried to forget about that and gain speed again in the next turn. If you race aggressively, you can win much time on this course ... my skis were really fast."
Vonn was helped at the course inspection by her husband Thomas and the US team coaches to get prepared for the race.
"We always make a plan together, it gives me confidence going into the race," she said. "I've made a lot of mistakes this season, but I know I have to stay cool and avoid unnecessary risks."
Vonn's victory means she's just four wins away from Paerson's record of 41 World Cup titles.
The Swede saw the first half of her season spoiled by equipment troubles, but seemed to have found the right set-up for the second part.
"The right feeling on the snow has always been key to the successes in my career," Paerson said. "If it doesn't feel well, I can't ski well."
MEN'S GIANT SLALOM
AP, ADELBODEN, SWITZERLAND
Aksel Lund Svindal of Norway and Frenchman Cyprien Richard tied for victory in a World Cup giant slalom, after first-run leader Ted Ligety made a big mistake and lost his unbeaten record.
Svindal and Richard had a combined two-run time of 2 minutes, 25.28 seconds on the Kuonisbaergli course. Thomas Fanara of France was 0.20 seconds back in third.
Ligety was the last man to race with 0.66 seconds in hand on the joint leaders, but he lost control midway through his run.
The American, who was seeking his fourth straight giant slalom win, crossed the line 3.65 seconds behind.
Richard got his first career World Cup win.
Comments will be moderated. Keep comments relevant to the article. Remarks containing abusive and obscene language, personal attacks of any kind or promotion will be removed and the user banned. Final decision will be at the discretion of the Taipei Times.