Sainz and Despres claim wins in second stage
Defending champion Carlos Sainz of Spain added a second stage win in as many days on Monday at the Dakar Rally in Argentina, dominating the 324km special stage from Cordoba to San Miguel de Tucuman.
The Volkswagen driver crossed the line with a 1 minute, 3 second advantage over Qatari teammate Nasser al-Attiyah, with French veteran and multiple champion Stephane Peterhansel one minute, 34 seconds adrift in his BMW.
Double rally world champion Sainz moved his overall lead over Peterhansel to 3:05 with last year's runner-up al-Attiyah third at 3:19 as the drivers headed into yesterday's third stage — a 500km special from San Miguel de Tucuman to San Salvador de Jujuy.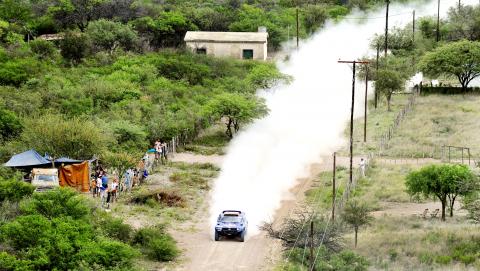 Qatari driver Nasser al-Attiyah drives his Volkswagen with German co-driver Timo Gottschalk on Monday during the second stage of this year's Dakar Rally from Cordoba to San Miguel de Tucuman, Argentina.
PHOTO: AFP
However, the Spaniard lamented losing previous time because of windscreen wiper problems.
"They wouldn't work properly and for a dozen kilometers I couldn't see a thing and I had to drive very slowly," Sainz said. "I'm very disappointed. I've probably lost a lot of time. I don't understand why we still have this problem, because the mechanics checked everything yesterday. Overall, though, this stage suited me rather well."
Al-Attiyah suffered mechanical problems which resulted in him losing power over the final 100km.
"Yesterday we had a small problem and today we had exactly the same problem," the Qatari said. "I don't know what's wrong, it was probably something to do with the water. We really need to fix it because I'm disappointed that we lost a lot of time."
Peterhansel was nevertheless impressed by Sainz's form.
"It isn't easy to try to follow Sainz's pace. You can see that on these very technical stages, Carlos is slightly quicker than us and we'll perhaps have to wait until the desert to find a chink in his armor," he said.
In the motorbikes section, three-time champion Cyril Despres claimed victory in his section's 300km second stage. Despres finished one minute, 49 seconds ahead of fellow KTM rider Marc Coma of Spain with compatriot David Casteu of Sherco in third.
The title-holder cemented his place at the top of the overall standings with a second consecutive victory after teammate Ruben Faria, who had won Sunday's first stage, was handed a one-minute penalty for breaking the speed limit in a controlled zone.
Despres managed to stay in front from start to finish to claim his 25th stage win in the Dakar Rally, only the third time that he has won when opening the road.
"Today the track was full of bends and very skiddy, like a 300km giant slalom with jumps, like skiing," Despres said. "I noticed at the refueling point that I'd taken almost a minute less than Coma. I was feeling good, so I decided to attack a bit in the second part, though I was careful to look -after my tires because I nearly wore them through today. The most important thing is to find a good pace and have the right feeling. For the moment, the riding demands a lot of concentration."
In the overall standings, Despres leads two-time champion Coma by two minutes, 35 seconds with Portugal's Faria third at 6:13.
Yesterday's third bikes stage to San Salvador de Jujuy was scheduled to include a 521km special.
Comments will be moderated. Keep comments relevant to the article. Remarks containing abusive and obscene language, personal attacks of any kind or promotion will be removed and the user banned. Final decision will be at the discretion of the Taipei Times.