Connecticut women top storied streak
The University of Connecticut women's basketball team surpassed one of the most storied streaks of US sports lore on Tuesday with their 89th straight victory.
The top-ranked Huskies defeated Florida State University 93-62 to top the 88-game winning streak established by the University of California at Los Angeles men's team from 1971 to 1974.
That streak, by UCLA teams coached by the legendary John Wooden, had been the gold standard among US collegiate programs that develop NBA talent.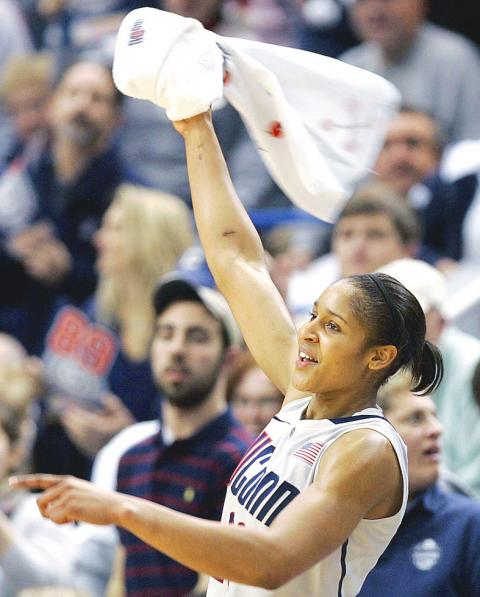 Connecticut forward Maya Moore celebrates in the final minute of the second half of their win over Florida State during their NCAA basketball game in Hartford, Connecticut, on Tuesday.
PHOTO: REUTERS
Maya Moore notched a double-double, with a career-high 41 points and 10 rebounds. Bria Hartley added 21 points for Connecticut, a team that has not lost since April 6, 2008 — when it fell in the NCAA collegiate tournament semi-finals.
Only Stanford in last year's national final and Baylor last month have lost to Connecticut by fewer than 10 points during the streak.
Wooden died on June 4 at age 99, but his grandson Greg Wooden attended the game and said he thought the iconic coach would have been delighted to see UCLA's streak surpassed by a women's team.
He said his grandfather believed that women's teams, especially Connecticut, were playing his brand of basketball, emphasizing teamwork over individual star power.
"He liked the way they passed the ball, the way they had quite a few stars who could have scored probably a lot more points on other teams, but were willing to sacrifice for the best of the team," Greg Wooden said.
Comments will be moderated. Keep comments relevant to the article. Remarks containing abusive and obscene language, personal attacks of any kind or promotion will be removed and the user banned. Final decision will be at the discretion of the Taipei Times.