NBA: Red hot Miami win 11th straight game
DAZZLING SHOW: The win at Madison Square Garden means that all but one of the Heat's victories during their 11-game streak have been by double-digit margins
The sizzling hot Miami Heat and their "Big Three" of LeBron James, Dwyane Wade and Chris Bosh scorched the New York Knicks 113-91 for their 11th win in a row on Friday at Madison Square Garden.
James, who spurned New York in signing as a free agent last summer with Miami, shrugged off hearty boos from a packed Garden crowd on his every touch of the ball to score 32 points, while Wade and Bosh both poured in 26 points.
Miami improved to 20-8 as James completed a triple-double by adding 11 rebounds and 10 assists, while New York dropped to 16-11, scoring just 34 points in the second half.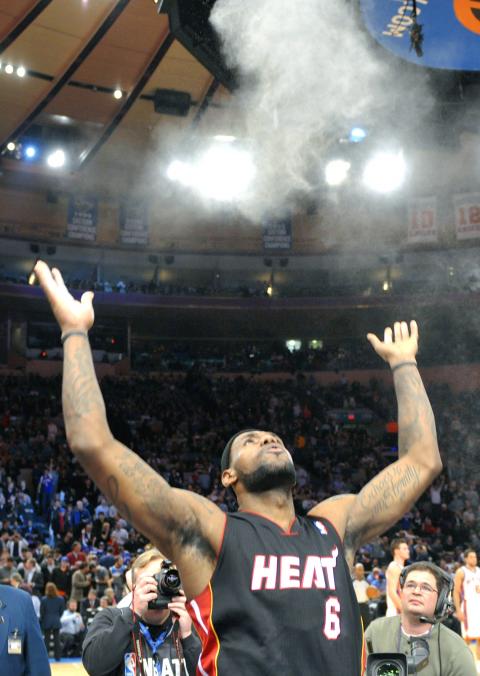 Miami Heat forward LeBron James tosses chalk dust into the air before his team's game against the New York Knicks at Madison Square Garden in New York on Friday.
PHOTO: REUTERS
"When we play defense, we're a really dangerous team," James told reporters. "Holding a very good offensive team down to 39 percent shooting was a great performance."
James put on a dazzling show at the Broadway arena, firing away from the perimeter, spinning to the hoop, slamming down dunks and making an array of no-look passes for assists against the hosts, who were outplayed after the intermission.
Knicks coach Mike D'Antoni tipped his cap to the Heat and said his team may have had "an emotional letdown" after ending their eight-game winning streak on Wednesday with a two-point loss to the Eastern Conference-leading Boston Celtics, who also came to the Garden after winning 10 straight.
While that game came down to the last 10th of a second and was taken by New York as a declaration they could compete with the top teams, the Knicks ran out of gas after battling back from a 13-point deficit to head to intermission tied at 57-57.
Miami outscored the Knicks 33-17 in the third quarter to pull away and continue their recent run of dominance. All but one of their wins during the 11-game streak have been by double-digit margins.
New York's Amare Stoudemire, who had scored 30 or more points in each of the last nine games, had his team-record streak snapped as he posted 24 points, while the Knicks were led by Danilo Gallinari with 25 points.
"It has been a long week," Stoudemire said.
Wade said the Heat were determined to step up their defensive effort in the second half.
"We were giving up too many easy points," Wade said. "So we packed the paint and made them take tough shots."
James and Wade are used to being treated as visiting villains, but the loud chants of "overrated, overrated" that serenaded Chris Bosh at the foul line only served to spur him on.
"I loved it," Bosh said. "It was a nice try. There was some added motivation to me. It gave me added incentive to be successful."
HORNETS 100, JAZZ 71
In New Orleans, David West scored 23 points to lead the New Orleans Hornets in a rout of the Utah Jazz.
Chris Paul had 11 points and 10 assists for the Hornets, who finished with a season-high 53 rebounds — more than twice as many as their opponents.
The Jazz were averaging 101.4 points per game, but shot just 35.8 percent and finished with a season-low in points.
Paul Millsap led Utah with a meager 14 points.
LAKERS 93, 76ERS 81
In Philadelphia, Lamar Odom scored 28 points to lead Los Angeles over Philadelphia.
Pau Gasol had 19 points and 13 rebounds for the Lakers, who rallied and broke the game open in the fourth quarter to win their fourth straight game. The Lakers trailed by four before turning the game around with a 27-8 run.
Spencer Hawes had 18 points and 13 rebounds for the Sixers.
HAWKS 90, BOBCATS 85
In Atlanta, Georgia, Al Horford assisted on a crucial basket by Marvin Williams with just over a minute remaining as Atlanta held off Charlotte.
With the Hawks clinging to an 82-79 advantage, Horford spotted Williams underneath, feeding him the pass for an easy lay-in with a second left on the shot clock.
Joe Johnson scored 16 points on his return to the Hawks' lineup, two-and-a-half weeks after undergoing elbow surgery that was supposed to keep him out for at least a month. He hit two free throws to help seal the victory with 24 seconds remaining.
Boris Diaw and D.J. Augustin led the Bobcats with 22 points apiece. Charlotte shot just 38 percent from the field.
THUNDER 102, KINGS 87
In Oklahoma City, the hosts used three fourth-quarter spurts to put away Sacramento.
The pesky Kings, who have an NBA-worst five wins, stayed within single digits most of the night and trailed 83-77 midway through the fourth. Then the Thunder had two separate runs of eight straight points to put the game away.
Kevin Durant scored 24 points and Serge Ibaka added 12 points and 10 rebounds as Oklahoma City won their fifth in a row.
Tyreke Evans scored 22 points for Sacramento, who have lost 18 of 20.
PACERS 108, CAVALIERS 99
In Indianapolis, Danny Granger had 30 points and a season-high 12 rebounds to help Indiana beat Cleveland, extending the Cavaliers' losing streak to 10 games.
Granger had struggled during Indiana's three-game losing streak, but bounced back to make 12 of 22 shots, including four of seven three-pointers. Roy Hibbert, Mike Dunleavy and Brandon Rush each scored 15 points for the Pacers, who are 3-0 against the Cleveland Cavaliers this season.
Mo Williams had 22 points and 11 assists for the Cavaliers.
The aggressive game included five technical fouls and an ejection in the fourth quarter.
RAPTORS 98, NETS 92
In Toronto, the hosts beat New Jersey for the sixth straight time.
Andrea Bargnani had 32 points and nine rebounds, while Linas Kleiza had 18 points and matched his career-high with 12 rebounds for the Raptors.
Brook Lopez scored 20 points for the Nets, who have lost nine of 10 and are 2-12 on the road.
CLIPPERS 109, PISTONS 88
In Auburn Hills, Michigan, Los Angeles won their first road game of the season by beating Detroit.
The Clippers had gone 15 games without an away win.
Blake Griffin had 24 points and 17 rebounds for the Clippers, while Charlie Villanueva led the Pistons with 18 points. Detroit's starters scored just 29 points and pulled down two fewer rebounds than Griffin.
ROCKETS 103, GRIZZLIES 87
In Houston, Texas, the Rockets overcame the season-ending loss of All-Star center Yao Ming to defeat Memphis. Kevin Martin scored 34 points for the Rockets.
Rudy Gay and Sam Young scored 19 points each to lead the Grizzlies, but Gay was ejected for a flagrant foul with about six minutes remaining.
Luis Scola added 23 points for the Rockets and Kyle Lowry, who has been filling in for injured point guard Aaron Brooks, had 17 points and a career-high 18 assists.
MAVERICKS 106, SUNS 91
In Dallas, Texas, Dirk Nowitzki and Jason Terry scored 18 points apiece as the surging Dallas Mavericks beat Phoenix, taking advantage of an injury to Suns guard Steve Nash.
Caron Butler added 17 points and Shawn Marion scored 15 for the Mavericks, who have won 14 of 15.
The Suns played without their star point guard for the final three quarters after Nash left because of what the team called a "stinger."
Earlier in the first quarter, Nash and Tyson Chandler collided while going for a loose ball in the Phoenix backcourt. Nash's neck appeared to drive into Chandler's hip and Nash was down for several minutes, before walking slowly to the bench.
Hakim Warrick had 15 points and 14 rebounds for the Suns, who have lost four of five.
Trail Blazers 107, Timberwolves 102
In Portland, Oregon, Lamarcus Aldridge equaled his career-high with 36 points, while Rudy Fernandez added a personal-best 26 points as Portland beat Minnesota.
Aldridge went 15-of-22 from the field, scored six baskets on dunks off lob passes and grabbed 10 rebounds to help the Trail Blazers win their 13th consecutive game over Minnesota.
Michael Beasley scored 33 points for Minnesota. Kevin Love added 19 points and 17 rebounds.
Comments will be moderated. Keep comments relevant to the article. Remarks containing abusive and obscene language, personal attacks of any kind or promotion will be removed and the user banned. Final decision will be at the discretion of the Taipei Times.