Test defeat prompts calls for Shane Warne's return
PANIC MODE: Australian sports writers and fans are trying to bring the 41-year-old legspinner out of retirement to save Australia after it was crushed by England in the Ashes
With Australia's Ashes campaign on the ropes after a crushing second Test loss to England, local sports writers have resorted to trying to cajole 41-year-old legspinner Shane Warne out of retirement to save the cricket team in their hour of need.
Warne, as famous for generating tabloid headlines as match-winning performances, would revitalize Australia's blunt attack, which took only six wickets in their past two innings, columnist Peter Fitzsimons, a former Australia rugby international, wrote in yesterday's Sydney Morning Herald.
"Yes, England are on course for their first stunning victory since 1986-87 and it will be at our expense. Unless we do something. Who ya gonna call? Not Ghostbusters. Why not Shane Warne?"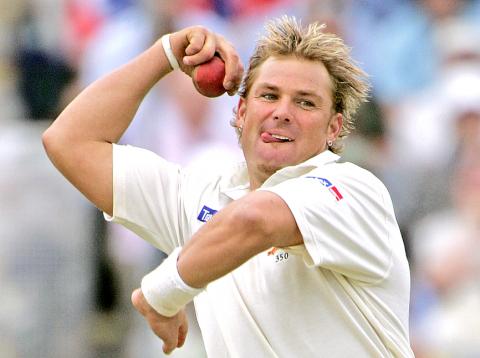 Australia's Shane Warne bowls on the first day of the second Ashes test at Edgbaston in Birmingham, England, on Aug. 4, 2005.
PHOTO: REUTERS
"You need to get these wickets. You have a choice of, say, Xavier Doherty, Nathan Hauritz, Cameron White and Shane Warne, in his Channel Nine commentary gear. How many would really throw the ball to any of the first three in such a scenario?" Fitzsimons wrote.
The stocky blonde extrovert from Melbourne's suburbs relished terrorizing English batsmen over the course of a long, illustrious career, but retired from international cricket after Australia whitewashed England 5-0 in the last home series.
He has since played for the Rajasthan Royals in the lucrative Indian Premier League amid his various media commitments and is regarded by some Australian pundits as one of the finest cricketing brains never to have captained the national team.
More than 70 percent of respondents to an online survey carried by local tabloid, the Daily Telegraph, said Warne should be recalled, but the spinner has played a straight bat — without expressly ruling himself out.
"There has been a bit written in Australia and people have been asking me about making a comeback. All I can say is that it is very flattering to hear those words," Warne wrote in the UK's Telegraph.
The legspinner instead plumped for Michael Beer, an untried state cricketer, for his left-arm spin and local knowledge of Perth's WACA ground, where Australia will hope to peg back the 1-0 series deficit in the third Test next week.
Brisbane cricket fan Ross Heywood has established a Web site devoted to raising funds to entice Warne to make himself available for the rest of the Ashes series.
"To bring back the Ashes, we need Warne," stated bringbackwarne.com, which has raised over A$3,000 (US$2,932) for its Ashes "Rescue Fund" since Tuesday.
"We offer the Rescue Fund to the King of Spin, pleading with him to once again don the Baggy Green and attempt to win us back the Ashes," it said. "Should Warne not accept our offer, all contributions will be refunded."
'QUANDARY'
Meanwhile, former Australia captain Steve Waugh said national selectors are "in a quandary" over their team's form slump and may be best to give incumbent players the chance to redeem themselves the Ashes series against England.
Waugh was a member of the last Australian team to lose an Ashes series on home soil, 23 years ago, and said it will be difficult for the present lineup to swing the momentum of the current series after England took a 1-0 lead.
He said while it would not be easy for Australia to come back from its demoralizing innings and 71-run loss to England, stable selection might eventually work in its favor.
"I don't know what the selectors are going to do, because they have chopped and changed I think probably too much in the last 12 months," Waugh said.
Waugh said the best policy might be to back current players to recover their best form.
"This is a situation similar to back in '85-'86 when the selectors sat down and thought, 'this is a group of cricketers we're going to stick with through thick and thin and let's back them,'" he said. "They are almost at the point now where they've got to identify players and say 'righto, we're going to stick with them.'"
Waugh averaged 58 runs per innings in Tests against England, losing only eight of the 48 Ashes matches he played. He said Australia was used to "doing a demolition job" on the English but now had to adjust to a situation in which England held the upper hand.
"It's going to be difficult. It's almost like the shoe is on the other foot, we've reversed roles," Waugh said. "... I know how hard England found it to come back from that situation, so it won't be easy for Australia to come back."
Comments will be moderated. Keep comments relevant to the article. Remarks containing abusive and obscene language, personal attacks of any kind or promotion will be removed and the user banned. Final decision will be at the discretion of the Taipei Times.