Lindsey Vonn clinches season-opening super-G
Overall World Cup champ Lindsey Vonn clinched the season-opening super-G on Sunday, storming down the mountain to avenge a pair of downhill losses to German rival Maria Riesch.
Olympic downhill gold medalist Vonn claimed her 11th career super-G title and extended her win streak at Lake Louise to seven straight years by finishing in a time of one minute 20.72 seconds.
Riesch was second in 1:21.55, while American Julia Mancuso was third in 1:21.61 on the 1.97km Whitehorn Mountain course.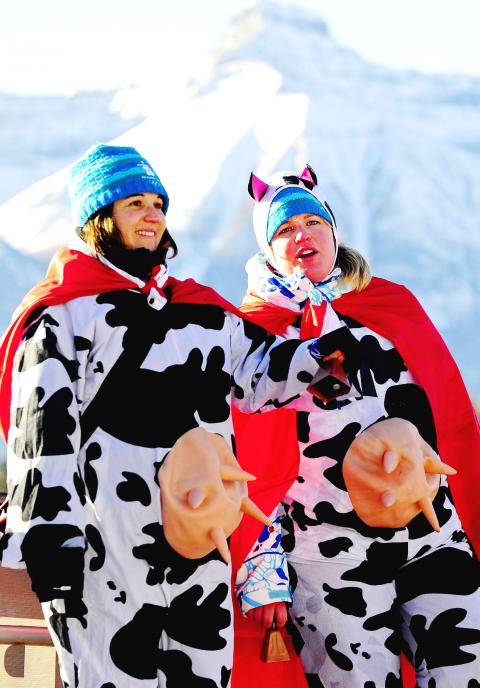 Two Swiss spectators in cow costumes watch the women's super-G event in Lake Louise, Canada, on Sunday.
Photo: AFP
"Today I dropped the hammer a little bit more and believed in myself," said Vonn, who barely escaped a near-crash on Saturday. "For me the bottom line is never giving up."
Under sunny skies with temperatures noticeably chillier at -minus-20oC than the first two days of racing, Riesch seized the lead after starting from the 10th position.
She got a scare five skiers later when Mancuso charged out of the gate only to lose time on the flats. Riesch held onto the lead until skier No. 22 when Vonn attacked the hill with vengeance.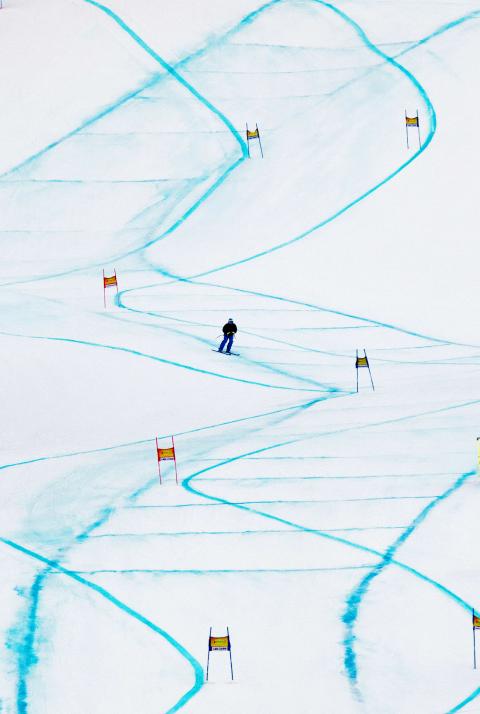 The US' Julia Mancuso makes her way down the course during alpine skiing prior to the women's super-G in Lake Louise, Canada, on Sunday.
Photo: Reuters
Since her maiden World Cup victory here in 2004, the 26-year-old Vonn has captured at least one race in the Canadian Rockies, fashioning a dominating five-straight downhill win streak. Sunday was her first super-G win at Lake Louise.
"I have won the downhill here many times but never the super-G, so I am extremely happy," Vonn said. "I always somehow get the win taken away from me here in Lake Louise in super-G and I have always lost by a very small margin so I wanted to make sure there was no room for doubt."
Riesch captured back-to-back downhills on Friday and Saturday with Vonn coming in second both times as the two continue to play musical chairs with the top podium spots. Riesch won her first downhill in the Canadian Rockies in 2006.
Olympic downhill silver medalist Mancuso finishing sixth in Saturday's downhill.
She also posted the fastest time in the second training run and at one point on Sunday looked like she might overtake Riesch for the lead, but lost time on the bottom half of the course.
Anna Fenninger and teammate Andrea Fischbacher finished fourth and fifth as the Austrian pair just missed out on the podium.
Riesch now has a 169-point lead over Vonn at the top of the overall World Cup standings.
MEN'S GIANT SLALOM
AP, BEAVER CREEK, Colorado
US skier Ted Ligety won a World Cup giant slalom on Sunday, edging Norway's Kjetil Jansrud by 0.82 seconds.
So close to winning in the past on the closest thing the Americans have to a home hill, Ligety wasn't about to settle for safe. He turned in two nearly flawless runs, including a hard-charging final descent.
"I didn't want to hold back," said Ligety, who has finished no worse than fourth in the GS at Beaver Creek since 2006. "I was just thinking I'd rather blow out having the lead than come down and feel like I choked. I was going hard and I was lucky to make it without any mistakes."
Jansrud figured he had his first World Cup win after a fast final run, only to be foiled by his good friend who went down last.
Marcel Hirscher of Austria wound up third.
But this was Ligety's time as he captured a World Cup race a few hours after Lindsey Vonn cruised to her super-G win in Lake Louise.
This was definitely a banner day for the Americans on the hill, producing two winners on the same afternoon for the first time in nearly four years.
"It's really cool," Ligety said. "It's nice to have my name next to hers when she's winning."
Swiss skier Daniel Albrecht returned to racing and wound up in 21st place. Albrecht had a horrific crash nearly two years ago during a downhill training run at Kitzbuehel, Austria, that left him in a medically induced coma with brain and lung injuries.
The crowd gave Albrecht a rousing ovation after both of his runs.
Just his presence back on the mountain impressed Ligety, let alone his ability to be a factor in this race.
"That's phenomenal. That's really a credit to him and what a good skier he is now, and how really good he was before," Ligety said.
Comments will be moderated. Keep comments relevant to the article. Remarks containing abusive and obscene language, personal attacks of any kind or promotion will be removed and the user banned. Final decision will be at the discretion of the Taipei Times.