Team spirit propels Serbia to Davis win
FIRST TRIUMPH: After they won the trophy, the Serbs marched into a press room, where they stood on a table and sang a national battle song in loud celebration
In harmony on and off the court, Serbia's memorable Davis Cup triumph over France on Sunday owed much to camaraderie, team members said.
The celebrations were kickstarted when Viktor Troicki beat Michael Llodra to complete Serbia's 3-2 victory and their first Davis Cup triumph.
After they lifted the trophy, the Serbians marched into the press center and stood on a table as they sang a national battle song that also reverberated from the sound system and spurred them on during breaks in Sunday's singles.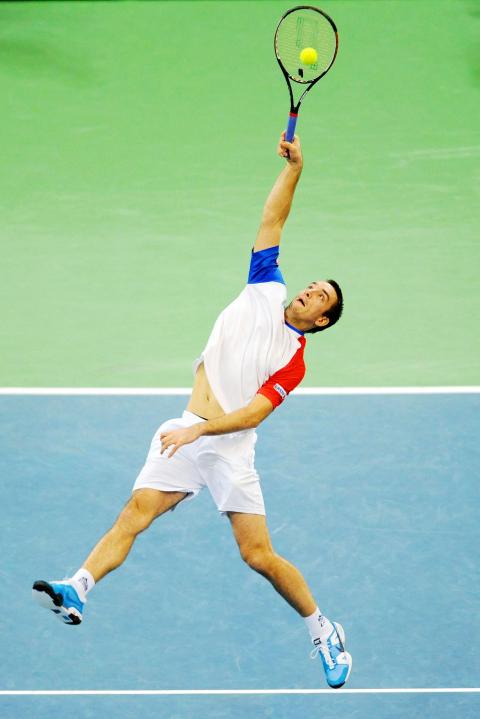 Serbia's Victor Troicki returns a ball to France's Michael Llodra during the Davis Cup tennis final between Serbia and France at the -Belgrade Arena on Sunday.
PHOTO: AFP
"All for one and one for all, that's how these boys operate and their fantastic team spirit and friendship is what made this happen," said Niki Pilic, advisor to Serbia's team captain Bogdan Obradovic.
Pilic became the first man to win the Davis Cup with three different sides, having steered his native Croatia and Germany before he assumed the advisory role with Serbia in 2007.
"The crucial thing is that we are all completely open about things with each other and there is never a clash of egos, when we make a decision it is based on everybody's opinion because we breathe as one," Obradovic said. "These players are not just teammates, they are also mates off the court and they do things together, which is such a huge advantage for a Davis Cup side."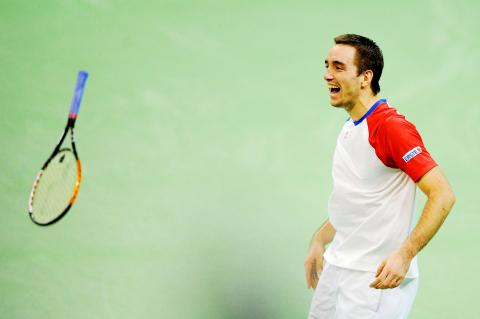 Serbia's Victor Troicki jubilates after winning against France's Michael Llodra in the Davis Cup final between Serbia and France at the Belgrade Arena on Sunday.
PHOTO: AFP
"After losing Saturday's doubles, we all sat on the floor in the hotel room to talk things over and then we made the decision who will play in the fifth tie on Sunday," Obradovic said.
World No. 3 Novak Djokovic, who won both his singles matches in the final, said: "Individually or team, this is the best achievement of our careers and one of the biggest for our country."
Having seen Djokovic pull Serbia level 2-2 with a convincing win over Gael Monfils in Sunday's opening tie, his close friend Troicki sent the home fans into raptures after giving Llodra another straight-sets roasting.
Hitting winners almost at will, Troicki played what Obradovic labeled as the best match of his career, while Djokovic and company roared him on from their box.
They also gesticulated to galvanize the home crowd during every break and then mobbed Troicki after he lashed in the final cross-court backhand winner past Llodra.
"They are like brothers to me, the closest people I have and to win the Davis Cup with them is an unbelievable feeling, I am at a loss for words to describe it," Troicki said. "It will probably take a few days to sink in and for my emotions to start coming out."
Having described his opening singles defeat to Radek Stepanek in Serbia's semi-final win over the Czechs as the worst in his life, Troicki finally delivered for his country under the greatest possible pressure.
Troicki, seen by a number of Serbian pundits as a player with ample talent and weak nerves, punched the air to show his soaring confidence after producing his best shots at the most critical moments against Llodra.
"Honestly, I had stage fright at the start and towards the end because I knew Llodra wasn't going to give up and gift those points to me, I had to take risks and win them," Troicki said. "I tried to not to think about lifting the trophy and all the ensuing euphoria and I think I did a good job. I want to thank the whole team for their support, we all believed we could do this after going 2-1 down on Saturday."
Comments will be moderated. Keep comments relevant to the article. Remarks containing abusive and obscene language, personal attacks of any kind or promotion will be removed and the user banned. Final decision will be at the discretion of the Taipei Times.