Riesch snaps Vonn's five-race streak at Lake Louise
Germany's Maria Riesch won the World Cup season opening downhill, charging down the mountain to upset Lindsey Vonn on Friday, snapping the American's five-race win streak in the Canadian Rockies.
Riesch, who turned 26 last month, finished in one minute, 28.96 seconds to seize her first downhill winning at Lake Louise in four years, edging Vonn by just 0.12 seconds.
"It is a big challenge to beat Lindsey in Lake Louise," Riesch said. "She has more World Cup wins than me, so beating her on any downhill, no matter where, is special."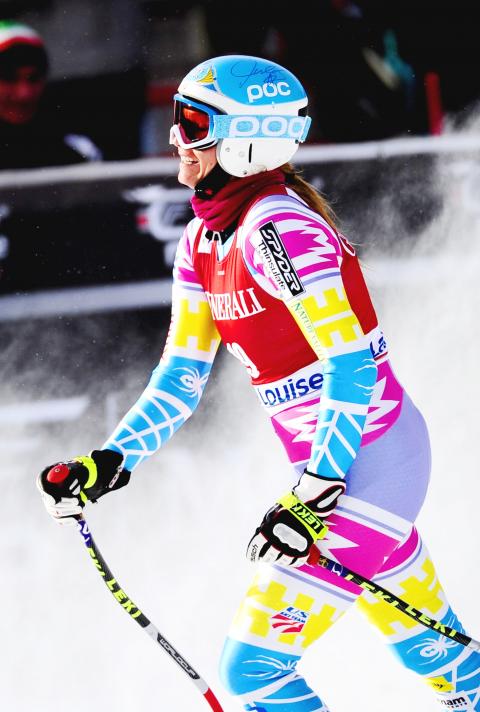 US skier Julia Mancuso reacts after -crossing the finish line in the women's World Cup downhill ski race at Lake -Louise, Canada.
Photo: AFP
American Vonn, who captured a pair of downhills at the venue last year, finished the 2.44km Whitehorn Mountain course in 1:29.08 while Austrian Elisabeth Goergl was third in 1:29.17.
Riesch picked up her first Lake Louise downhill win in 2006 also beating out Vonn, who then went on to win the next five straight, including back-to-back downhills last year. Riesch placed second and third in last year's downhills.
Double Olympic bronze medalist Goergl finished third in downhill at the Vancouver Winter Olympics behind gold medalist Vonn. She also earned a bronze in the Olympic giant slalom.
Vonn is seeking her eighth downhill win in Lake Louise in seven years and would have a chance to do it yesterday when another race was scheduled. The first Super-G race of the season is set for today.
"It is hard to lose a race by such a small margin," Vonn said. "I skied well, just a few hundredths of a second and I would be on the top step of the podium."
Vonn has been critical all week of the course setup saying organizers should have done more to make it less icy and dangerous.
Organizers made changes to the course on Friday, altering a gate and reducing the size of a jump after British skier Chemmy Alcott was involved in a high-speed accident in the final training run.
Riesch said those changes didn't help.
"I was surprised by some sections it was little bit faster and the jump — they made it less high, but they made it worse," Riesch said. "I was really high and really far off it. I think it also was because I was going really fast."
American Julia Mancuso finished one second back in fourth while Anna Fenninger of Austria rounded out the top five.
Starting from the sixth spot, Fenninger seized the early lead as light snow dusted the course before stopping just before the break at No. 15.
Vonn, who was the second skier out of the gate after the break, took advantage of some clearing weather and skied aggressively to grab first place before losing it to Riesch just two skiers later.
Riesch, who earned US$30,000 for the win, is hoping this is the start of something special as she has finished second to Vonn in the overall World Cup standings for the last two seasons.
MEN'S DOWNHILL
Reuters, BEAVER CREEK, Colorado
Strong winds on Beaver Creek's Birds of Prey piste forced organizers to call off a men's World Cup downhill on Friday.
The start of the second downhill of the season had first been lowered to the Super-G start, but winds were still too strong for the race to go ahead.
The race jury decided to wait for the women's downhill in Lake Louise to begin before making a final decision. However, conditions had not improved two hours after the scheduled start and organizers called it off.
A decision on the rescheduling of the race was to be made later on Friday. The weekend's program in Beaver Creek includes a Super-G yesterday and a giant slalom today.
Comments will be moderated. Keep comments relevant to the article. Remarks containing abusive and obscene language, personal attacks of any kind or promotion will be removed and the user banned. Final decision will be at the discretion of the Taipei Times.