NBA: Lakers beat up the Kings to snap skid
RETURN: The defending NBA champs got back to their winning ways thanks to Kobe Bryant's 22 points, as they ended their longest losing streak in four seasons
Kobe Bryant scored 22 points and Spaniard Pau Gasol shrugged off a left hamstring strain to add 16 as the Los Angeles Lakers snapped a four-game losing streak Friday by routing Sacramento 113-80.
The two-time defending NBA champions also had 16 points and seven rebounds from Lamar Odom in ripping the Kings to halt their longest losing streak since the end of the 2006-2007 regular season, before Gasol joined the club.
"We came out focused and we played aggressive from the first minute," Gasol said. "We kept our energy throughout the game, even in the fourth quarter."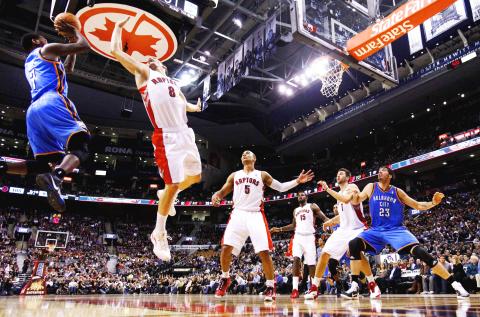 The Oklahoma City Thunder's Royal Ivey, far left, puts up a shot against the Toronto Raptors' Jose Calderon, second left, during their NBA game in Toronto on Friday.
Photo: Reuters
The Lakers, who have won eight consecutive games over Sacramento, seized an 18-point lead in the first half and pulled the margin to 32 before Bryant and Gasol went to the bench for good late in the third quarter.
Bryant shot 9 of 18 from the field while Gasol was 6 of 8 despite an injury that comes as his minutes have increased with injuries to fellow big men Andrew Bynum and Theo Ratliff. Gasol played a season-low 27 minutes against the Kings.
Jason Thompson scored 19 points and grabbed 10 rebounds to lead the Kings, who lost their sixth game in a row and 12th in their past 13 starts. Tyreke Evans added 15 points and Pooh Jeter had 12 for Sacramento.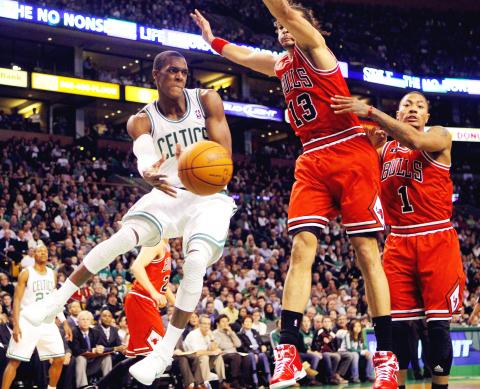 Boston Celtics guard Rajon Rondo, left, passes the ball around Chicago Bulls center Joakim Noah, center, and Bulls guard Derrick Rose, right, in the second quarter of their NBA game in Boston, on Friday.
Photo: Reuters
Every Laker in the lineup scored, with Shannon Brown coming off the bench for 11 points and Steve Blake adding 11.
Mavericks 93, Jazz 81
In Salt Lake City, Dirk Nowitzki scored 26 points on 12 of 18 shooting and Caron Butler added 16 points as Dallas extended its winning streak to eight games.
The Mavericks also snapped Utah's seven-game winning streak.
Paul Millsap led Utah with 21 points and Al Jefferson had 18 points and eight rebounds.
Celtics 104, Bulls 92
In Boston, Kevin Garnett scored 20 points with a season-high 17 rebounds and Rajon Rondo scored 12 and had 19 assists to lead Boston to its sixth straight win.
Ray Allen scored 14 and Paul Pierce had 18 for Boston, which never trailed.
Derrick Rose scored 20 with eight assists and Joakim Noah had 14 points and 10 rebounds for Chicago. Carlos Boozer scored 12 points in 21 minutes in his second game since missing the first month of the season with a broken bone in his right hand.
Knicks 100, Hornets 92
In New Orleans, Amar'e Stoudemire had 34 points and 10 assists to power New York to its eighth win in nine games.
Trevor Ariza had a season-high 21 points for New Orleans, which was without David West because of a stomach virus. Chris Paul had 17 points and 10 assists.
Wilson Chandler, who scored 14, made four 3s, while Danilo Gallinari and Williams made three each.
Raptors 111, Thunder 99
In Toronto, Andrea Bargnani had 26 points and 12 rebounds for his first double-double of the season and Leandro Barbosa scored a season-high 22 points as Toronto downed Oklahoma City.
Russell Westbrook and James Harden each scored 20 points, Jeff Green had 17 and Nenad Krstic 10 for the Thunder.
Wizards 83, Trail Blazers 79
In Washington, the Wizards held Portland to 10 points in the third quarter and a season-worst 33.3 shooting percentage to win despite getting only 10 points on 3-of-13 shooting and a career-low two assists from top draft pick John Wall.
Gilbert Arenas picked up some of the slack, with 15 points and six assists in a reserve role.
Brandon Roy led the way with 18 points for Portland.
In other NBA action, it was:
‧ Magic 104, Pistons 91
‧ Rockets 127, Grizzlies 111
‧ Bobcats 91, Nets 84, OT
‧ Hawks 93, 76ers 88
‧ Nuggets 109, Clippers 104
‧ Spurs 107, Timberwolves 101
‧ Suns 105, Pacers 97
Comments will be moderated. Keep comments relevant to the article. Remarks containing abusive and obscene language, personal attacks of any kind or promotion will be removed and the user banned. Final decision will be at the discretion of the Taipei Times.