F1: Vettel reflects on title amid celebrations
WINNER: Sebastian Vettel became the youngest F1 world champion on Sunday and only the second German, after Michael Schumacher, to claim the title
Sebastian Vettel staggered into an ocean of champagne and a mass of his Red Bull team's delirious mechanics on Sunday evening — still wondering if he had really won the Abu Dhabi Grand Prix and with it the drivers' world championship.
After a rollercoaster season, the 23-year-old's victory in the title showdown race at the Yas Marina Circuit was still proving beyond his comprehension hours after a stirring race that he won ahead of the chasing McLaren of Briton Lewis Hamilton.
"I still cannot believe it," he said. "How does it feel? Everyone asks me. It feels good. No, actually it feels fantastic. But I still don't know what to say, what is it —what does it all mean."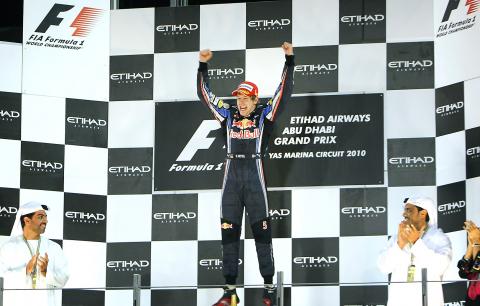 Sebastian Vettel celebrates on the podium at the Yas Marina circuit in Abu Dhabi on Sunday after winning the Formula One drivers' world championship.
PHOTO: AFP
YOUNGEST CHAMP
Vettel's win made him the youngest champion in Formula One history, a record he took from Hamilton, and also only the second German to lift the title in succession to his boyhood hero, Michael Schumacher, now his friend.
"I know things now, that I am on the same level as these other guys — Lewis and Jenson, but also others like [Ayrton] Senna and Michael. But I did not know what was happening in the race," he said.
"To be honest — I did not know anything. They did not tell me. I wondered. Then in the last 10 laps, my engineer Rocky [Guillaume Rocquelin] was giving me advice to help me get the car home," Vettel said.
"I wondered why he was so nervous. I thought we must be in a good position and he just said 'it's looking good!'" Vettel said.
"To be honest, I didn't know what he meant. I just focused on myself, kept racing, and they came on the radio and screamed that 'we have won the world championship' and then it was all a bit crazy," the German said.
A tearful Vettel let his emotions out during his slowing down lap after the race and again when the German national anthem was played while he stood on top of the podium. Afterwards, he said: "I am a bit speechless to be honest, I don't know what you're supposed to say in this moment."
"It is unbelievable. I went to bed and kept thinking about the race, about what might happen. I had some good imaginations and a good feeling," he said.
Vettel reflected on his up and down season, during which he won five times, but also cost himself several good results through accidents and reliability problems.
However, he said he never lost the belief that he could win the championship.
'INCREDIBLE FIGHTS'
"We have seen incredible fights and a tight season," he said. "I don't know how many times we have had a different leader. Some people got written off very early and then came back, like Fernando."
"And they came back hard. Lewis [Hamilton] came back and was leading all of us. I could write a book about the races where we could have finished in a higher position," Vettel said.
"There were retirements, all of us had ups and downs. It has been an intense and tough season, sometimes ignoring what people are saying and trying to get your own thing done," he said.
"This was my approach going into the race here and now it's looking good because it all worked. But it was an incredibly tough season for all us, physically, and especially mentally," the German said.
"I kept believing in myself and today was a special day. So I only led the championship once? But, it was when it mattered," he said. "For some reason it doesn't feel like it is happening. It's strange, but it will sink in when I finally go to sleep — I hope — but I think we will have daylight before that happens."
Comments will be moderated. Keep comments relevant to the article. Remarks containing abusive and obscene language, personal attacks of any kind or promotion will be removed and the user banned. Final decision will be at the discretion of the Taipei Times.