Chan's exit ends Asia's singles interest
LAST HOPE Chan Yung-jan managed to take just one game off No. 1 seed Caroline Wozniacki on a day when swirling gusts teased and tormented the world's best
Asia's wait for a first Grand Slam singles winner goes on.
As Taiwan's Chan Yung-jan walked off court having taken just one game off top seed Caroline Wozniacki on Saturday, the continent's interest in this year's final Grand Slam dwindled.
Asia's failure to get a single player into the fourth round of either the men's or women's draw at Flushing Meadows is a disappointing outlay bearing in mind the promise shown of late by a growing hotbed of tennis talent.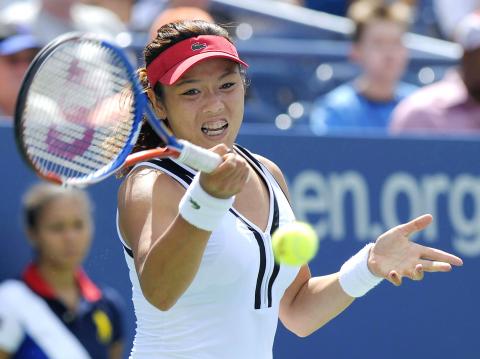 Taiwan's Chan Yung-Jan returns to Caroline Wozniacki of Denmark during their US Open women's singles match at Flushing Meadows in New York on Saturday.
PHOTO: EPA
Asia looked set to break its Grand Slam duck at January's Australian Open when Chinese duo Li Na and Zheng Jie reached the semi-finals, but the rest of the year proved disappointing with just three more quarter-finalists in the subsequent Grand Slams — Li and Lu Yen-hsun of Taiwan at Wimbledon and Kazakhstan's Yaroslava Shvedova at the French Open.
Asia's longest-lasting player at the current US Open, Chan, is not overly concerned about the continent's poor showing in New York.
"For our country it's better for us — it's the best result we've ever had," the world No. 77 said. "I know everyone's out of the tournament from Asia, but we are growing all the time and Asian tennis is getting better."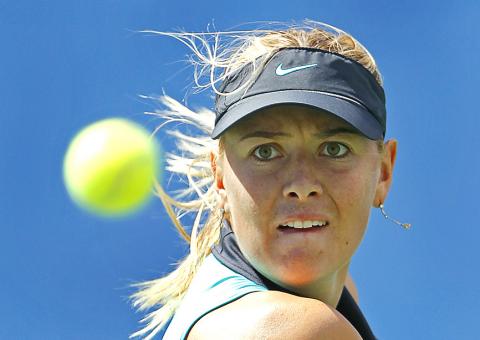 Russia's Maria Sharapova eyes a return from Beatrice Capra of the US during their US Open women's singles match in New York on Saturday.
PHOTO: REUTERS
In all, there are six men in the world's top 100, but the continent's male contingent boast just one Grand Slam quarter-final spot in the last 15 years courtesy of Lu in London in July.
A first Asian Grand Slam winner looks far likelier to come from the current crop of women, who boast nine players in the top 100, including the 21-year-old Chan.
"You never know who's going to make the breakthrough and when," she said. "For the moment, everybody is working hard and you never know what's going to happen next, but if we keep doing things right, then we're going to do it."
Back on court, the man for all occasions, Roger Federer, provided a masterful demonstration of skill and precision in gale-force winds to breeze into the fourth round on Saturday.
On a day when the swirling gusts teased and tormented the world's best players, the Swiss master showed exactly how and why he has been able to overcome the obstacles to win 16 Grand Slam titles on all surfaces and conditions in beating Frenchman Paul-Henri Mathieu 6-4, 6-3, 6-3.
"I kind of felt comfortable," Federer said. "I knew what I could do and what I couldn't do."
Maria Sharapova and Wozniacki also blew their opponents off the court to set up a dream fourth-round meeting at a championship bereft of surprises, but bubbling toward a grand finish next week.
The pair showed no mercy against their lower-ranked rivals, each romping to victory in 73 minutes despite being involved in some farcical moments thrown up by the conditions.
Sharapova was aced by teenager Beatrice Capra of the US when taking an undignified swing at a ball swept out of her reach by a gust of wind.
Wozniacki was gifted a winner after a seemingly harmless forehand bounced over the head of Chan and into the stands.
Serving was a lottery as players were often forced to re-toss, while umbrellas, towels and litter blew around the court and forced several points to be replayed.
For most of the top players, the wild weather made no difference to their results and Novak Djokovic and Robin Soderling joined Federer, Sharapova and Wozniacki by winning in straight sets.
The lone major casualty was Serbia's Jelena Jankovic, a finalist in New York two years ago and the fourth seed this time.
She was beaten 6-2, 7-6 by Kaia Kanepi of Estonia after enduring the worst of the conditions. On one of her serves, Jankovic only managed to catch the ball with the frame of her racket.
"I had a really hard time hitting the balls," said Jankovic, the highest-seeded player beaten this year. "You hit the ball one direction, it goes another. You're just getting ready to hit the ball and it just moves away from you."
Sharapova was at her most ruthless in her 6-0, 6-0 whitewash of wild-card Capra.
The Russian was upset last year by another American teenager, Melanie Oudin, but made sure there was no repeat this time as she moved into the last 16 for the first time since she won the championship four years ago.
"This was a new day. What happened last year, I didn't really want to go into the match thinking about it," Sharapova said. "On a day like today, I just wanted to make sure I was consistent and did the right thing, maybe didn't go for the lines as much and just played smart tennis."
Sharapova was one of three Russian seeds to advance safely. Svetlana Kuznetsova, the 2004 US Open champion, beat her countrywoman Maria Kirilenko, while Wimbledon finalist Vera Zvonareva defeated Romania's Alexandra Dulgheru.
Wozniacki dropped her opening service game against Chan, but that was her only hiccup in the 6-1, 6-0 rout of her Taiwanese opponent.
A finalist at Flushing Meadows 12 months ago and the top seed this year after injury forced Serena Williams to sit out, the Dane has dropped only three games in the tournament.
"I think I've shown I belong where I am," Wozniacki said. "I'm just happy to be through to the fourth round. For me, it's just about winning the matches."
After a slow start to the tournament, Djokovic and Soderling are both rapidly gaining momentum.
Djokovic had few problems seeing off James Blake of the US 6-1, 7-6, 6-3 in the featured night match, while the big-serving Soderling was also untroubled by the conditions, cruising to a 6-2, 6-3, 6-3 win against Dutchman Thiemo de Bakker.
Djokovic's next opponent is Mardy Fish of the US, who made his way through to the round-of-16 the hard way, wearing down Frenchman Arnaud Clement 4-6, 6-3, 6-4, 1-6, 6-3.
Soderling plays Spain's Albert Montanes ahead of a possible quarter-final with Federer.
"Everybody has been telling me since the draw came out that I'm going against Roger in the quarters," Soderling said. "I still have to win one more match, so it's still far ahead."
In the second round of the women's doubles, Lisa Raymond of the US and Rennae Stubbs of Australia defeated Taiwan's Chuang Chia-jung and Olga Govortsova of Belarus 6-2, 6-3.
Additional reporting by Staff Writer
Comments will be moderated. Keep comments relevant to the article. Remarks containing abusive and obscene language, personal attacks of any kind or promotion will be removed and the user banned. Final decision will be at the discretion of the Taipei Times.