Kiwis record historic win over Dutch
New Zealand recorded their first ever men's Champions Trophy victory over powerhouses the Netherlands on Tuesday with a sensational 3-1 win.
It was the first "Black Sticks" win in the Champions Trophy in 32 years since they defeated Spain 4-0 in the inaugural event in Pakistan in 1978. Spain won their first match of the tournament with a 3-2 victory over hosts Germany.
World Champions Australia went to the top of the table with their third victory from three matches, beating European Champions England 3-2.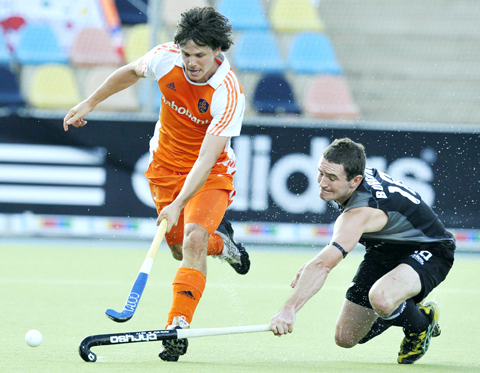 New Zealand's Phillip Burrows, right, challenges the Netherlands' Wouter Jolie during their Champions Trophy match on Tuesday in Moenchengladbach, Germany.
PHOTO: EPA
New Zealand's Simon Child jolted the Netherlands 10 minutes into the second half, scoring from his persistent run along the right backline, getting under Dutch keeper Mark Jenniskins to score from close range.
The Netherlands conceded a penalty corner, converted low inside the right post by Andrew Hayward giving New Zealand a 2-0 advantage, seven minutes before the break.
The Netherlands applied pressure on New Zealand early in the second half, gaining a penalty corner and a penalty stroke from the Black Sticks' defensive infringement.
Teun de Nooijer beat New Zealand 'keeper Kyle Pontifex with his flick low inside the right post.
Blair Hilton scored New Zealand's third goal a couple of minutes after de Nooijer's strike, finishing a strong movement into the circle by Phillip Burrows, taking a rebound off the pads of Jenniskins to score.
Comments will be moderated. Keep comments relevant to the article. Remarks containing abusive and obscene language, personal attacks of any kind or promotion will be removed and the user banned. Final decision will be at the discretion of the Taipei Times.