2010 FIFA WORLD CUP: Fergie says expectation rattled Rooney
Wayne Rooney flopped at the World Cup due to the weight of expectation on his shoulders, his Manchester United manager Sir Alex Ferguson said yesterday.
Rooney, who had been in outstanding form for United during the English Premier League season, struggled to have anything like the same impact in an England shirt and failed to score in their four matches in South Africa.
But Ferguson believes Rooney, 24, will have learned from the experience and will be one of the key players at the 2014 World Cup in Brazil.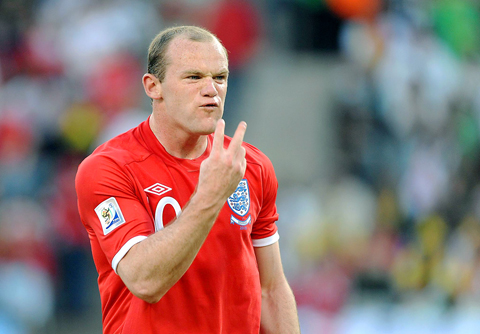 England's Wayne Rooney gestures during their World Cup match against Germany at the Free State Stadium in Bloemfontein on 27 June.
PHOTO: EPA
"I think there was such expectation on him. There was talk he was going to be the player of the tournament," the Scot said. "Don't forget, that was the prelude to the whole thing — he was going to be the star, he was going to outshine them all — [Lionel] Messi, [Cristiano] Ronaldo. So that level of expectation comes into it."
"And he's not got great experience of playing in the World Cup really. You wait, in four years' time you'll see a different player," he said.
Ferguson said he was "baffled" by England's mediocre performance in the tournament.
England drew 1-1 with the US, 0-0 with Algeria and beat Slovenia 1-0 in the group stage. They were knocked out by a 4-1 defeat to Germany in the second round.
"That is going to be one of the imponderables — what has really happened and why are they [England] not getting better form. I watched their games and I was baffled by what I saw," he said.
Ferguson said England's World Cup qualifying campaign — which they sailed through — might not have helped.
"Expectation was a big thing. They qualified from a group which you'd have to say was a million to one they wouldn't qualify from. So it was an easy passage into the finals," the United boss said.
"Maybe it would have been better if England had been in a tougher group. They'd have earned the right to be one of the favorites and it would have helped that they'd played good teams before they got there," he said.
Ferguson said Germany's mentality helped them to humble England, then follow it up by beating Argentina 4-0 in the quarter-finals.
"The history they've got is quite incredible," Ferguson said. "That organized mentality they have, the belief in themselves, it carries them a long way."
Comments will be moderated. Keep comments relevant to the article. Remarks containing abusive and obscene language, personal attacks of any kind or promotion will be removed and the user banned. Final decision will be at the discretion of the Taipei Times.