2010 FIFA WORLD CUP: German angst as 'psychic' octopus tips Spanish victory
The cries of despair from all around Germany could probably be heard in South Africa as a "psychic" octopus named Paul tipped Spain yesterday to beat Germany in the World Cup semi-final.
The eight-legged oracle who has successfully predicted all five of Germany's games in South Africa, carefully weighed up the two teams, before choosing Spain, prompting anguished groans from the assembled media scrum.
Carried live on national television, two plastic boxes, one with a German flag and one with a Spanish, were lowered into Paul's tank at an aquarium in western Germany, each with a tasty morsel of food inside.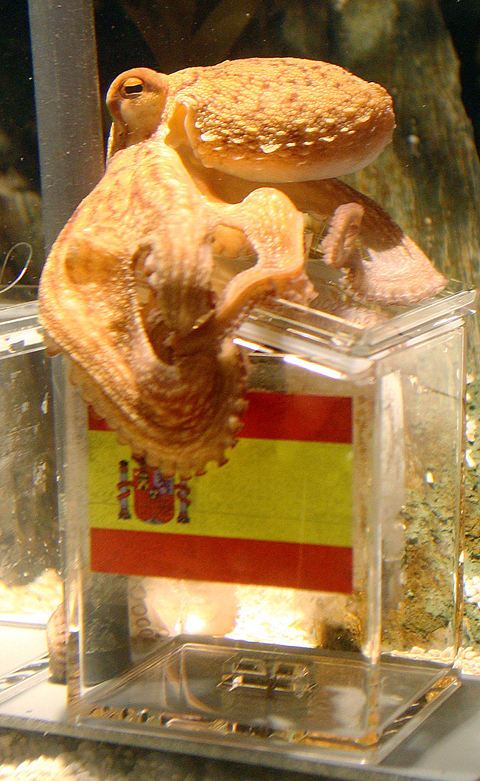 An octopus named Paul sits on a box decorated with a Spanish flag yesterday at the Sea Life aquarium in Oberhausen, Germany.
PHOTO: AFP
The box which Paul opens first is adjudged to be his predicted winner.
If Paul's performance is replicated on the pitch, it promises to be an end-to-end thriller. He teased the crowd by initially lingering at the German flag before heading for the Spanish box.
The mollusk medium has shot to fame by defying the odds with a perfect record of picking winners.
Proving he is not just attracted to the colors in the German flag, he rightly foretold Germay's shock defeat to Serbia in the group stages.
He then predicted Germany's triumphant drubbing of England in the last-16, provoking accusations of treachery. Paul should by all rights be an England fan, having been born in Weymouth on the south English coast.
Confirming his reputation as a prognosticator par-excellence, he kept up his astonishing run of form by tipping Germany to beat highly fancied Argentina in the quarter-finals.
Comments will be moderated. Keep comments relevant to the article. Remarks containing abusive and obscene language, personal attacks of any kind or promotion will be removed and the user banned. Final decision will be at the discretion of the Taipei Times.