Cricket brings reasons to smile to Afghanistan
Afghanistan's debut in cricket's World Twenty20 in the West Indies is the war-torn country's biggest achievement yet in its short, but remarkable, history in the international game.
Whether they win or lose, their mere presence in the sport's short-format showpiece has a significance far beyond the boundaries of St Lucia's Beausejour Stadium, where they face former champions India on Saturday.
The side's qualification for the tournament, secured by beating Ireland and the United Arab Emirates (UAE) in February, was greeted with an outpouring of national pride on the streets of the capital, Kabul.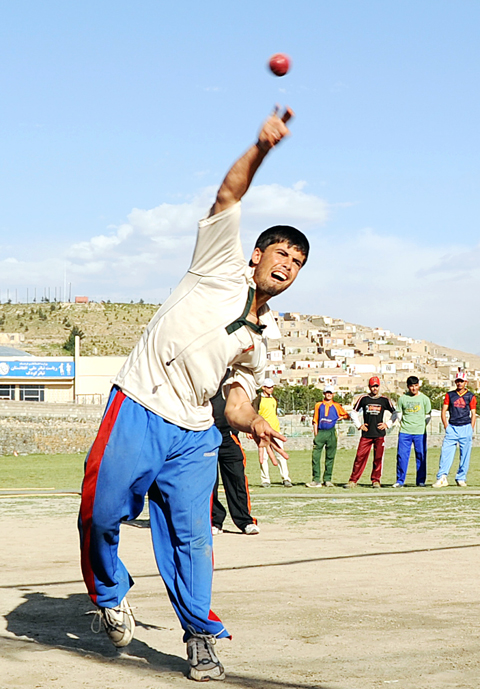 An Afghan cricketer bowls during a practice session in Kabul on April 18. Afghanistan's debut in cricket's Twenty20 World Cup in the West Indies is the country's biggest achievement yet in its short time in the game.
PHOTO: AFP
Coaches and players say it has also led to an increasing interest in the game — even from many young Afghan men for whom holding guns, not cricket bats, is second nature.
"A guy wearing a cricket uniform came up to me at the ground and said he wanted to play cricket," said Azizullah Fazli, the coach of the Kabul provincial team.
"He told me he had two guns and wanted to fight, but when he heard the news from the radio and television that the Afghan national cricket team had qualified for the World Cup, he was delighted," he said. "He said he gave up his guns for a bat and ball instead."
Young players such as 18-year-old Abdullah Zazai have also seen a difference, seeing the team's qualification as a much-needed morale boost for Afghan cricket.
"New players are coming every day looking to join cricket clubs, even if they don't know how to hold a bat," he said.
Elsewhere a team of disabled cricketers, many of whom have lost limbs to the landmines that kill or injure 40 Afghans a month, is looking to emulate the success of their able-bodied counterparts and compete abroad.
Yet despite being the most popular sport in other South Asian countries, like India, Pakistan, Sri Lanka and Bangladesh, cricket is still a relatively new sport in Afghanistan, which has been mired in three decades of conflict.
Many players learned the game in neighboring Pakistan, where millions of Afghans fled as refugees to escape the 10-year guerilla war against the Soviets and brutal, ethnic-inspired infighting following their withdrawal.
Zazai, for example, learned how to play cricket in Pakistan using a tennis ball. He returned to Afghanistan six years ago and joined the fledgling Afghan National Cricket Academy, which currently has about 90 players.
The Kabul Province wicketkeeper-batsman has represented Afghanistan at under-15 level and hopes to break through into the senior ranks.
Afghan President Hamid Karzai last year gave the go-ahead for the creation of the country's first national cricket board, allowing the sport more freedom to run its own affairs.
The finance ministry has allocated US$500,000 a year to the national team in addition to sponsorship.
However, playing facilities are lacking: Kabul is home to 22 cricket clubs, but the city has only one cricket ground.
For security reasons, the national side plays its matches in Sharjah in the UAE, while cricketers back home face the constant threat of bombs and bullets.
"The players are so worried when they first join us," Fazli said.
"They tell us they don't have anything to eat at home and were afraid of explosions when coming to the ground," he said. "But as time goes on, they forget about their worries and relax. They feel they can achieve something by playing cricket."
With an in-built fighting spirit, Afghanistan's players have warned that they are no pushovers.
Batsman Raees Ahmadzai has promised to give their opponents "a real test."
"We won't be going out there just for fun," he told reporters in February. "In Twenty20 cricket anything can happen. It is a form of cricket that we know very well and we will not be easy to beat."
Comments will be moderated. Keep comments relevant to the article. Remarks containing abusive and obscene language, personal attacks of any kind or promotion will be removed and the user banned. Final decision will be at the discretion of the Taipei Times.